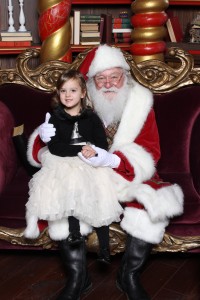 Merry Christmas, everyone! Or if that saying bothers you, don't worry, I understand. But bear with me for a moment because I'd like to tell you a story. A story about how even in the bleakest, ugliest, most selfish corners of our world – like New Jersey – generosity still does exist.
This past Sunday, my wife Tara and I took our three-year-old daughter, Kaylin, to see Santa Claus at a local mall. Aside from our first family visit in 2011, when Kaylin was two months old, she's always anxiously looked forward to each annual pilgrimage to the home of ol' St. Nick. This year, she was literally jumping out of her skin to see the big jolly fellow. And since we'd been visiting Santa in that exact location every year since Kaylin's birth, we had no reason to expect anything different upon our arrival. However, when we got to the usual Santa spot, all we found was some guy on a mall bench eating an Auntie Anne's pretzel. I considered just putting my kid on his lap for a few moments and calling it a day, but wiser judgment (my wife) prevailed and we headed to the other end of the mall where we were told Santa was now stationed.
After plowing our way through an avalanche of American consumers, we came upon a massive house covered in video screens simulating a blizzard, surrounded by lifesize statues of the characters from Shrek. Um, ok? As we approached the line, a young man dressed in full elf attire, clutching an iPad, asked us if we had a reservation. Obviously, we did not. I asked him how we could go about getting one, but his eyes immediately conveyed the reality. Somehow we'd missed the memo about this new Shrek-themed Santa station which, we quickly learned, had long since been booked solid.
I looked down at my daughter, staring up at me with eager expectation. I told her I was so sorry, Santa wasn't home after all. Her face fell. "He not home? Why?" she cooed. I couldn't help it, my eyes welled up and it was all I could do not to break down right then and there. Sure, it's a silly thing to be sad about. In the long run, a Santa visit doesn't make or break a person. But to a three-year-old, these are major life events that bring about crushing disappointment when not fulfilled.
We stepped aside and tried, unsuccessfully, to look up and contact other malls with Santas in the area, but told Kaylin we may not be able to see Santa after all. She didn't cry, but the sadness was written all over her beautiful little face. She'd eagerly put on her new Christmas dress and even allowed us to put a clip in her hair (a rarity) just because of her excitement.
Soon, I noticed the same iPad-clutching elf employee glancing over at us here and there. After a moment, I bit the bullet and went back up to him. "I know you're all booked up, but is there any way at all I can buy a reservation?" I pleaded. "I'll pay double the cost if needed."
"Well, the tour is actually free, which is why you need a reservation. It's just the pictures you pay for at the end." He glanced to his left and right. "But I'm gonna help you out. Give me five minutes."
Confused but hopeful, I went back over to Tara and Kaylin. A few minutes later, the young man approached us, asked for my daughter's name, and told us to get in line quick. I almost hugged the guy then and there, but in an effort to avoid total awkwardness, I snatched up my kid and we joined the waiting throng. While in line, another attendant approached us and asked for our last name.
Busted
, I thought, but gave it anyway. He handed me a laminated card with our name on it and told us it was our "magical passport" for the fun that was to follow. I looked back and locked eyes with the elf-clad man who'd hooked us up and gave him a quick nod. He smiled and mouthed "Merry Christmas" back at me. Once again, my eyes welled up and
once again
, it was all I could do not to break down right then and there.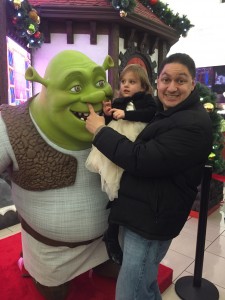 After engaging with Shrek, his wife Fiona, and the always-enjoyable Donkey, we entered the house along with a small group of families. Our guide stood by a curtain and told us to count to three. At "three" she pulled back the curtain to reveal an empty chair with a note saying Santa wasn't there. On cue, Shrek and Donkey appeared on a screen and engaged in a back-and-forth dialogue with our guide. The giant ogre and his friendly ass promised us face time with Santa Claus "even if we have to fly all of you to the North Pole ourselves!"
And that, we did. Our whole party was escorted to an adjoining room where we all piled into a large sleigh that took us to Santa's house by way of a large video screen, complete with spraying water to simulate the blizzard we had to travel through to get there. Kaylin, who's loved every amusement park ride she's ever been on, squealed in delight as we plummeted down large banks of snow before taking to the skies. Being a roller coaster junkie myself, I think I enjoyed the ride just as much.
After "landing" in the North Pole, we entered a well furnished den-like room where Santa sat upon a big velvet perch. "This must be Kaylin!" he gushed. "My how you've grown since last year!" (Granted, I'm sure he said that to every kid, though with my daughter being in the 99th percentile for her height, he had no idea how accurate he was). After a few pictures, he asked her what she wanted for Christmas. Caught up in the presence of this legendary celebrity, my normally outgoing child clammed up and simply replied "Toys."
We exited Santa's house and paid for our pictures. Before leaving, I ran back to the man who'd made that evening's festivities possible and shook his hand. The smile in his eyes told me that my daughter's pure enjoyment was all the reward he needed.
On Christmas Eve, as we exchanged gifts with family, my mother-in-law told me she'd seen a report on the news about the new Shrek-themed Santa exhibit and heard that tickets were completely and totally sold out. I confirmed that, indeed they were; that we'd had no chance of taking part if not for the generosity of an elf who – for no other reason than wanting to be another family's Christmas miracle – chose to make our daughter's day.
Alan Atchison is a Contributing Writer to The Rogue. He is a Senior Publications Editor at the Center for the Advanced Study of India (University of Pennsylvania), where he also earned a Masters of Liberal Arts in Creative Writing. He lives in Philadelphia, PA with his wife and two daughters. Follow him on Twitter and Instagram.