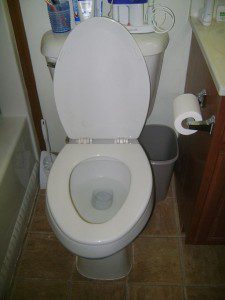 I have long complained about contemporary funerals.  But I have learned about yet another way of honoring the death of a loved one.
A man is going to baseball stadiums around the country.  While the game is going on, he goes to the men's room and flushes some of the ashes of his late friend down a toilet.
Thus he honors his friend, a baseball fan and a plumber, making him one with the cathedrals of the game.  Or something.
From Corey Kilgannon, Honoring a Fellow Fan, One Ballpark Bathroom at a Time – The New York Times:
he New York Mets were leading the Philadelphia Phillies, 2-1, after two innings when Tom McDonald stood up from his upper-deck seat at Citi Field.

Nature was calling, and so was his obligation to his childhood friend and fellow Mets fan Roy Riegel, whose death nine years ago left Mr. McDonald, 56, vowing to honor their baseball bonds in an unconventional way: by disposing of Mr. Riegel's ashes in ballparks across the country.

Even more unusual was his chosen method: flushing them down public restroom toilets in the ballparks between innings.

"The game has to be in progress — that's a rule of mine," Mr. McDonald said one recent weeknight before entering a Citi Field bathroom, holding a little plastic bottle containing a scoopful of Mr. Riegel's cremains.

He stepped into a bathroom stall and sprinkled the ashes into the toilet with as much decorum as the setting allowed. A couple of flushes later and Mr. Riegel's remains were presumably on a journey through Citi Field's plumbing.
Photograph by Doug Coldwell (Own work) [CC BY-SA 4.0 (http://creativecommons.org/licenses/by-sa/4.0)], via Wikimedia Commons