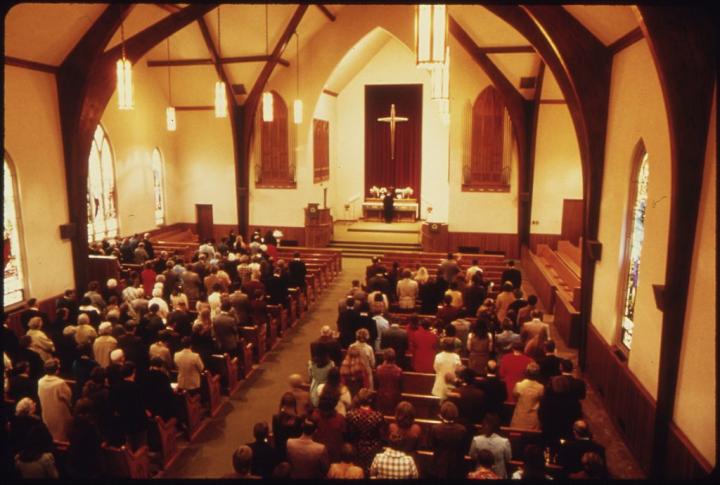 Contrary to the narratives of religious decline in America, a new study has found that the number of Christian congregations has actually increased.
Christianity Today reports on the findings of an article in the Journal for the Scientific Study of Religion by Duke sociologist Simon Brauer studying the number of religious congregations from 1998 to 2012.
Yes, some 30,000 congregations closed their doors over that period.  But 50,000 new congregations opened.
There were some 336,000 congregations in 1998.  This number shot up to a peak of 414,000 in 2006.  The number went down but then leveled off.  As of 2012, there were 384,000.
Much of the 14% gain is from the rise of non-denominational churches.  In 1998, there were 54,000.  In 2006, there were 79,000.   In 2012, there were 84,000.
A different study cited by Christianity Today counted 8 million non-denominational Chris
tians in 2008.  This means that non-denominational churches rank third in the number of adherents, after Catholics and Southern Baptists.
The number of congregations from the major Christian denominations did decline, from 120,000 congregations in 1998 to 113,000 in 2012.
The number of non-Christian places of worship has also grown, though the numbers are still relatively small.  In 1998, there were 13,000.  In 2006, when there was a peak number of Christian congregations, the number of non-Christian assemblies actually went down to 13,000.  But the number doubled by 2012 to 26,000.
There were 1,200 mosques in 2000, growing to 2,100 by 2011.
A different study found that the number of non-Christians in the United States grew from 5.8 million in 1990 to 8.7 million in 2008.  (Not all non-Christian religions have "congregations" in the same sense as Christian churches.)
Prof. Brauer gives statistics for the larger American Lutheran denominations.  The Evangelical Lutheran Church in America has declined from 10,862 congregations in 1998, to 10,470 in 2006, to 9,533 in 2012.
The Lutheran Church had 6,022 congregations in 1998; grew to 6,155 in 2006; and declined to 6,048 in 2012 (which is still more than in 1998).
The Wisconsin Evangelical Lutheran Synod showed growth each year, from 1,239 congregations in 1998, to 1,276 in 2006, to 1,278 in 2012.
Of course all of these numbers are from five years ago, the latest period of reliable data, and things could have changed greatly by 2017.
These findings may have some bad news for some denominations.  But 384,000 congregations is a LOT of churches.  They show that the rumors of Christianity's death in America are greatly exaggerated.
Photo, St. Paul's Lutheran Church, New Ulm, MN, by Bruce Bisping, 1953-, Photographer (NARA record: 1888360) (U.S. National Archives and Records Administration) [Public domain], via Wikimedia Commons