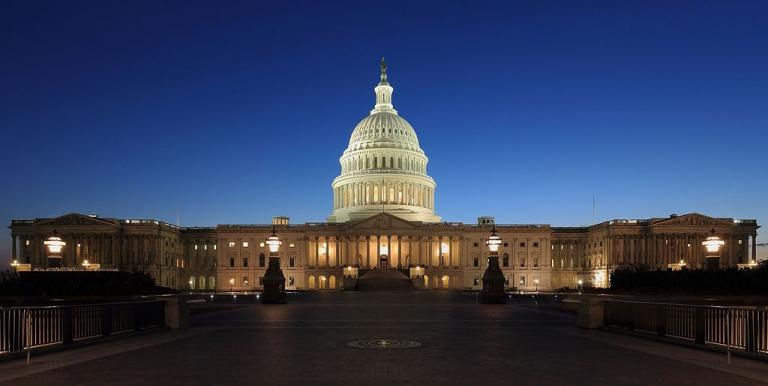 In a rare show of bipartisan agreement, Congressional leaders of both parties agreed on a version of President Trump's budget for 2018-2019.  It will raise spending by some $500 billion, including the increased military spending the Republicans want and the increased social spending the Democrats want.
The deal also includes measures to prevent the constant brinkmanship of government shutdown threats, though the government might shutdown this time also.  The current spending resolution expires at midnight, February 8, and the budget agreement might not get approved in time.  (I'm writing this Thursday evening.  I'll update the post on Friday, when we know what happened.)
UPDATE:  Rand Paul staged a mini-filibuster that delayed the bill past midnight, causing the government to shut down briefly.  But then both houses, in an all-nighter, passed the bill, and the president has already signed it.  So the new budget is law.
Despite the deal, there are also rebellions from both parties.  A number of fiscally conservative Republicans are refusing to vote for the budget because of its increase in government spending.  And a number of Democrats are refusing to vote for the bill because it does not include a provision to allow "Dreamers"–young adult children of illegal immigrants–to stay in the country.
House Minority Leader Nancy Pelosi says she will not vote for the bill for that reason, but she will not "whip" party members to do the same (that is, she will not punish them for voting for the bill).
But many other Democrats just see too much in the bill they like to vote against it.  "I can't go home to tell health centers that have already been handing out pink slips I didn't vote for this, and they gave you money for a permanent fix to your problem," said Rep. Marcia Fudge (D-Ohio).  "I can't go home and say to union people: Look, they're going to try to take care of your pension problem, but I didn't vote for it. It just doesn't make any sense."
Passage is pretty much certain in the Senate, but the House may show more resistance.
Here are some highlights of the deal:
–The military got a huge raise.  Last year we spent $634 billion on defense.  Under this budget, it goes up to $700 billion in 2018 and $716 billion in 2019.  That represents a 10% jump.  The military got everything they wanted.  In fact, the final numbers give the military $26 billion more than President Trump requested!
–Domestic spending got a huge raise.  Domestic spending also went up 10%,Overall, up $60 billion this fiscal year and $78 the next year.  This includes increased funding for health care programs, disaster relief, child care, the IRS, the Social Security administration, college loans, etc., etc.
–$20 billion for infrastructure.  President Trump asked Congress for $1.5 trillion to repair America's roads, bridges, etc., so this is a drop in the bucket, but it's a start.
–Budget Reform.  Various spending caps and sequester rules were eliminated.  The debt ceiling was lifted until March 1, 2019, so we won't have to worry about shutting down the government until next year.  And a special committee will be formed to study budget and appropriation reform, in the hopes of straightening out this entire mess.
So what do you think about all of this?  Getting a budget through would be a big victory for President Trump.  But does it contain  too much spending?
Photo by Martin Falbisoner [CC BY-SA 3.0 (https://creativecommons.org/licenses/by-sa/3.0)], via Wikimedia Commons