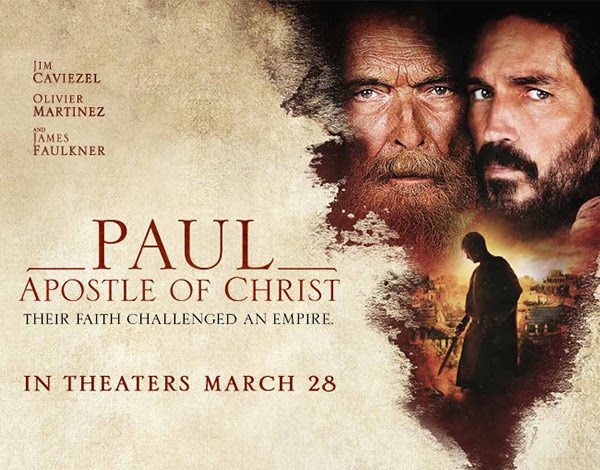 Yesterday we blogged about the upcoming film The Passion of the Christ:  Resurrection.  But that won't be coming out until 2019 or 2020.  Another movie based on the Bible starring Jim Caviezel will be released March 28, just in time for Easter.  It's entitled Paul:  The Apostle of Christ, and judging from the trailer, posted below, it looks really good.
Caviezel plays Luke, who is with Paul in his last days in Rome.  The title role is played by James Faulkner.  Andrew Hyatt (Full of Grace) is the writer and director.  The film was produced and will be distributed by Affirm Films,which is Sony's division for faith-based films (e.g., Risen, Mom's Night Out, Heaven Is For Real).
Many "faith-based" movies get made, but they sometimes have problems getting distributed.  Sony's involvement will assure that Paul:  The Apostle of Christ gets into theaters.  These movies often have the reputation of not being very good, but I think they are getting better, now boasting high-level production values.
Here is the trailer:
Producer T. J. Berden said,
"Paul changed from murdering Christians to becoming their unlikely leader. His life personifies 'forgiveness,' a concept that seems almost impossible today — but desperately needed."  Caviezel also emphasized the movie's theme of forgiveness:
"Forgiveness starts with not just love, but ardent love," says Caviezel. "It's really easy to love people who think like you think; it's very hard to treat someone with a polar opposite view with the same dignity and respect you would treat a friend. That's this movie's core message."
Right.  Let's hope the movie goes beyond showing characters forgiving each other to depict the forgiveness they–and we–have in Christ.  That, after all, is the main theme of both the Apostle Paul and Luke.
For some reason, movies on Biblical subjects often lurch away from the Biblical content, cutting out the miraculous, the supernatural, and the evangelistic.  But those elements are why the Bible stories are so compelling.  To leave them out or play them down reduces the story to just another human drama or moralistic lesson.  But let's hope Paul:  Apostle of Christ is an exception.