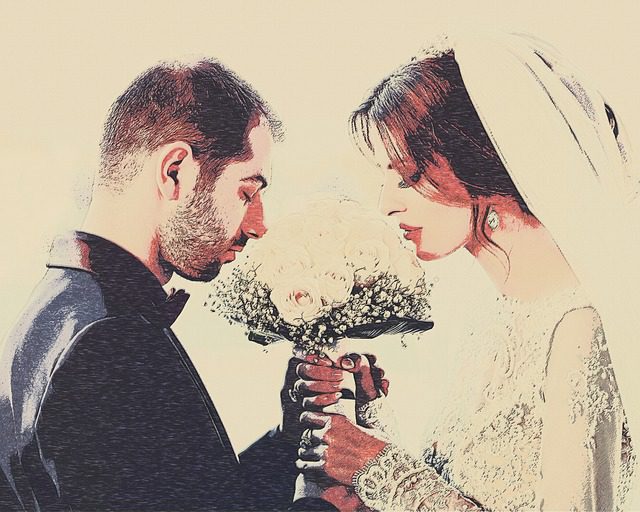 The Pew Research Center has released a study of marital status in U.S. religious groups. It gives the percentage of those married, living with a partner, divorced or separated, widowed, and never been married, broken down by denomination or religious affiliation. The results are interesting, disturbing, and surprising. But also deeply misleading.
Among all American adults, 48% are married, 7% are cohabitating, 13% are divorced, 7% are widowed, and 25% have never been married. This chart shows how various religious groups compare to that.
Mormons, with their doctrine of "celestial marriage," lead the statistics, with 66% of their members being married.
After that, surprisingly, the liberal mainline Protestants lead everyone else: Presbyterian Church (USA) has a marriage rate of 64%; the United Church of Christ is tied with 64%; and the Evangelical Lutheran Church in America (ELCA) comes in at 61%.
These denominations are pretty free and easy in their teachings about sex, marriage, and divorce. And yet their marriage rate is quite high and their divorce rate is below the national average. One remarkable statistic is that the Presbyterian Church (USA) has only 1% of its membership just "living together," tied with Anglicans, which is far below the rate even of conservative churches.
And though church bodies that do not make a big deal of what the culture wars call "family values" actually score very high on those values, church bodies with a strong stand on traditional sexual morality score relatively low.
Roman Catholics have a 52% marriage rate, with 21% being single, which sounds about right for a tradition that considers marriage to be a sacrament and yet prizes the celibate life. But although the Catholic church resolutely opposes sex outside of marriage, 8% are living together out of wedlock. And even though the Catholic church does not allow divorce at all, 12% of Catholics are divorced.
Other conservative churches have surprisingly high divorce rates: Assemblies of God, 16%; Nazarenes 14%; Southern Baptists, 13%; Presbyterian Church in America (PCA), 13%; Church of Christ, 12%.
The Lutheran Church Missouri Synod comes off fairly well: Married, 59%; living together, 5%; divorced, 9%; widowed, 12%; never married, 15%.
As for atheists, only 36% are married; 13% are living together; 9% are divorced; 2% are widowed; and 40% have never been married.
What are we to make of these statistics? Can we conclude that liberal Christians are the most moral when it comes to sex, and that conservative Christians–due to their retrograde teachings about sex and women–have bad marriages? And that atheists have trouble forming relationships of any kind?
No! These numbers fail to factor in at least two factors.
One is the age of the various religious groups. The study itself acknowledges this limitation. Atheists as a group are much, much younger than the other cohorts. Their low marriage rate may just mean that they haven't settled down yet. Conversely, the mainline Protestant groups skew old. That only 1% of liberal Presbyterians live together may just speak to their stage of life, as evidenced by their having one of the largest percentage of widows (12%, which is tied with the LCMS).
Also, as we have been discussing at this blog, the demographic group with the lowest marriage rate and the highest divorce rate is the white working class. (According to another study, only 39% of working class adults are married, and only 26% of the "poor"; 10% of the working class is cohabitating, with 13% of the "poor"; the divorce rate is a stunning 41% for the working class and 46% for the "poor.")
The churches with relatively high numbers in these categories–conservative evangelicals, pentecostals, and Catholics–have a greater presence with this demographic and are doing more to minister to them than the mainline Protestants of the middle and upper-middle class, demographics that have always had high marriage and low divorce rates.
P.S.: Thanks to Pew Research for finally spinning out the conservative LCMS from the liberal ELCA in its category of "Lutherans." But now Pew needs to account for what is now one of the largest group of Christians in the United States: those who attend "nondenominational" evangelical churches.
Illustration by Dragonflyaria via Pixabay, CC0, Creative Commons