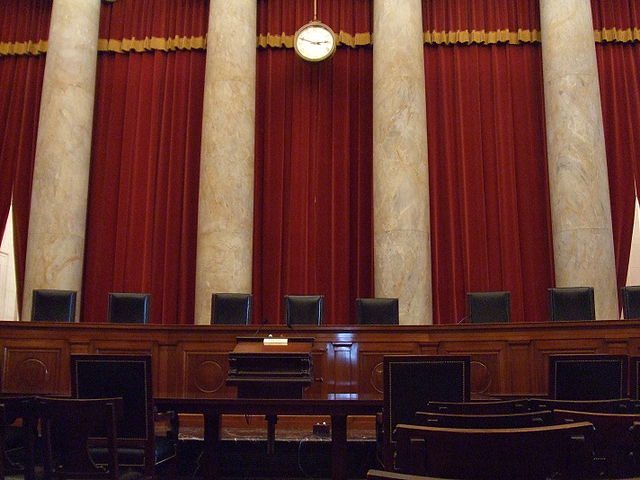 In the Supreme Court case we blogged about regarding the California law forcing pro-life clinics to promote abortion, the arguments and the justices' reactions seemed to go in favor of the clinics.  My former Patrick Henry College colleague Mike Farris conducted the oral arguments for the pro-life side, and some interesting issues emerged.
Here is an account of the proceedings by John McCormack:
At oral arguments Tuesday for the case NIFLA v.Becerra, a majority of the U.S. Supreme Court seemed skeptical about the constitutionality of a California law that requires pro-life crisis pregnancy centers to advertise for "free or low-cost" government-funded abortions.

A key moment came when Justice Anthony Kennedy, frequently the swing vote on the court, asked how the disclosure requirement would affect a facility affected by the law that took out a two-word advertisement ("CHOOSE LIFE"). California deputy solicitor general Joshua Klein admitted that, yes, the ad would have to include the following disclosure in the same-sized font: "CALIFORNIA HAS PUBLIC PROGRAMS THAT PROVIDE IMMEDIATE FREE OR LOW-COST ACCESS TO COMPREHENSIVE FAMILY PLANNING SERVICES (INCLUDING ALL FDA-APPROVED METHODS OF CONTRACEPTION), PRENATAL CARE, AND ABORTION FOR ELIGIBLE WOMEN. TO DETERMINE WHETHER YOU QUALIFY, CONTACT THE COUNTY SOCIAL SERVICES AT [PHONE NUMBER]."

Justice Kennedy suggested that the particular extent of the law is an "undue burden" on free speech. "It seems to me that that means that this is an undue burden in that instance and that should suffice to invalidate the statute," Kennedy said. Under questioning from Justice Alito, Klein admitted that such a billboard in Los Angeles County would be required to make the disclosure in 13 different languages. Even Justice Sotomayor—who along with other liberals on the Court seemed favorably disposed toward a letting pro-choice states force crisis pregnancy centers to make disclosures about abortion—suggested the particular extent of the law was "more burdensome and wrong."
On the other side, the point was made that pro-life states have passed "informed consent" laws requiring abortion clinics to provide information about alternatives to abortion.  Why shouldn't pro-abortion states be able to require pro-life clinics to provide information about abortion?  Mike explained the differences, saying that "informed consent" is required for medical procedures, not counseling.  He agreed that it would be unconstitutional to force Planned Parenthood to advertise for pro-life clinics.
For a more complete, blow-by-blow description of the arguments on both sides and the justices' questioning, go to the SCOTUS blog site here.
Photo:  Interior of the U.S. Supreme Court by John L Marino [Public domain], via Wikimedia Commons