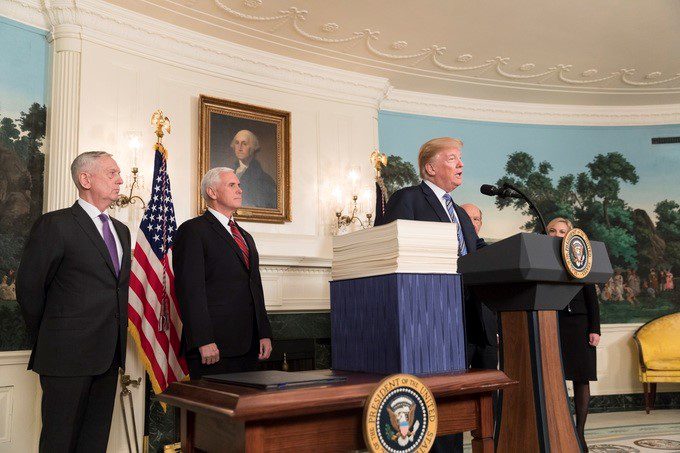 Back in February, with great effort, Congress passed a budget agreement, but the details and actual appropriations were not worked out.  That required an "omnibus spending bill."   After helping to negotiate the bill, then threatening to veto it, Trump finally signed the $1.3 trillion spending bill that blows up his own budget proposals, expands Obama-era programs, and gives a half billion dollars to Planned Parenthood.
Democrats are declaring victory.  And rightly so.  From Michael Grunwald in Politico:
President Donald Trump's budget proposals have taken a hatchet to President Barack Obama's top priorities. They've called for deep cuts in renewable energy, medical research and nonmilitary spending in general. They've eliminated TIGER, a grant program for innovative transportation projects created by Obama's stimulus bill; ARPA-E, an energy research agency launched by the stimulus; and CDBG, a community development program many Republicans consider an urban slush fund.

Now the Republicans who control Congress have passed a $1.3 trillion omnibus spending bill, and it not only protects Obama's priorities, it expands them. It does far less for Trump's stated priorities, and while his administration endorsed the bill Thursday, he tweeted a veto threat and expressed some apparent buyer's remorse Friday after it passed.

The omnibus—Capitol Hill jargon for a single spending bill that funds most government functions—does not kill any of the programs or agencies Trump's budget proposed to kill; it triples funding for TIGER, nearly doubles CDBG, and boosts ARPA-E's budget by 16 percent. Trump wanted to slash the Energy Department's renewables budget 65 percent; instead, Congress boosted it 14 percent. Trump proposed to keep nonmilitary spending $54 billion below the congressional budget cap; the omnibus spends right up to the cap, a $63 billion increase from last year.
And despite continual promises from Republican lawmakers to defund Planned Parenthood, this new spending bill
will give the organization $500 million.
President Trump complained about the bill, even as he was signing it.  But he did so, he said, because it increased funding for the military.  Indeed, it did.  It gave more money to the military than President Trump requested!  Then again, Trump requested $25 billion for the border wall, but the bill only gave him $1.5 billion.
The government would have shut down if the funding bill hadn't passed.  We will have another such deadline in September.  (Can't Congress reform its rules and procedures so as to prevent those recurrent deadlines, which only work to create pressure to pass expensive bills that lawmakers don't have time to read?)
Go here for a summary of what is in the bill.  The 2,232 page law also forbids stopping any government program or agency without specific congressional authorization.  The federal deficit, needless to say, will soar.
Again, despite holding the House, the Senate, and the Presidency, Republicans are unable to turn their priorities into law.  Instead, they fund the Democrats' priorities.  Normally, having such ineffective lawmakers would call for replacing them.  But the prospects for running alternative Republican candidates against all of the incumbents is bleak.  Disenchantment with the Republicans in Congress will likely help the Democrats be even bigger winners in the midterm elections coming up in November.  If Democrats take over the House, the Senate, or both, conservatives would consider that to be a disaster.  Then again, maybe not much would change.
Photo:  President Trump's Remarks Prior to Signing the Omnibus Spending Bill, March 23, 2018, Official White House photo by D. Myles Cullen, Public Domain