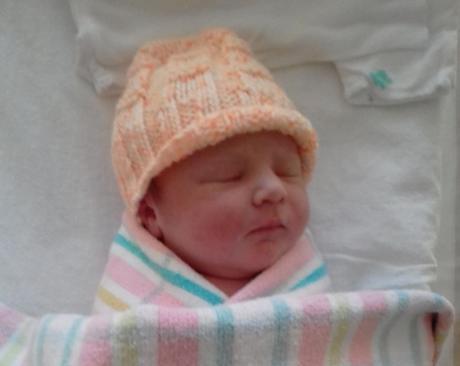 Our new granddaughter, Hannah Grace Hensley, was baptized on Palm Sunday.  Now comes Holy Week.  Christmas celebrates the Incarnation, God becoming a human being.  But this week and the events it commemorates shows, in rapid succession, why this happened and how it was all "for us."  In fact, all of the strains and themes of Christianity come together this week.
On Maundy Thursday the Gospel is underscored, as Christ tells us to take His body, "given for you,"  and His blood, "shed for you for the remission of sins."  Then on Good Friday, Christ takes into Himself the sins and griefs of the world in His atoning and redeeming death.  Then on Easter, He rises from the dead, also for us, thus completing His work of salvation.
Christ "was delivered up for our trespasses and raised for our justification" (Romans 4:25).  That is the best summary of what Holy Week calls to our remembrance and what it means today.
There is another place where all of the themes of Christianity come together "for us":
Do you not know that all of us who have been baptized into Christ Jesus were baptized into his death?

  We were buried therefore with him by baptism into death, in order that, just as Christ was raised from the dead by the glory of the Father, we too might walk in newness of life.  (Romans 6: 3-4)
In baptism, the events of Holy Week are here:  Christ's death, His burial, and His resurrection.  According to these words of St. Paul, our baptism connects us to Christ, so that what happened to Him happens to us.
As Romans 6 continues to develop, with His death, we died.  A dead body is no longer under the power of sin.  Neither are we.  We don't need to fear death because we have already died.  And with Christ's resurrection, we rise to new life.
So what a good way to begin Holy Week, with a baptism!  I suppose our joy at the event and the party we had afterwards here in Australia may have obscured a bit what had really happened to her.  She died and was buried, but then she rose again!  That was where the joy came from, with her resurrection that she shared with Jesus.
And so it is with all Christians, "all of us who have been baptized into Christ Jesus"!