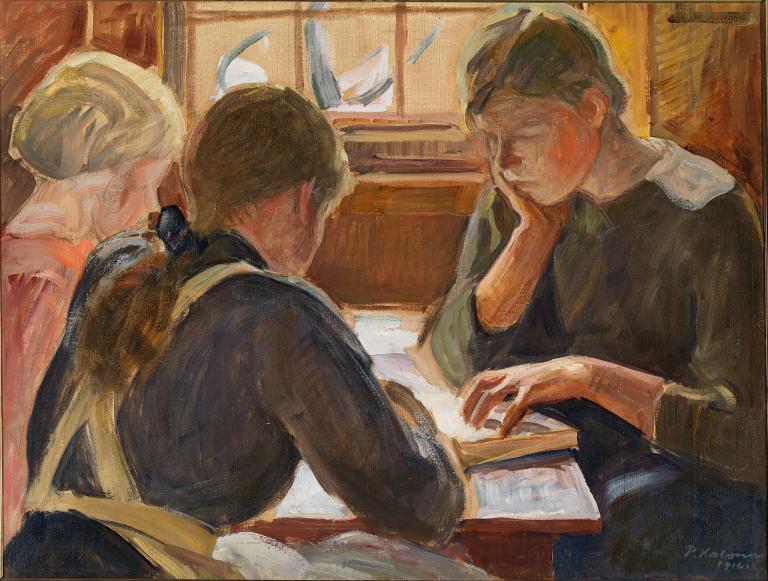 One of the superpowers most of us have but often take for granted is reading.  How amazing that attending to tiny marks on a page or on a screen can plug someone else's mind into our own, so that the thoughts and imagination of the writer, even one long-dead, can play in our brains.
Baylor historian and fellow Patheos blogger Philip Jenkins has been posting about a remarkable proto-novel from 1668,  The Adventures of Simplicius Simplicissimus, by Hans Jakob Christoffel von Grimmelshausen .  The picaresque saga, considered the first great German novel, gives us an inside-look into the minds of ordinary, lower-class people in the 17th century.  Something like the English Pilgrim's Progress, the book about a "holy fool" gives us the rarely-documented peasant's point of view.  (See this for Prof. Jenkin's comments on the book, and this for what it says about the horrors of the Thirty Year's War.)
Prof. Jenkins also writes about the book's depiction of reading, as Simplicissimus discovers what a miracle it is and then learns to read himself.  His reaction must have been similar to that of other peasants when they learned to read the Bible for the first time.
Here is a quotation from the book with comments by Prof. Jenkins:
In the great German novel, the young Simplicius Simplicissimus is living with a pious hermit. He sees him read the Bible frequently, but cannot grasp the concept of reading. We should remember that still, in the seventeenth century, literacy levels even in the heart of Europe would have been very low. The hero records that,

Now when first I saw the hermit read the Bible, I could not conceive with whom he should speak so secretly and, as I thought, so earnestly; for well I saw the moving of his lips, yet no man that spake with him: and though I knew naught of reading or writing, nevertheless I marked by his eyes that he had to do with somewhat in the said book.

So I marked where he kept it, and when he had laid it aside I crept thither and opened it, and at the first assay lit upon the first chapter of Job and the picture that stood at the head thereof, which was a fine woodcut and fairly painted: so I began to ask strange questions of the figures, and when they gave me no answer I waxed impatient.

Believing the figures in the illustrated Bible are real people, he speaks to them, and he complains that they don't speak to him the way they speak to the hermit. He is also worried that the soldiers in the illustration are about to stage a raid, to cause trouble and start a fire. The hermit then explains:

"Nay," quoth he again, "but they be not alive; they be made only to call up before our eyes things that happened long ago." "How;" said I, "thou didst even now talk with them: how then can they be not alive?" At that the hermit must, against his will and contrary to his habit, laugh: and "Dear child," says he, "these figures cannot talk: but what they do and what they are, that can I see from these black lines, and that do men call reading. And when I thus do read, thou conceivest that I speak with the figures: but 'tis not so."

Yet I answered him: "If I be a man as thou art, so must I likewise be able to see in these black lines what thou canst see: how then may I understand thy words? Dear father, teach me in truth how to understand this matter."

So said he: "'Tis well, my son, and I will teach thee so that thou mayest speak with these figures as well as I: only 'twill need time, in which I must have patience and thou industry."

With that he wrote me down an alphabet on birch-bark, formed like print, and when I knew the letters, I learned to spell, and thereafter to read, and at last to write better than could the hermit himself; for I imitated print in everything.
This might seem like a comic depiction of the "holy fool," but Prof. Jenkins goes on to record similar reactions from tribal peoples when they are first exposed to reading and when they are first taught to read the Bible.
You have got to read Prof. Jenkins' post in its entirety.  You also need to read  The Adventures of Simplicius Simplicissimus, by Hans Jakob Christoffel von Grimmelshausen, as I intend to do myself!
Painting, "Children Reading" by the Finnish painter Pekka Halonen (1916) via Wikipedia, Public Domain