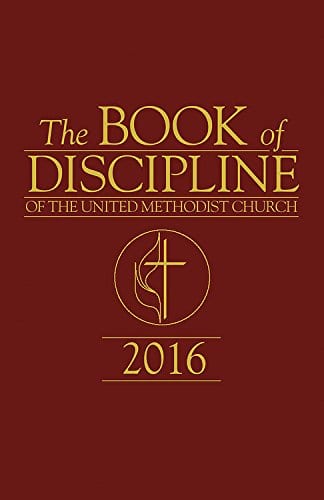 As we blogged about, the United Methodists have been meeting in a special General Conference in St. Louis to decide on their teachings on homosexuality. The vote Tuesday was to uphold the traditional position, not allowing same-sex weddings or non-celibate gay clergy!
The traditional option passed 438 (53%) to 384 (47%). This is because the Methodists from the former mission fields, particularly Africa, insisted on upholding Biblical sexual morality.
A poll showed that 67% of the American delegates supported the "One Church" plan, which would have allowed ministers and congregations to approve of homosexual relations and to conduct same-sex weddings, with the regional conferences deciding whether or not to ordain non-celibate gay clergy. But because of the growth of the global Christianity, 30% of the delegates were from Africa.
Not only did the special conference preserve the traditional Methodist teaching on the matter, as defined in the church's Book of Discipline, the conference led by the Africans strengthened the church's stance. The assembly voted to establish sanctions against any congregations and ministers who violate the church's teachings on homosexuality.
Now liberal congregations are threatening to break away from the United Methodist Church. Before, the conservative congregations, expecting a different vote, had been contemplating that move.
Every other mainline Protestant church–Evangelical Lutheran Church in America, the Episcopal Church U.S.A., Disciples of Christ, United Church of Christ, American Baptists, Presbyterian Church U.S.A., and some smaller denominations–has gone all in for the LGBT cause. But not the Methodists, the biggest denomination of them all, with 12 million members!
Once again the vigorous, growing, Bible-believing churches of the "Third World" are countering the attenuated, liberal, secularizing churches of the West. African Anglicans have asserted their leadership in the World Anglican Federation–to the point of disfellowshipping American Episcopalians–and African Lutherans are demanding orthodoxy from the ELCA and the European state churches–to the point of ordaining bishops and pastors for confessional congregations in Scandinavia.
Thus these churches in the developing world are repaying the churches that first sent the missionaries who evangelized them. Now, in a marvelous symmetry, they are returning the favor!
UPDATE: This says 43% of the delegates were from outside of the United States, most of whom opposed liberalizing church teaching. Ironically, multiculturalism–first intended to promote relativism–is thwarting Western liberalism. Other cultures–particularly those in developing countries, whom liberal Westerners have to respect because they are poor, colonized, victims of racism, etc., etc.– do not approve of homosexuality. To do so is seen as a neocolonialist imposition of a distinctly Western culture!
Illustration via Amazon.com