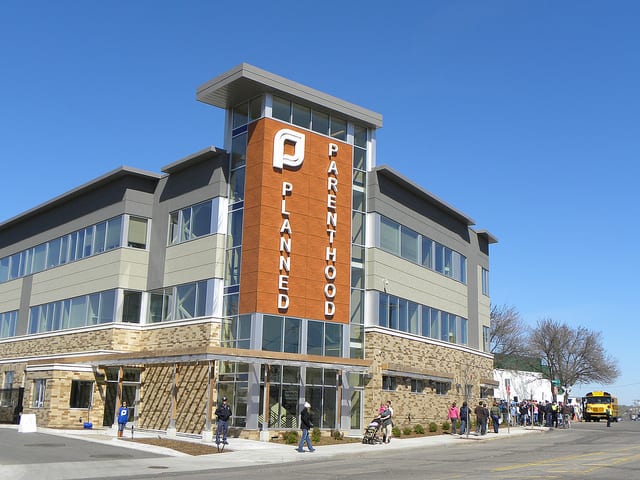 Title X of the Public Health Service Act pays for birth control for low income and uninsured women. The program, started in the Nixon administration in 1970, is currently budgeted for $286.5 million for this year (down from a high of $317 million in 2010). Between $50 and $60 million of these tax dollars go to Planned Parenthood, the nation's biggest abortion provider. But no longer. Planned Parenthood will no longer be eligible for Title X funds.
One might wonder why the federal government spends that much money to prevent poor people from having children, though it is billed as a way to promote women's health. Either way, the Constitution does not mention providing contraceptives as among the enumerated powers of the federal government.
At any rate, Title X has been a cash cow for Planned Parenthood, which has been the largest beneficiary of the program. Federal rules prohibit Title X money from going directly for abortions, but the taxpayer money the organization gets for contraceptives goes into the same bank accounts that hold the income from its abortion business.
But the Trump administration has issued new rules for Title X. Recipients may not refer clients to an abortion. Nor may they perform abortions at the same site where they dispense the contraceptives. Recipients must also be financially and organizationally separate from any abortion business.
The new rules also allow Title X money to go to clinics that provide abstinence counseling and natural family planning.
Planned Parenthood has vowed to fight the restrictions in court. Once the new rules go into effect, the organization has said that instead of trying to form a separate organizational entity, it will stop participating in the program. The president of the organization, Leana Wen, said that "Planned Parenthood cannot participate in a program that would force our providers to compromise our ethics."
Cutting off Title X hurts Planned Parenthood. But it receives over half a billion dollars of taxpayer money, the vast majority of which comes from Medicaid payments, which are funded by a combination of federal and state money.
There is still a long way to go, but, once again, President Trump has come through for the pro-life cause.
Photo by Fibonaci Blue, Planned Parenthood building, St. Paul, MN via Flickr, Creative Commons License