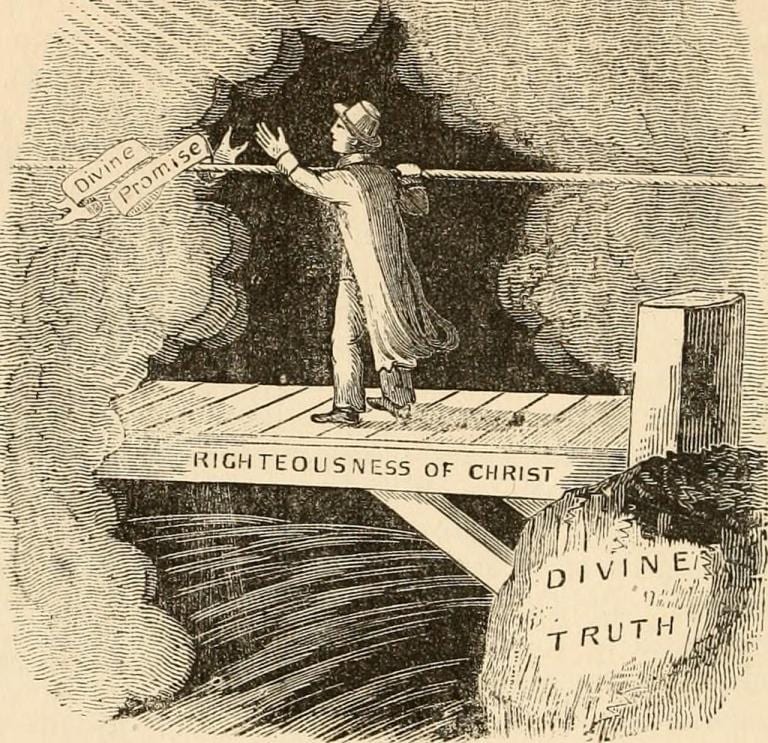 I'm in a reading group that just finished discussing Luther's Two Kinds of Righteousness.  Friends, you have got to read this brief tract based on one of Luther's sermons from 1519.  It's from the early days of the Reformation, two years after the 95 Theses and two years before the showdown with the emperor at the Diet of Worms.  This is Luther at his very best.
Setting aside polemics, despite the tumultuous controversies of the time–this was also the year of the Leipzig disputation with Johann Eck over indulgences and the authority of the pope–this work is pure pastoral care.  It is one of the clearest, most penetrating, most profound, and most beautiful expositions of the Gospel–with stunning applications of Scripture–that I have ever come across.
And it is helpful in explaining something that we often overlook, that the "alien righteousness" we have in Christ is a real righteousness, delivering us from the "alien" sinfulness that we have in Adam.  When we are united to Christ by faith–as a result of His grace and the Holy Spirit's work through Word and Sacrament–we are saved by His good works, which become ours, since we are members of His body.
Therefore a man can with confidence boast in Christ and say:  "Mine are Christ's living, doing, and speaking, his suffering and dying, mine as much as if I had lived, done, spoken, suffered, and died as he did."  Just as a bridegroom possesses all that is his bride's and she all that is his—for the two have all things in common because they are one flesh [Gen. 2:24]—so Christ and the church are one spirit [Eph. 5:29-32].
Furthermore, Luther explains the connection of this "alien righteousness" that we did not accomplish with our "proper righteousness"; that is, the good works that are the fruit and consequence of Christ's righteousness in us.
Luther relates all of this to vocation.  That is, to the Christian life as we each, in our various capacities and walks of life, love and serve our neighbors.
Luther's text for this message is Philipians 2:5-6:  "have this mind among yourselves, which you have in Christ Jesus, who, though he was in the form of God, did not count equality with God a thing to be grasped."  He focuses not just on what this passage teaches about Christ but also on what this passage means when it says "have this mind among yourselves."
I was struck by this passage, which specifies how we are to have the "mind" of Christ in our different vocations in the way we ought to empty ourselves–as Christ did–in love and service to our neighbors:
Whenever we, on the ground of our righteousness, wisdom, or power, are haughty or angry with those who are unrighteous, foolish, or less powerful than we—and this is the greatest perversion—righteousness works against righteousness, wisdom against wisdom, power against power.  For you are powerful, not that you may make the weak weaker by oppression, but that you may make them powerful by raising them up and defending them.  You are wise, not in order to laugh at the foolish and thereby make them more foolish, but that you may undertake to teach them as you yourself would wish to be taught.  You are righteous that you may vindicate and pardon the unrighteous, not that you may only condemn, disparage, judge, and punish.  For this is Christ's example for us, as he says, "For God sent the Son into the world, not to condemn the world, but that the world might be saved through him" (John 3:17).  He further says in Luke 9:55-56, "You do not know what manner of spirit you are of; for the Son of man came not to destroy men's lives but to save them."
When "righteousness works against righteousness"!  Using our very righteousness to mistreat people and thus to be unrighteous!   This is an example of the subtlety and precision of this work.
So read the Two Kinds of Righteousness. free at the link (or buy it here or look it up in Luther's Works, Vol. 32, pp. 297-306).  It's exceedingly short, only 20 brief paragraphs!  So you probably have time to read it right now.  You will be glad you did.
Illustration by John Warner Barber, "Christian Similitudes" (1866), p. 103, via Flickr, Public Domain.