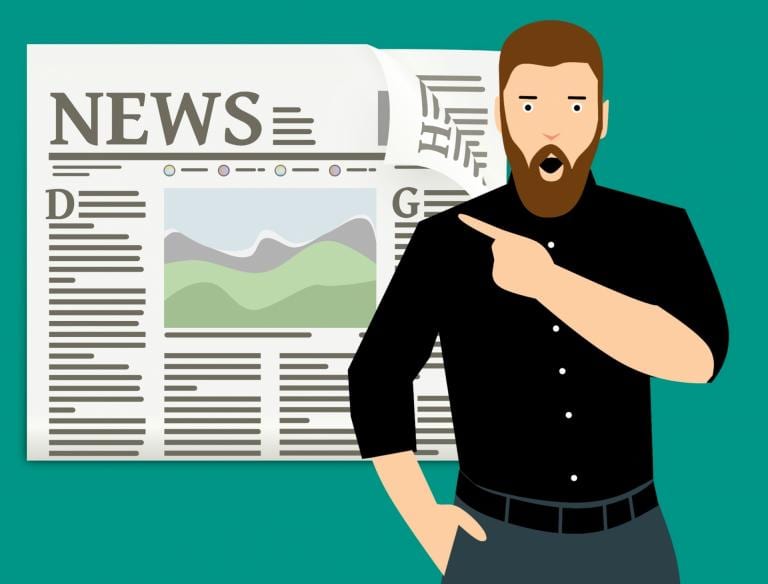 At the end of every year,  the Associated Press polls its reporters and editors to determine the year's top stories.  To help us in looking back, here, in order, are the AP's top stories of 2019  (for details of what they are referring to, go to the link):
Trump Impeachment
Immigration
Trump-Russia Probe
Mass Shootings
Opioids
Climate Change
Brexit
US-China Trade War
Boeing Jets Grounded
Hong Kong
Do you see a pattern here?  Does the list seem rather Trump-centric?  Six of the ten are either about Trump or, if you look at the angle on each of these topics at the link, are criticisms of his policies.  The only stories that were not about Trump are Opioids, Brexit, Boeing, and Hong Kong.  And stories about Brexit, the UK's departure from the European Union, usually cite parallels between the surprising vote to pull out and the ascension of Boris Johnson as Prime Minister to the populist nationalism of Donald Trump.  The press despises Trump, and yet is obsessed with him and can think of little else.
It's odd what did not make the list.  Nothing on the U.S. economic boom, with the economy close to attaining full employment, a record stock market, and rising incomes for lower-level workers.  Nothing about the' Kurds defeat of ISIS, with our help, or Turkey's invasion of Syria to attack those same Kurds.  Nothing about achievements in science, technology, or engineering, such as the photographic image of a black hole.
What are some other noteworthy events of the past year?
For a funny, satirical look back at 2019, you've got to read Dave Barry's Year in Review.
While we are at it, we should note that the New Year will be 2020, so we can also look back on the preceding decade.  (I know, I know–the new decade technically doesn't begin until 2021, but the retrospectives on the "tens" have already begun.)
NBC and MSNBC asked viewers to vote on the top stories of the decade.  Here are the results (the "Numbers indicate the number of submissions per story"):
Climate Change:

122

Donald Trump:

113

Russian Interference:

39

Impeachment:

34

Barack Obama:

31

Sandy Hook School Shooting:

24

#MeToo:

15

Wildfires:

15

Osama bin Laden Killed:

14

Global Warming:

10

Family Separation at the Border:

9

Gun Violence:

8

Social Media:

8

Disinformation:

7

Mass Shootings:

7

Same-Sex Marriage:

7

Environment:

6

School Shootings:

6

Financial Meltdown:

5

Hillary Clinton:

5

Republican Party Transformation:

5

Cubs Win World Series:

4

Las Vegas Shooting:

4

Smartphones:

4

Terror Attacks on 9/11:

4

Amazon:

3

War in Islamic States:

3
Illustration by mohamed mahmoud hassan via PublicDomainPictures.net, CC0 [Public Domain]