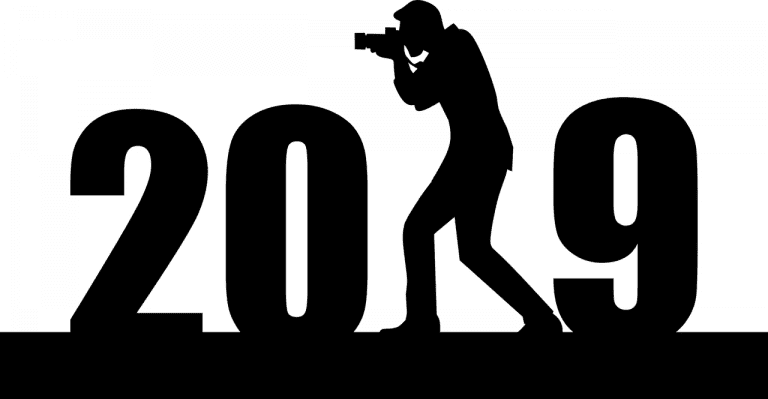 We celebrate New Years' Eve by staying up past midnight, singing Auld Lang Syne, and checking our predictions for 2019! This year we had an unusually high number of correct predictions, which is a tribute to you readers of this blog. But we also had a clear winner, a prediction with uncanny specificity.
Before we get to the main event, you might want to read 20 predictions for 2020: Here's what people said would happen by this year, in which USA Today writer Grace Hauck checked the predictions of experts from decades ago. They include anti-gravity belts, the end of nationalism, and a democratic China. Your predictions were much better than the experts!
So let's get to our contest. You can read the complete predictions at Make Your Predictions for 2019.
There were lots of predictions about Donald Trump, most of which involved Trump being Trump. Once again, I was wrong in thinking he would resign to get a pardon from President Pence. Curiously, though there were six predictions regarding impeachment, most of those concluded that he would not be impeached. Only one person, Steve Bauer, predicted that Trump would be impeached, though it was not due to the Muller report, as he said it would be.
Quite a few of you predicted a slumping economy, whereas by most measures the economy is still soaring. Setapart said that the stock market would be below 23,327 (I love that level of specificity), but it's way over 28,o00. Saelma said that the price of a barrel of oil would be over $100. Right now, it's $61.68. Back in 2018, Saelma won runner-up for predicting that the price of a gallon of gas would be dramatically lower, less than $2.00, which actually happened, back in 2018.
Sports predictions were all wrong, except for one. No one expected the Super Bowl champion would be the New England Patriots (though it's nearly always the Patriots!). Or that the NCAA football champion would be Clemson. Or that hockey's Stanley Cup would be won by St. Louis. Or that the World Series would be won by the Washington Nationals. However, Kirk correctly forecast that the NBA champions would be the Toronto Raptors.
I was going to give the much-coveted consolation prize for the worst prediction to Tom Hering, who thought that the world will react against screens in favor of real-life contact. But in the specifics that he cites, Tom was right. He was actually correct that hard-copy, paper books would outsell e-books and that the number of independent bookstores is growing. And "shopping in a specialty store" still far exceeds shopping online, which, though it has shot up 19% over last year, still comprises just 15% of retail sales. His point that "vintage media" would do well seems to be on target, though 80% of the revenue in the music industry this year came from streaming, as opposed to "listening to albums on a good stereo."
For his counter-intuitive observations, I will move Tom into the Winners' Circle. Along with Kirk for his basketball pick and Steve Bauer for predicting Trump's impeachment. There were also other very good predictions.
For international politics, Ian Stewart was correct in saying that Canadian Prime Minister Justin Trudeau would be re-elected and that Conservative Party head Andrew Scheer would resign. Guest predicted that Teresa May would step down as UK prime minister, bringing on a leadership election. Brexit was mentioned by quite a few of you, but always to say that it would not happen. But with Boris Johnson as Prime Minister, thanks to a Tory landslide and a Parliamentary vote to approve his exit plan, it looks like the UK will, in fact, secede from the European Union on January 31.
Setapart came close in predicting that 2009 would be the hottest year on record. Actually, it was the second hottest, tying with 2017. The hottest year was 2016. The next part of the prediction, though, that the last five years would be the hottest years in history, came true. Sven had a similar correct prediction in saying that 2019 would be in the top three.
Sven was also right in saying that Avengers: Endgame would set the record for the biggest opening weekend box office.
Another movie industry prediction wins runner-up honors. Jeremiah Oehlerich predicted that no one would host the Oscars. That's exactly what happened as the scheduled host, comedian Kevin Hart, fell victim to the cancel culture when his Tweets were discovered from 2011 that made fun of gays. At the very last minute, the Academy Award decided not to have any host at all. These are hard time for comedians, especially for those who made their reputation from "pushing the boundaries," since most of them have material in their past that violates the strict rectitude of today's standards of hyper-sensitivity. And there is no forgiveness or statute of limitations.
The winner of the 2019 virtual prize for best prediction is, I think, clear cut, yet another guess that staggers the mind. Joe predicted that "Russia will block the Kerch Strait isolating the Ukrainian port cities of Mariupol and Berdyansk." Huh? Kerch Strait? Mariupol? Berdyansk? I had to do some research on this one, but I found this, dated 3 April 2019, saying that the Russians are indeed blockading the Kerch Strait, specifically mentioning those cities: "The duration of the artificial detention of vessels in the Kerch Strait heading for Mariupol or Berdiansk remains three or four times higher than before the blockade."
So, Joe, for your knowledge of the Ukraine and in light of that country's recent impact on the United States, you are this year's winner. (You aren't a Ukrainian agent trying to influence our elections, are you? Are you an oligarch? Is your last name Biden?)
Image by mohamed Hassan from Pixabay