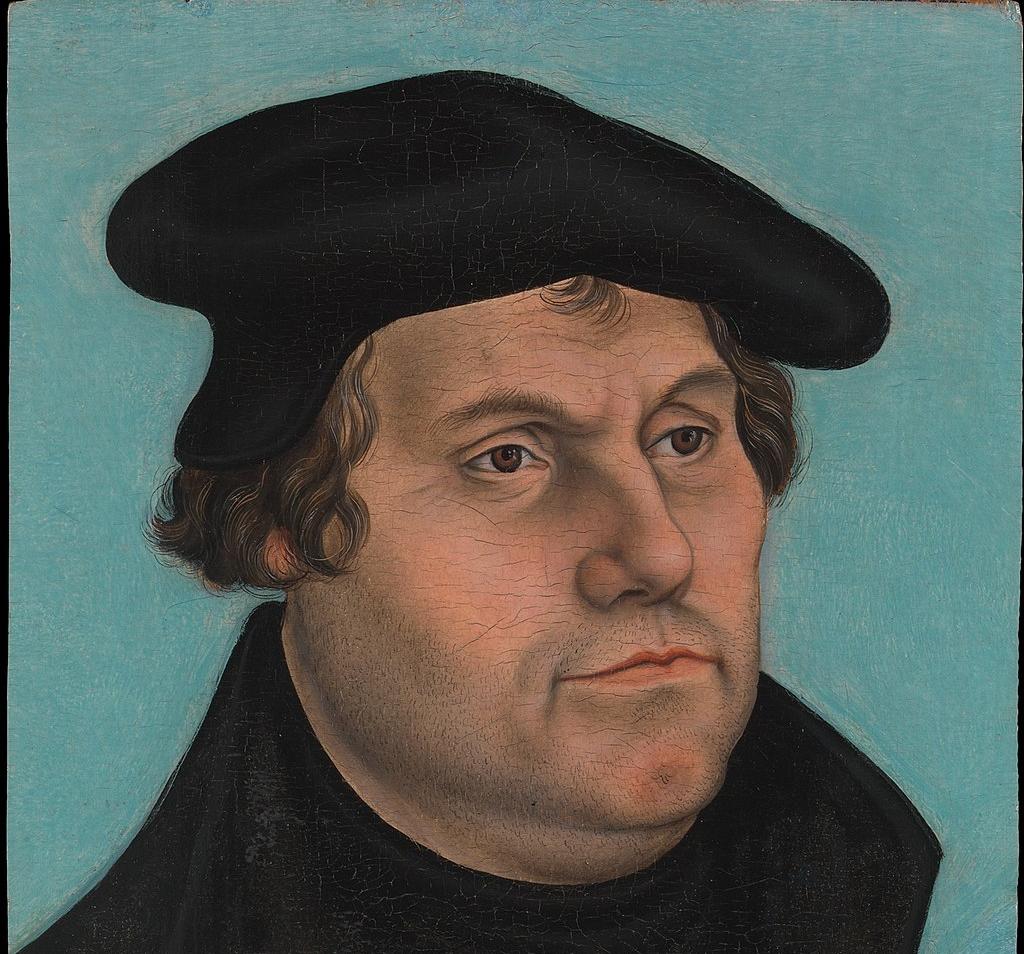 As evangelicalism and its theology are floundering–as evangelicals themselves will generally admit–a path forward can be found in the thought of Martin Luther.
For example, Southern Baptists and other evangelicals have been tearing each other apart over the controversy in Reformed circles between Calvinism and Arminianism. Luther shows how you can be a "divine monergist," believing that God accomplishes everything for our salvation, as Calvinists do, while also affirming the universality of Christ's atonement, as Arminians do.
Luther's doctrine of the Two Kingdoms shows how Christians can be involved in the secular realm, including politics, without either selling out their faith or turning their faith into a political platform.
His distinction between Law and Gospel can keep Christianity from devolving into legalism and self-righteousness, bringing freedom back into the Christian life, while still upholding Biblical morality.
I could go on and on–and I do, in books of my own that I'll mention below, but I want to highlight some appreciations from the evangelical camp.
Paul R. Hinlicky, a Lutheran, published a book a few years ago entitled Luther for Evangelicals: A Reintroduction. It was just reviewed by the Australian evangelical theologian Rhys Bezzant. This was posted at Euangelion: A Post-Post-Modern Blog on Scripture, Faith, and Following Jesus by my fellow Patheos blogger, the Australian evangelical theologian Michael Bird.
Here are the first two paragraphs of the review, which I hope you will read in its entirety (my bolds). From Rhys Bezzant, Luther for Evangelicals:
There is lots of conversation about the state of evangelicalism, in the US and beyond, with a primary critique circling around its loss of theological foundations, or building on weak ones. So Hinlicky, professor at Roanoke College in south-west Virginia, has written a book to suggest that evangelicals should look again to the theology of Martin Luther. It sounds like an obvious place to start. Surprisingly, Luther is often touted as a hero for the Protestant cause, but his theology is unexplored, and even his doctrine of justification by faith is frequently misunderstood. We want to see Luther as one of us, but his late medieval life wrong-foots us. Going behind contemporary assumptions of what evangelicalism is to rediscover a strange but familiar Luther is a project worth pursuing. He might make us think again.

The first half of the book examines Luther's theology through the prism of the Bebbington quadrilateral. The English doyen of the study of evangelical history, Bebbington provides a phenomenological definition, arguing that evangelicals have highlighted conversion, the Cross, missionary engagement and the Bible to create one of the modern world's most influential Christian movements. And Luther has something to say about each of these, though he might find different categories for expression, and does so without appeal to individualism or experience as core assumptions. Hinlicky makes good use of Molly Worthen's book Apostles of Reason as his evangelical conversation partner, where evangelicalism's rationalist foundationalism is heavily critiqued, not Luther's besetting sin as it turns out!
This is very perceptive in recognizing that evangelicalism often goes wrong in its focus on individualism, experience, and rationalism. One might wonder, what else is there? But Luther–whom many evangelicals think they know, but really don't–shows an alternative in his understanding of God's Word, which is not subject to an individual's interpretation, experience, or rational understanding, but counters them all in an objective but dynamic and personal revelation of the Holy Spirit.
Those interested in this topic might want to look at the book I wrote with Trevor Sutton entitled Authentic Christianity: How Lutheran Theology Speaks to a Postmodern World, in which we show how Luther can help not only evangelicals but also the "Nones."
And later this month a brand new, greatly-expanded edition of my Spirituality of the Cross: The Way of the First Evangelicals will be available. Much more on that later.
Illustration: Portrait of Martin Luther by Lucas Cranach the Elder, CC0, via Wikimedia Commons.