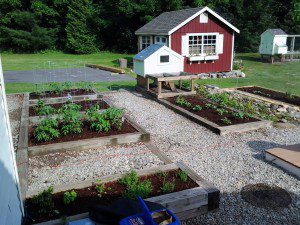 Well, it's February 15th and it was -8 degrees fahrenheit when I got out of bed. But according to Mother Earth News, it's time to plan my garden.
I'm not a terribly knowledgable gardener. I'm what you'd call a, "read-the-instructions-and-stick-a-seed-in-the-ground-and-hope-for-the-best" gardener.
We do amend the soil. We have chickens–typically 5 to 7 at any time–and we use mobile coops so we can set them right on top of the raised beds. (You can see one of the coops in the photo above.) So the primary amendment is chicken manure. We also compost: leaves, kitchen scraps, those things. I haven't figured how to do that very efficiently though.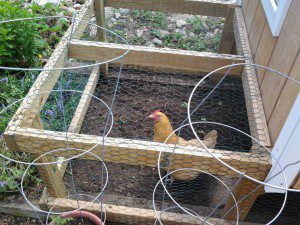 Back when I bought the place we now live in, the first thing I did was build my office (you can see that under the "Stuff I Like" tab on this page) and then I installed raised garden beds. (Not long after I also built the coops.) Before moving to this place I had never gardened. My wife had helped her grandmother a bit (more about Grammy Rosy in a minute). But we were pretty much novices. Now that we've been at it more than ten years, I still think of myself as a novice. I'm not one of those people who can tell you the PH of his soil or rattle off the names of exotic squashes. People like that can make it seem like the bar for entry is pretty high. If you're not a gardener already, I'm happy to inform you that you really don't need to know much to begin.
But what about the notorious $5 tomato?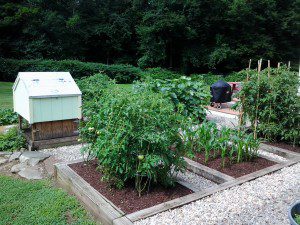 You can over do it. Particularly when you're getting started. The first couple of years I did what lots of people do: run down to the big box store and buy some plants and packaged soil with all the mumbo-jumbo about the right mix of nutrients.
For the last ten years we've been growing all our stuff from seed. Considering a pack of seed usually costs less than two bucks, our tomatoes cost us–not counting labor–a fraction of a penny each.
Generally in April I get out the plats for the seeds, set up the shelves in my office (it has southern exposure and windows all around), and I plant the seed. Then by early May I have seedlings galore. I put them outside most days to get them hardy and ready for the beds. Then after the last frost I turn the beds and make the last amendment of compost and manure, then the wife and kids (when they were still around) put in the seedlings, spread mulch, and there you have it. From that point on my wife and daughter do most of the work, weeding, watering, and harvesting. Since it is a kitchen garden, it is just a few steps from the garden to the sink.
Here is the harvest for last year:
Tomatoes (16 plants) — 470
Cucumbers (two varieties) — 91
Red & Green Pepper — 42
Sweet corn — 63
Squash — 64
Cantaloupe (a disappointing year) — 5
Spinach, lettuce, kale — (hard to count leafy vegetables) lots!
Herbs and spices — lots of those too.
We also harvest wild raspberries and grapes; our property is full of them. We live in a rural area and our neighbor has blueberries. So we get free picking there. Lots of blueberry pie! Of course we share too. The wife is Italian, so many of the tomatoes go into sauces and soups that we enjoy though the winter months.
Grammy Rosy: Organic Before It was Cool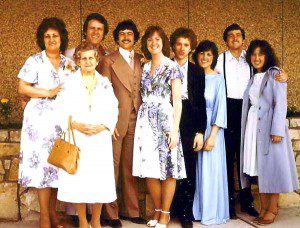 My wife's grandmother was from the old country. Grammy Rosy's been gone for a while now, but she kept a big vegetable garden well into her 90s. Being Italian the daughters and the granddaughters argued with her constantly about the need to take it easy and slow down (that's how Italian women show they care). Not being an Italian woman, I shamelessly enjoyed the homemade pasta and cannoli.
Something sadly predictable happened with her daughters. They grew up in the 40s and 50s when big business was doing its best to make us all dependent on packaged foods. During those wonder years people like Grammy Rosy, with her homemade clothes and her homegrown zucchinis, were considered backward, and just a little embarrassing. And the traditions of self-sufficiency came to an abrupt halt being replaced by delicious innovations like Hamburger Helper.
We look back on it now and we roll our eyes. But I lived through a little of that and I can promise you that you would have gone along with it just as mindlessly as Rosy's daughters. (It should make you wonder a little bit about what you're mindlessly going along with today.)
Still, good things have a way of coming back and what was old is new again, albeit with a little twist. Grammy Rosy's granddaughters and great-granddaughters are gardeners and preservers, delighting in homegrown and homemade.
Hansen's Law  
Hansen's Law predicts the return of the third generation. It has been challenged somewhat by the neat-nicks of sociology. But going by the anecdotal evidence collected by my own eyes, I see it all around, and I'm encouraged by it. We call the old ways by different names today. The old timers spoke of frugality and thrift, the newbies speak of re-purposing and sustainable living. The differences are not inconsequential, but there is enough there in common that you can see a family resemblance.
Gardening began in the Garden, it's Biblical. And I think it's tremendously helpful for understudying the Bible, and ourselves. I'm hoping that other Biblical things will come back–things like marriage and children and manual competence (yes, I consider manual competence a biblical virtue).  Perennial vices can only be corrected by perennial virtues. This is not the first civilization to deal with the problems we deal with today. But I have high hopes that the young will do the work of recovery in the years ahead that only they can do. If Jason Mraz is an indicator, based on his famous song, Frank-D-Fixer, it has already begun.