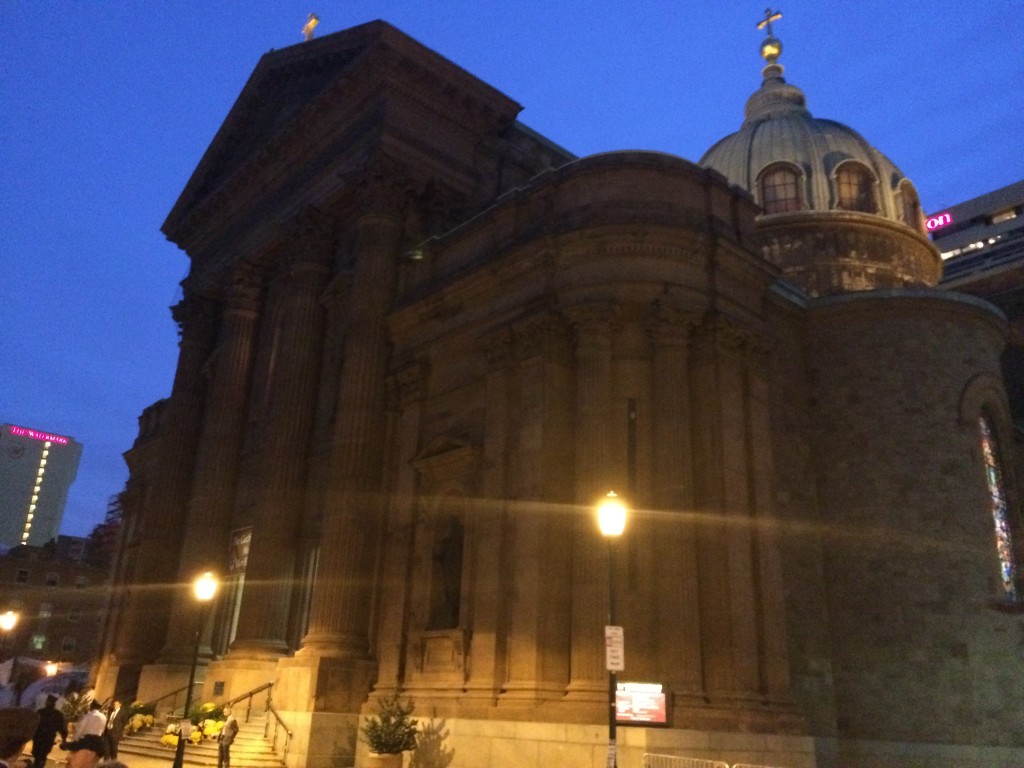 I don't want to brag or anything, but I had mass with the pope.
And not some big open air mass. Nope. This was a votive mass for Our Lady, Mother of the Church, in the glorious Basilica of Sts Peter and Paul in Philadelphia. I even got a plenary indulgence for participating. Take that, Martin Luther!
The mass was a perfect ending to an exhausting week that began on Monday, the day before the World Meeting of Families opened, as I trundled around the city squinting at various incredible artifacts for a feature story on special papal exhibits. That was a good start, since I like old things, and I'm gradually becoming one, as my miserable arthritic joints kept reminding me all week.
I've written up some of what I experienced in a piece for the National Catholic Register, which deployed me to Philly as part of their coverage team for my writing skills because I live 13 miles away from Philadelphia. (It's like the Clint Eastwood movie Firefox, where he thinks he's been hired for a mission because he's the best pilot, but really it's just because he fits the special pilot suit.) Here's a bit of it:
The Seat elevates the man. The man who takes the Seat a living connection to Peter, and thus to Christ. He is Christ's vicar on earth. Tu es Petrus. Christ left us many gifts, some of them sacramental in that they are a channel of grace, some of them sustaining, such as the preaching of the gospel and the Church. One thing he left us was Peter.

Not Simon. Simon died upside down on the cross. His bones are buried underneath St. Peter's. Simon is no more.

Jesus didn't leave us Simon. He left us Peter, and each man in his turn who has taken that Seat has reminded us of that unbroken gift.
It was a tremendous week seeing family and life celebrated, happy nuns, lots of children, a few hundred thousand pilgrims, and a bunch of people I've only met online, like Simcha and Damian Fisher with Corrie: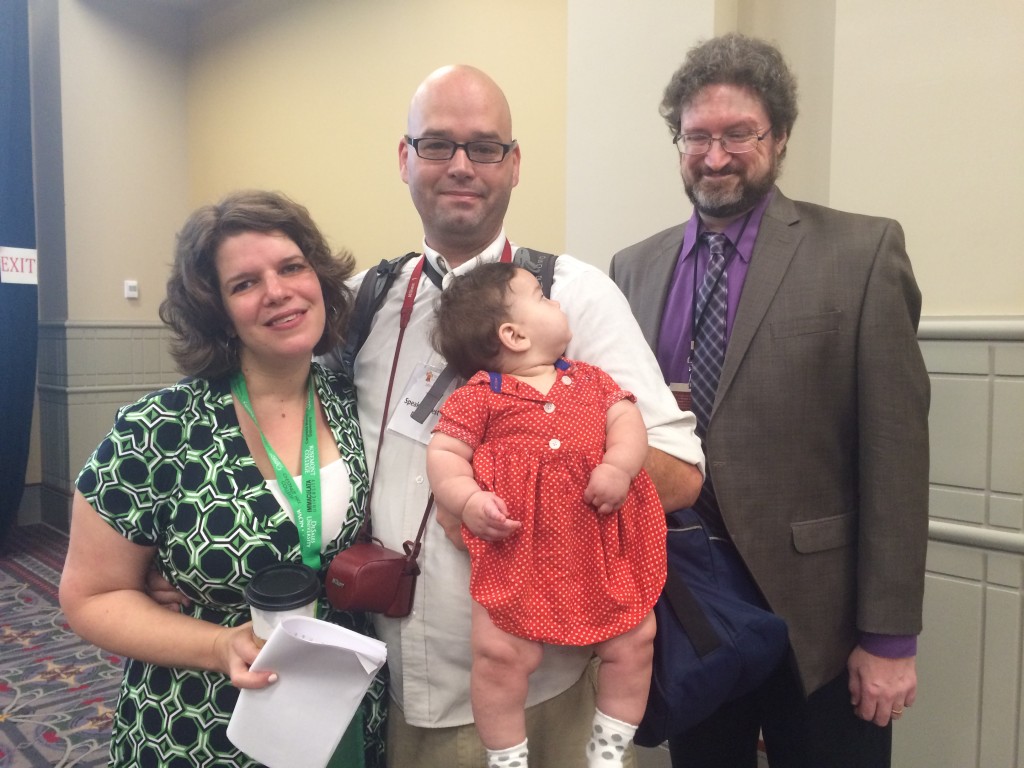 And Steven Greydanus and I hung out with Pope Francis.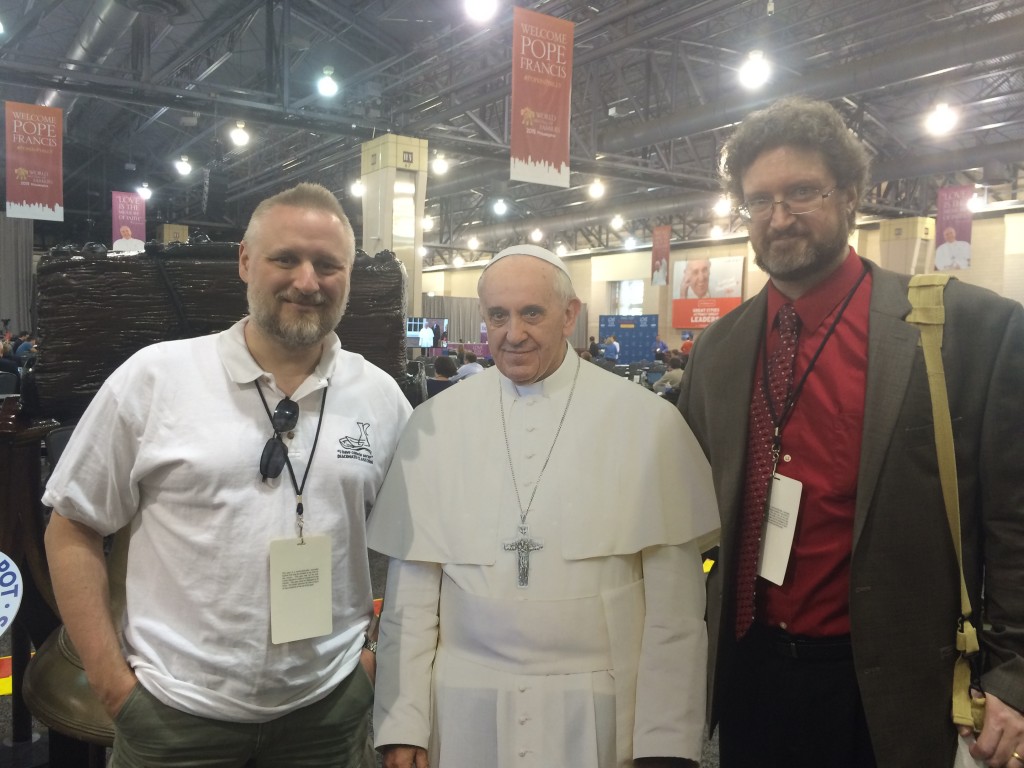 The entire Francismania phenomenon took me by surprise, as I discuss in the Register. I expected crowds, but not the rapturous reception of both the masses and the elite.
I was glad for it all. We don't have such a surfeit of joy in the world that we can begrudge it when it comes in a white cassock preaching the gospel of Christ to a receptive audience. Soured-faced reactionaries kept tweeting me: but they're not coming to the church for the right reasons! They think he's preaching some kind "Who I am to judge to judge" gospel that celebrates recycling, gay marriage, abundant sex, and divorce!
Meh, maybe they do, maybe they don't, but the gospel was preached attractively and persistently for most of a week, and people responded to it. To those who worry that this is just crowd emotions that will fade quickly, the Bible already has you covered.
"A sower went out to sow. And as he sowed, some seeds fell along the path, and the birds came and devoured them. Other seeds fell on rocky ground, where they had not much soil, and immediately they sprang up, since they had no depth of soil, but when the sun rose they were scorched; and since they had no root they withered away. Other seeds fell upon thorns, and the thorns grew up and choked them. Other seeds fell on good soil and brought forth grain, some a hundredfold, some sixty, some thirty. He who has ears, let him hear." Then the disciples came and said to him, "Why do you speak to them in parables?"
My thought is, "Great, some of those seeds will bring forth grain!"
The critics' thought is, "Stop wasting all that seed!"
Yeah: it doesn't work that way.
Look, I have may share of concerns about Pope Francis, and I'm perfectly fine with reasonable criticisms of him. I don't care for the way he's managed the synods and the kind of people he's put forward, who are either bad theologians (Kasper) or bad human beings (Danneels). I don't care if they are Princes of the Church: their role at the synod should be checking coats, not shaping policy at the invitation of the Holy Father.
But is that really the most important thing? Is it? He's not the quiet, shy professor (my beloved Benedict XVI), but the world's pastor, trying to bring people aboard the barque so we can administer the medicine of Christ to them.
Too many people were obsessed with parsing his every word and phrase for political meaning. If American politic preoccupations are the primary lens through which you view the Church and the pope's statements, you've failed. Start over.
His message isn't always easy to hear. Some of his words struck a little too close:
We need to invest our energies not so much in rehearsing the problems of the world around us and the merits of Christianity, but in extending a sincere invitation to young people to be brave and to opt for marriage and the family. Here too, we need a bit of holy parrhesia! A Christianity which "does" little in practice, while incessantly "explaining" its teachings, is dangerously unbalanced. I would even say that it is stuck in a vicious circle.
Yes … that's me. Guilty. In the chattering class, we chatter. We shouldn't stop chattering, but we also need to do.
There is far more to the gospel of life than our circular debates and petty obsessions. The gospel is made for people, even sinners who don't agree with it. Especially them.
The outpouring of love for Francis had many sources. Our age is sick, our nation is broken, and the ground seems to be shifting beneath our feet. Then along comes this man, preaching the heart of the gospel, a man whose role recalls the very origins of a faith that changed the world, and is so desperately needed today. He comes to us insisting that we live out Luke 4:18:

"The Spirit of the Lord is upon me, because he has anointed me to proclaim good news to the poor. He has sent me to proclaim liberty to the captives and recovering of sight to the blind, to set at liberty those who are oppressed, and declare a year of the Lord's favor."
That's our priority. And to complain about what words he used or didn't use about abortion, or the number of times he mentioned the environment, or the presence of a Protestant preacher at a Catholic event (all things people complained about to me) is to miss the point. They've forgotten the very fundamentals of our faith in an obsession over the particulars. Particulars are important, but neither Jesus nor the popes ever wanted us to go out and preach canon 1050 & ff.
They want us to preach the gospel.
____________________
Here is some of what I wrote last week:
Treasures of Christendom in Philadelphia
Seen in Philly: The Lego Vatican
Pro-Life Leaders Gather at World Meeting of Families
Rick Warren and Cardinal Sean O'Malley Conclude World Meeting of Families
Pope Francis' Philly First: Marian Mass With Bishops, Priests, Religious 
There's also an hour of radio with Mark Shea and I recapping the week.