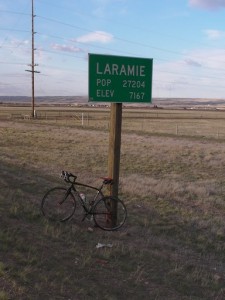 Dust…flies free for a moment, then returns, leisurely, to the habitual road—that bruised string which leads to and from my heart.
-Gretel Ehrlich, The Solace of Open Spaces
A full year before our wedding, my husband got an offer to complete a master's degree at the University of Wyoming, which meant that we spent most of our engagement in different time zones. Once a month, I'd fly to Denver and drive two hours north into Laramie, Wyoming, my eyes blind to the mountains flanking the distance, my heart focused on seeing Jeremy standing next to his mailbox, waiting for me.
Now we are both here, and I am seeing that Wyoming is a place that reveals as it haunts, the red rock of the valley we live in as raw as the longing we bring to it, longing we can only face in the wide stretch of plains and sky.
That longing is for both space and safety, for transcendence, for the feel of solid, immovable rock beneath our feet, beneath our life.
When Jeremy first moved here, the miles of snow on either side of Interstate 80 and the feeling we were seeing more land in one blink than we had ever seen in our lives terrified me—an existential kind of fear, both blinding and startling.
Recounting a sheep herding expedition across a mountain range, Ehrlich writes: "Numb in all this vividness, I don't seem to occupy my life fully."
Together now in this place, we are trying our best to fully occupy our marriage. And thus far, we are not numbed by the newness of our life together: our mix of work and classes and meals, the trips to the grocery store, the daily lighting of candles before prayer, are all touchstones throughout our days and weeks.
But there are mornings where I step outside and see the vast overhang of clouds, the jagged wisps of them enormous and low across the shock of sunrise, and I gasp and remember that this homestead is truly out west, truly out of range from anything I've ever known.
It seems that Laramie, the town in which we live, is a watering hole, a place where many people land, get supplies for the next steps on their journey, and then move on. People share our story—we moved here for a job, they say, or we're working on moving to Denver.
The fact that the town holds the state's only university, and that over half of the town's thirty thousand residents are students, adds to the sense of impermanence, of just passing through.
And like all sojourns west, the stakes are very high.
"I am here to improve my English," a student says to me, her binder shaking in her hands as we review a failed final exam. She is from Saudi Arabia, and was sent to Laramie, to the English language center I help direct, on scholarship from the government.
"I cannot fail again," she weeps, her dark eyes staring at the floor. "If I have to go back to Saudi Arabia, my life as a student is over."
There are darker stories —the histories of Chinese miners, who came in the 1800s and were hunted out of mining towns, their bodies burned, their graves now hidden by public school buildings.
There is the story of Matthew Shepherd, the young gay man whose brutal murder went, as far as I could tell, unremembered this past October, the anniversary of his death.
How is it that we are weaving a life in this place, our days marked by candlelight, a homemade wreath hung on our front door? Is it naïve to think that there is any place pure enough to start a life?
And what about the history we bring with us—in particular, the story of my family, of our own failed attempts to start life and love anew? Is this place really different from any place I've been, or will the fears I've known follow us here, the dust I tried to shake off my feet still clinging, following a long-bruised life?
Each Sunday, we drive forty miles east to Cheyenne, where even our parish is itself fractured. Once the only Orthodox parish for miles, a recent disagreement split families and spurred members to create a church plant at the local community college, where an intern priest serves communion in an upper storage room.
If you ask some of the older women about the new mission parish, they will scowl. "Satan's work," they say, prayer beads clicking angrily in their hands.
There are signs that the church is being healed. Our new priest, who came after the split, spent his first Sunday in the parish leading the children in a water blessing, their hands holding branches dipped in holy water, the older women smiled as the children splashed water on the walls, on our hands and faces.
And each Sunday, the same women show up to tend to the candles planted in sand before an icon of Christ, their hands swiftly sweeping clumps of beeswax from the white sand, their lips moving effortlessly, unconsciously, along with the liturgy: I believe, oh Lord, and I confess.
On our drive home, as we descend into the valley, rock towers before us, blood red against green moss, the Snowy Mountains rising, a revelation we behold, but barely understand.