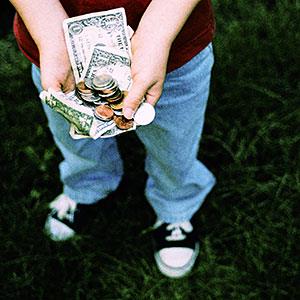 One summer my family got evicted from the house we were renting in Florida. The welding jobs ended and my stepfather refused to do anything that wasn't union work so we burned through our money while he watched television and waited for the union to call.
My mother worked and did most of the cooking and put up with her husband's liquor and drugs and abuse until one day she wasn't there. She'd gone to the hospital for "her nerves," he told us. Then someone nailed the red poster to our front door.
My stepfather stayed indoors. Each afternoon he gave me a couple of bills and I would bike along a winding blacktop to a convenience store, where I bought lunchmeat, white bread, and soup.
Now that I have four ravenous boys, I realize that he must have gone hungry, given how much my brothers and I ate. I want to remember him as the devil. I recall cigarette lighter burns and punches and humiliations, but I have to remember this as well, that he went hungry so we would not.
I sneaked around front to check each evening, but the date on that red poster didn't change. It approached steadily like a wave taller than our heads, and each night I surveyed my room and wondered which of my things I would carry, and where we would go, and when my mother's nerves would be better.
Soon my stepfather was handing me singles and coins for our food. Soon I knew to keep quiet when I was still hungry.
His sister arrived one afternoon, all the way from North Carolina. She'd roared down the highway in the dead of night, fueled by coffee and her favorite Juice Newton tape. She came with food money and gas money and a big truck to ferry our belongings.
When Aunt Debbie rolled into our driveway, brassy and cheerfully profane, it was like hearing the cavalry's bugle. It was like crossing the threshold into your brightly lit home after you've scared yourself with thoughts of vampires in the gathering darkness. It was like Sunday dinner, before you bite into that fried chicken leg, when you hold it between your fingers and know that your empty belly is about to be filled to bursting, filled from this plentiful table that stretches out before you.
It was salvation, the closest to it I'd known.
Aunt Debbie took charge and we stopped wondering what the sheriff does to you if he catches you in the house after the red poster date. As everyone loaded the last boxes, our neighbor called me over. She wished us well and coaxed something from her grumbling husband. He gave her a hundred dollar bill. She told me to hide it and not give it to my stepfather until we'd crossed the state line.
"I can't take this," I told her.
"People from North Carolina got to stick together," she said. I suspect she'd have done the same even if we'd hailed from Rhode Island. She made me take that hundred dollar bill. She gave me a quick blessing that made my face burn, and sent me on my way.
There's saying you'll pray for someone and there's putting your hand on his head to bless him where he stands. There's wishing someone well and there's tucking a hundred dollar bill you can scarcely spare into his palm. We divide endlessly into tribes, but these are the only two that matter, at least to the hurting—the tribe of good wishes and the tribe of good works.
After writing something particularly pain-filled and confessional, the most touching email I received was from a man I've never met, a man regularly outraged by my political pronouncements on Facebook. He encouraged me and gave me his phone number and told me to call any time. Another email came from a friend who doesn't even share my faith, let alone my politics. We have diametrically opposed beliefs on most things, but still he cares about me, wants to help me if he can.
I want to believe that good people agree with me on matters of politics, childrearing, culture, faith. I want to believe they are like me because I want my values to serve as proof of my virtue. But faith without works, writes James, is dead—and perhaps this is why churches and communities are dying, because while our professions have never been more shrill, our works grow pale and depersonalized.
Good works. Paul tells us they've been prepared beforehand, for us to walk in them, but twisted is the road, at least for this wanderer. I have good works left yet, and so do you, and in the end all our sophisticated affectations won't matter, we'll be asked what we did for the broken man next door, that beggar at the stoplight, our brothers and sisters who make us cringe.
"She has done what she could," says Christ of the woman his apostles chastised for pouring expensive fragrance on his head. Would that it be true for me, for all of us. To the right person, in the right moment—which is to say, the person whom God has placed in your path—it can feel like salvation. And for all we who labor, so vainly at times, it can be salvation, our own salvation, in spite of ourselves.