Gospel for Asia, Wills Point, TX, USA
Do you remember your elementary school days? Maybe they were some of the best years of your life. Maybe you played four square during recess and watched the Mickey Mouse Club in the afternoons. You probably never had to worry about money or paying the family bills. You probably didn't wonder if you were going to eat that day. Three daily meals were most likely guaranteed, provided by your caring mother and father.
But for Bijay … His elementary school days were quite different.
Dreaming of Food and Schoolbooks
Angry shouts filled the room. The smell of alcohol clung to Kuwar as he yelled at his family. Kuwar's youngest son, Bijay, hunkered down amidst the familiar scene. His schoolbooks lay abandoned—how could he study while his father was enraged?
Food was scarce in Bijay's house, but the supply of his father's strong drink never ran short. Although Kuwar had a job as a laborer in paddy fields, he relinquished very little of his income to provide for his family. His wife picked up the slack yet struggled to make ends meet, and her difficulty to provide food only worsened over time.
Living in the Wake of Destruction
Bijay's family lived in a village riddled with poverty. Civil war had ravaged the region, and many lives remained shattered. Bijay watched his parents struggle—one trapped in an addiction and the other caught in its wake—and worried about his family. Many other children in his village were poor, but Bijay saw some of his friends eating good food, wearing new clothes to school and studying with new school materials. The sharp contrast between his family and these other families made Bijay wonder when he would be the boy happily going to school with a full stomach and nice clothes.
Bridge of Hope Turns Bijay's Dream into Reality
Then one day, some GFA-supported Bridge of Hope staff members visited Bijay's home, conducting a survey to invite additional children to join the Bridge of Hope center in the area. With so many children in need of assistance, Bridge of Hope staff members pray for wisdom and carefully interview families to determine which children need help first.
After the staff members talked with Bijay's family and learned of his plight, they decided to enroll him in Bridge of Hope. The day Bijay had always dreamed of finally came!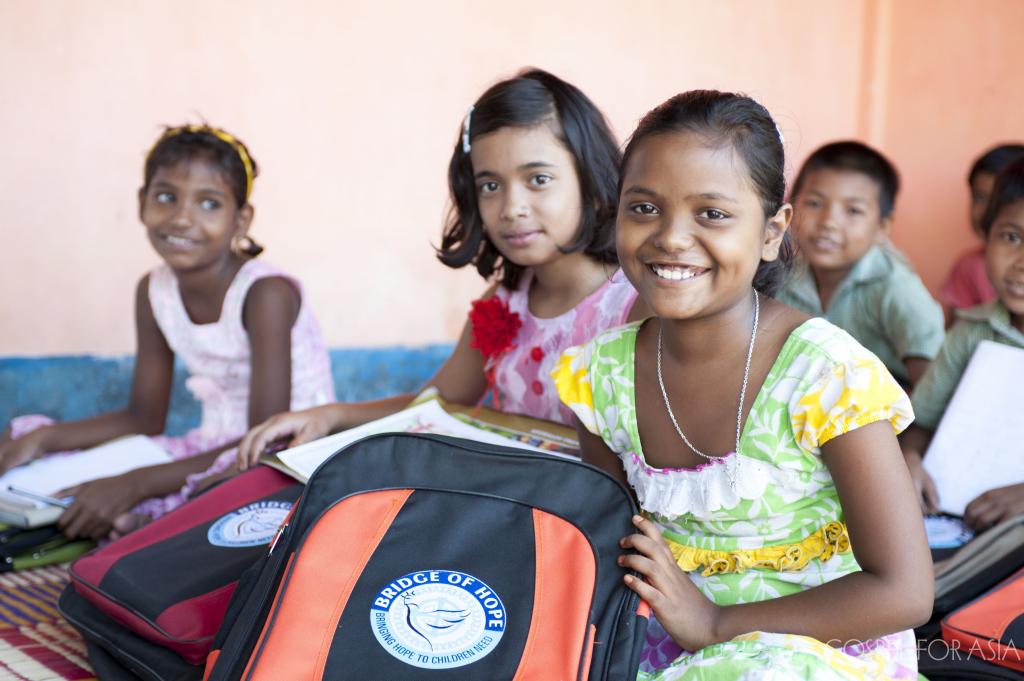 Knowing the young boy's need, the Bridge of Hope staff gave Bijay new shoes, school uniforms, school supplies and even a new backpack for carrying his precious books. Bijay also received a nutritious meal each school day and regular medical checkups, which enabled him to grow stronger physically.
What's more, the blessings from Bridge of Hope extended beyond just Bijay and his educational needs. This young boy's testimony goes on to explain how Bridge of Hope impacted his entire family. Through the counseling and love Bijay's father received from the Bridge of Hope staff, Kuwar was freed from his alcohol addiction!
Children Suffer Under their Parents' Addictions
Can you imagine living all your childhood life in an environment that fostered anxiety? Bijay's family situation is one that many children in Asia endure every single day. And that is not an exaggeration.
Addiction consumes.
We receive reports from the field about families ravaged by alcohol addictions. Fathers give their hard-earned income to the bottle instead of using it to care for their wives and children. Their drunken states often lead to physical and emotional abuse.
We understand men—and women—are given over to addiction for various reasons; they each have a story—whether it's because of the pressures of living in poverty, the disillusionment of life, idle time, negative friendships, etc.
But that doesn't change the fact that young boys and girls are looking into their father's drunken eyes and worrying about what will happen to their families, to their tomorrow.
Providing a Safe Haven for Children
Thankfully, thousands of children enrolled in Gospel for Asia-supported Bridge of Hope centers no longer have to worry. Bridge of Hope is a safe haven, a refuge for 82,000 children.
It's true that not every child enrolled in Bridge of Hope lives with a parent given over to addiction—we thank God for that! But each child has their own story of struggle.
The majority of the students in these centers come from families entrenched in poverty. At such young ages, they're already accustomed to "survival mode."
You work to eat. You eat to work. No work means no food. This is what they see all around them. This is what they come to believe life holds for them. They don't know there is much more to life than simply living to die.
But at the centers, students experience the love of Christ through the love of the staff. For a few hours every school day, they're free to dream and are encouraged to chase after those dreams. They're told that a life of addiction and poverty doesn't have to be theirs. They're empowered to thrive!
Rescuing Children for More than 10 Years
More than 10 years ago, the Lord God put a vision and a burden for the children of Asia on Dr. KP Yohannan's heart. By his faithfulness and obedience, and through the many people across the globe whom have shared that burden, 82,000 children are discovering what life is like without having to worry about their families, about their tomorrows (and that's not counting the ones who have already graduated from Bridge of Hope). These precious children know they have people who care for them and will help them overcome any struggle.
Here's the rest of Bijay's story:
As Bijay's worries faded away, he diligently applied himself to his studies, thankful for the help he received at the Bridge of Hope center.
 "I thank Jesus for blessing my family," Bijay shared.
God worked through Bridge of Hope to shine joy into the life of young Bijay and to also bring peace to his entire family.
=====
Click here, to read more blogs on Patheos from Gospel for Asia.
Go here to know more about Gospel for Asia: GFA.net | GFA Wiki | GFA Flickr