Gospel for Asia, Wills Point, TX, USA
The majority of Americans living in the U.S. today have never experienced firsthand the massive destructive power of modern-day warfare. Many of us who haven't served in the military don't know what it's like to be shot at or to have to scramble to find a place of safety when enemy artillery is unleashed or bombs start falling. Fortunately for us, the recent wars in which our nation has been involved in have been fought in places far away from our homeland.
Therefore, even though peace is something we value as a people, the word probably doesn't have the same emotional feel that it has for those who have experienced the peace in their homeland being shattered by armed conflict.
September 21, is International Day of Peace, as declared each year by the 193 member-states of the United Nations. The unique emphasis in 2017 is to show special support for refugees and migrants.
Refugees are persons who have fled their homes and homelands to seek peace and refuge elsewhere. Last year the International Rescue Committee estimated there were more than 65 million such people worldwide who have been displaced by military conflicts, and that doesn't count the additional 30 million or so who have looked for new countries because of famine and climate issues.
Migrants are individuals who move from place to place always seeking essentials and work of some kind. Today there are massive movements of human beings like this searching for a better life in locations that appear to provide more positive opportunities. Though their homeland may not be at war, the possibilities of knowing a better standard of living and a brighter future are quite limited for such people. Restated, that elusive, sought-after place of peace all too often remains next to impossible to find.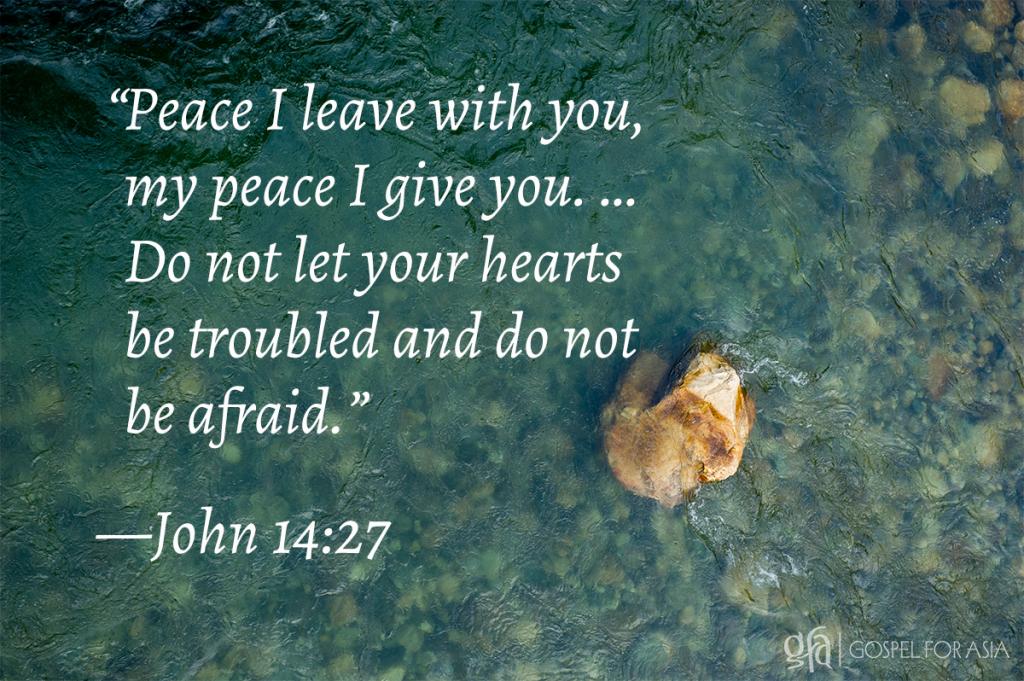 Scripture is a different matter. The prospect of finding peace is found throughout many parts of the Bible. Often such passages refer to an individual's inner peace. An example of this would be where Jesus comforts His disciples with these words, "Peace I leave with you; My peace I give you. … Let not your hearts be troubled, neither let them be afraid" (John 14:27).
Just as often, however, one finds passages referring to societal peace. An Old Testament example would be Leviticus 26:6, where the Lord informs Israel what the nation will experience if it follows His decrees: "I will give peace in the land, and you shall lie down, and none shall make you afraid."
In a more restricted sense, New Testament believers are instructed by the Apostle Paul to pray for their governmental leaders so Christians "may live quiet and peaceable life" (1 Timothy 2:2). He sees this as an advantage in regards to the spreading the message of Jesus Christ. It is similar to Peter's comment in his first epistle where he writes in chapter 3, verses 10 and 11, "He who would love life and see good days, … let him seek peace and pursue it."
In a well-known Old Testament prophetic passage about Jesus, Isaiah refers to our Lord as "the Prince of Peace." Mature believers know the world will never know lasting peace until the return and reign of Christ. Nevertheless, the followers of Jesus should still seek to presently promote peace in all their relationships. This includes not only the freedom from war, but also from any public disorder or disturbances. A Christ follower should be peaceable and not quarrelsome. More specifically, a peacemaker is an individual who seeks to help settle disputes, disagreements, quarrels and such. After all, didn't our revered leader say that "Blessed are the peacemakers, for they shall be called sons of God" (Matthew 5:9).
Gospel for Asia takes these words of Jesus quite seriously. Those who visit our U.S. campus often comment on the love and prayer they see demonstrated by our staff. Anyone fortunate enough to travel with us to countries throughout Asia are routinely impressed by the concern shown for the poor and powerless. It is no secret that Asia has many individuals who struggle just to make ends meet. Hopefully, we are known to be a people who reach out in love to such underprivileged individuals. We sincerely want to play a part in making our beloved homeland a nation marked by compassion for all, and especially for those who, for whatever reason, have been marginalized.
The believers on the field are regularly reminded of this command Jesus gave: to love others, even as He Himself did. Those who know the sacred Scriptures well are aware of how, time and again, in His day, Jesus reached out to those who had no other such champion.
All this is to write that we identify strongly with this year's International Day of Peace and with its 2017 emphasis on the plight of refugees and migrants. It is an understanding that, like the United Nations' website states, "…ultimately the day is about bringing people together and reminding them of their common humanity." (To see one of the ways our field partners in the Believers Church are reaching out to help migrants on this day, go here.)
Let us add that we also believe that human beings are not just a product of time and chance, but of an infinite God's creative genius. Therefore, they are of great value and should all be treated with dignity and respect. And those of us who bow before Christ gladly join hands with all who espouse such values.
=====
Click here, to read more blogs on Patheos from Gospel for Asia.
Go here to know more about Gospel for Asia: GFA.net | GFA Wiki | GFA Flickr