Do you know what is the single most effective method in cutting down the contraction and spreading of diseases? You do this every day. Hopefully more than once a day. It's the simple, life-saving method of washing your hands!
And you know what's right around the corner? Global Handwashing Day . Oct. 15 is the day to raise awareness of how tremendously important washing hands is to saving lives.
Many of us probably grew up in homes where our parents taught us to wash our hands before we ate or after playing outside. Maybe as kids we didn't know exactly why we had to wash our hands, but it was still a lesson engrained in us, right?
In some parts of Asia, many children don't grow up with this common knowledge, because it isn't so common.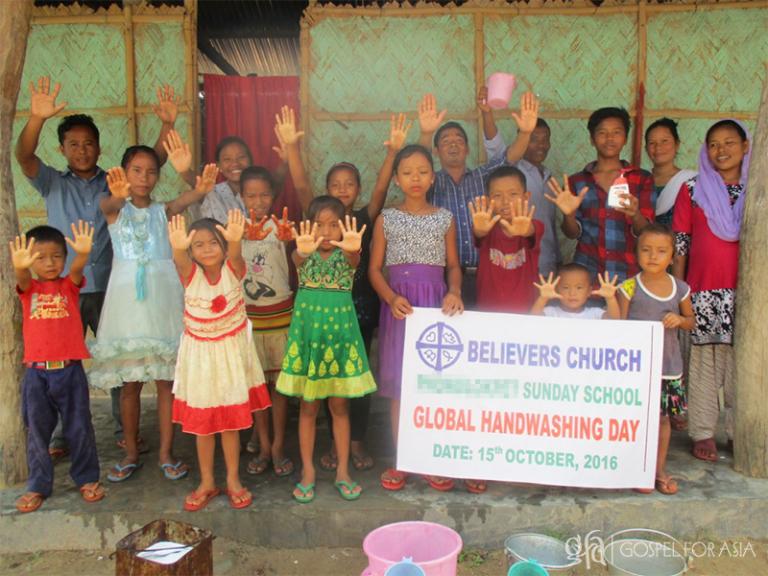 A report from Global Handwashing Partnership stated that "in rural areas [of India], 54 percent of caregivers washed their hands after using the toilet, 13 percent before preparing food, 27 percent before feeding a child, 85 percent after contact with a child's feces."
That means many men, women and children across the rural areas of Asia are eating meals cooked by hands that aren't washed properly with soap. Think about that for a second.
Inexpensive Disease Prevention
According to Centers for Disease Control and Prevention , "About 1.8 million children under the age of 5 die each year from diarrheal diseases and pneumonia, the top two killers of young children around the world. Handwashing with soap could protect about 1 out of every 3 young children who get sick with diarrhea and almost 1 out of 5 young children with respiratory infections like pneumonia."
These ailments are often contracted by the germs and bacteria living on people's hands. Teaching people at a young age about the importance of washing hands with soap can also save more lives than any single vaccine or medical intervention, cutting deaths from diarrhea by almost half and deaths from acute respiratory infections by one-quarter .
Taking Part in Global Awareness
Gospel for Asia-supported workers are aware of the need for this vital information, so every year for Global Hand-washing Day, they conduct events throughout Asia to teach the importance of washing hands and how it can help prevent many fatal illnesses.
They put together practical workshops and demonstrate to children and adults alike how to wash their hands properly. They show educational videos on the importance of washing hands and give away soap.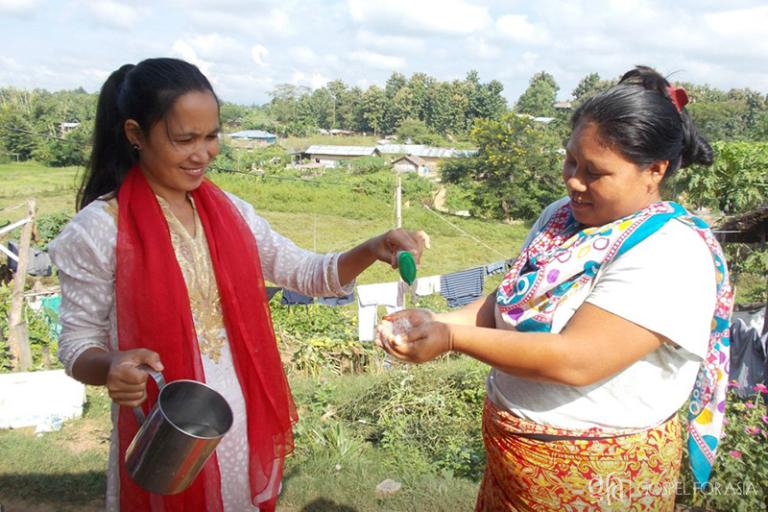 At one event held last year at a Bible college, a student said, "I am glad that I got this information on how to wash hands in the right manner. Most people in the villages do not care and bother about this. I know many people from my village, too, who are ignorant on this issue."
Another student said, "I honestly never had the idea before, but this program is really eye opening for me. How I wish this program can be carried out in remote villages too."
And Gospel for Asia-supported workers are doing just that! There are villages across Asia that now have critically important information about handwashing.
Larisa, mother of a Bridge of Hope child and attendee of a Global Handwashing Day event, said, "Before we use to wash our hands with only water, but through this program we came to know the importance of washing hands with soap. Now and then we wash our hands neatly with soap and prevent the diseases which comes through uncleanness of our hands."
Priya, 12, attended another event and said, "I was not aware that the germs and dirt in our hands causes lots of diseases that can lead to death, but today I have learned how important it is to wash hands properly."
Practical Measures to Save Lives
As more awareness and knowledge spreads about handwashing, we're hopeful that the number of disease and deaths caused by communicable diseases will be significantly diminished in the years to come. It's not just a matter of making sure people stay healthy; for us, it's a matter of taking every measure to protect the precious lives God has created.
If something as simple as showing people how to wash their hands can prevent a premature death and help give others a more abundant life, then GFA-supported workers will go from village to village to share that information.
When we take steps to practically help people, even with seemingly small things like passing on information about how to wash your hands, it can make a lasting difference in their lives—and show them how precious they are to their Creator.
=====
Click here, to read more blogs on Patheos from Gospel for Asia.
Go here to know more about Gospel for Asia: GFA.net | GFA Wiki | GFA Flickr
For more information about this, click here.