Do you remember what happened in your life on May 2, 2000? It was a Tuesday. It might not have been a significant day to you, but for Manja, a father of two in Nepal, that day changed his life and his family forever.
That was the day Manja landed in jail under false accusations of murder.
It started when Manja, a Gospel for Asia-supported missionary, joined a group of friends for an afternoon of fishing. Along the river, they discovered a body. They informed the police and filed a report. Everything seemed to be finished—until one month later when Manja was accused of committing the crime.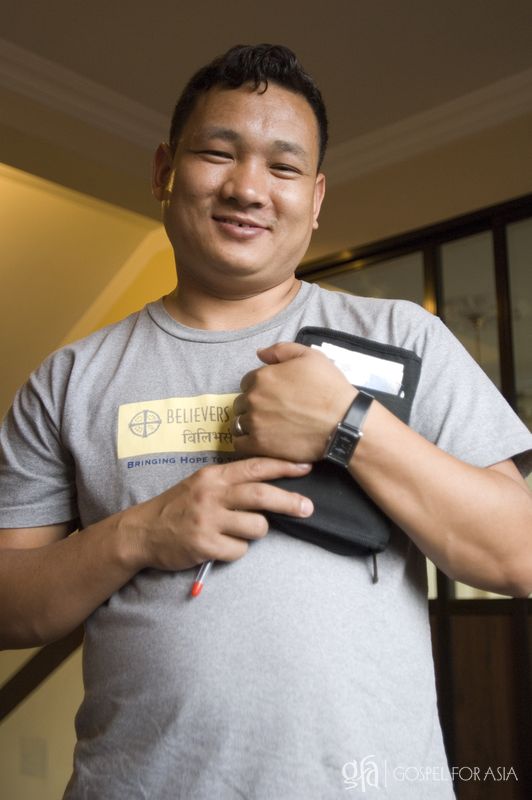 A Prisoner Missionary
Months of accusations, falsified evidence, betrayal, abuse and drawn out legal proceedings followed. Then the bars closed behind Manja with a sentence of 20 years imprisonment.
"When my husband was arrested and imprisoned for 20 years," Rati, Manja's wife shares, "it was as if my whole world had crumbled down."
Manja and Rati were devastated by the verdict. But in the months and years to follow, they had a choice to make: Would they cling to God's promises and believe in His goodness, or would they allow anger, bitterness and self-pity to control their hearts?
Both chose to put their faith in God.
Rati strengthened herself in the Lord and stepped up to shoulder the responsibilities of her imprisoned husband, raising their two children and continuing Manja's ministry—even though she had never been to school in her life and was illiterate.
"I always underestimated myself," Rati said, "but God encouraged me through many of the leaders, and they said that God could use me to accomplish His purposes."
Gospel for Asia's field partners came alongside Rati, helping her and encouraging her in any way they could as she braced herself for 20 years without her husband. She learned to read and even attended Bible college, while her husband, Manja, lived an exemplary life in his prison cell, honoring his Savior through his heart of forgiveness toward those who imprisoned him.
What Happened Inside the Walls
Manja gained strength whenever he knelt and prayed by the toilet, the only place he could be alone. He found opportunities to share God's love with many inmates. As the new resident of the toughest "neighborhood" in his country, Manja brought something to the prison that no one expected: love.
Even while he faced emotional and physical hardships, Manja relied on his faith, something the other prisoners did not have.
"The inmates questioned me, 'How could your God let this happen to you while you served Him?' " Manja remembers. "I told them that though injustice was served to me here, God knows me and my situation. He definitely has a better tomorrow."
Prisoners started gravitating toward his unswerving faith.
"Even though we are imprisoned as criminals," Manja told them, "God hears our prayers."  And God did hear. One of Manja's fellow inmates asked for prayer for his wife, who was ill. From within their cell, they prayed, and they soon heard that she had been healed.
Slowly, Manja's time with the Lord became small gatherings of five, then 10, then 15 believers. And as his trustworthy reputation grew, officials gave him responsibilities—and with them, the chance to minister to more of the inmates. His good behavior also shortened his sentence by one month every year.
"I was assigned to count the prisoners in their cells every evening," he says. "I was in charge of 150 prisoners. With different temperaments and attitudes, there were many prisoners who fought. But I mediated with love, and they never raised a finger against me."
He even had opportunities to work in the prison school and hospital. There, he met hundreds of men who were paying the price for their crimes. The news of Jesus' love and forgiveness meant that in prison, these men found a pardon that set them freer than if they had been released.
"Even though I was in jail, God worked in me and through me!" Manja rejoices.
He was also well-known as someone who would listen and help with many problems, and this even helped protect his life.
"In 2006, there was a revolt within the prison," Manja remembers.
While the world read of Nepal's dethroned king and the new democracy, prisoners decided that their jail terms should be forgiven.
"Revolting prisoners fought each other; they would come at night and smash the heads of other prisoners sleeping next to me," he recalls.
But God protected His servant, and Manja was never injured.
Prayers from Around the World
Throughout Brother Manja's journey of arrest and imprisonment, Gospel for Asia staff around the world, supporters and prayer partners faithfully prayed for him and his family.
One staff member from Gospel for Asia U.S. office recalls, "One thing I'll never forget about those years is the incredible number of faithful believers, from all corners of the nation, that would ask me how [Manja] was doing. Even during periods where his situation wasn't prominent in our news, so many individuals continued to consistently pray and even fast for him and his family."
Manja and Rati later testified of the effect of those global prayers.
"While I was in prison," Manja shared, "guests used to visit me once in a while. Our Metropolitan, Dr. KP Yohannan, Auntie Gisela [K.P.'s wife] . . . they came to visit me and hug me and tell me that I am not alone, there are believers in several places, several countries that are praying for me. … Because of their prayers, my family and me, we were safe in God's hands. … Because of their prayer, I was able to live a life of sincerity and faithfulness in the prison."
Rati said, "It was only because of prayers of Christians around the world that I was able to do ministry and helped my children grow in a godly manner."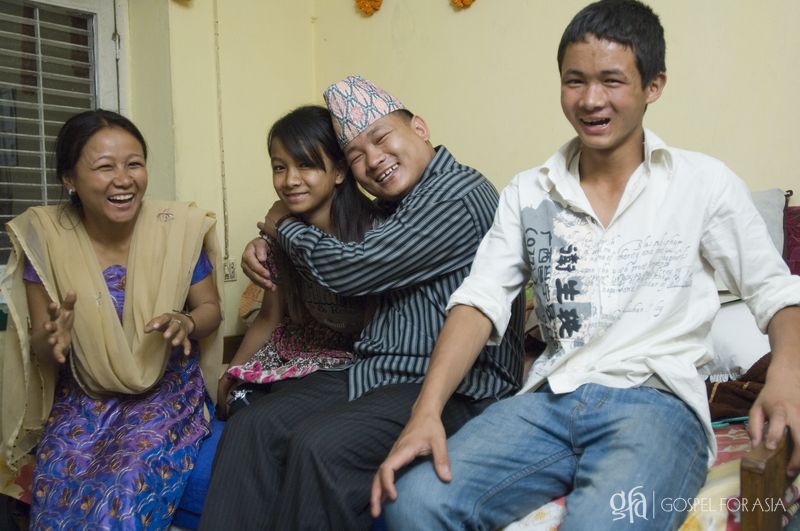 Freedom
At last, hopeful news came. A number of prisoners' sentences were being reduced by half, and Manja would soon be free. After nine years behind bars, Manja walked out of the prison a free man.
Almost in disbelief, Rati laid traditional flower garlands around her husband's neck to honor him and welcome him home. Manja embraced his son, who had grown taller than him. At home, everyone celebrated, catching up on more than nine years apart. His daughter, 2 years old when he was jailed, made tea for her daddy.
After all that happened, Manja looked forward to continuing his ministry on both sides of the prison door. He wanted to make sure the believers still in confinement weren't left alone.
"Had I lost hope, my life would have been ruined," he explained. "I did not allow anything to quench the fire of hope."
Nearly a decade has passed since Manja was released, and he continues to share the hope he has in Christ that sustained him through years of injustice. During Nepal's devastating earthquakes in 2015, he and other Gospel for Asia-supported workers actively provided relief supplies and prayed for survivors. His story is not finished yet.
Keep Praying
I chose to share Brother Manja's story with you today because it is a major testimony of answered prayer in Gospel for Asia history. His story shows the determination of those who are following Christ and serving in Asia. It shows the power of love and united prayer.
On the day Manja was arrested, I would have been at a Gospel for Asia Tuesday night prayer meeting with other Gospel for Asia staff and their families. It was probably a good day for me—it was even my birthday—but that day was a day of grief for his family. Yet God was with both of us. He can rejoice with those who rejoice while also comforting those who mourn.
I remember praying for Manja later and other imprisoned missionaries. I remember the shock of hearing, after already praying so much for his release, that Manja's trial had finally taken place and he had a 20-year sentence. We kept praying. It seemed he would be released, and then our hopes were dashed. Again and again. For years. Then suddenly we heard he was free! All those years of prayer were answered. It honestly felt strange to no longer need to pray for his release, it had been part of my life for so long.
November 5 and 12 are considered the International Day of Prayer for the Persecuted Church (IDOP). Let's keep praying for those who are persecuted, those who are imprisoned—your prayers do make a difference.
Whatever you are praying for right now, the answer may be years in arriving, but know that God hears you today, and He will answer.
=====
Click here, to read more blogs on Patheos from Gospel for Asia.
Go here to know more about Gospel for Asia: GFA.net | GFA Wiki | GFA Flickr