My daughter wants to be a police officer when she grows up. She wants to rescue people in difficult situations. I encourage her ambitions and applaud her compassion. You see, my daughter was rescued from a difficult place. She was removed from her biological home by a police officer and placed in our home as a foster child. We have since adopted her and seen her hopes and dreams expand into what would have been an impossible future before.
My daughter can see her dream become a reality. She is attending an excellent school; she gets help with her homework and has all the supplies she needs. My daughter does not need to worry about whether she gets dinner tonight. We live on a tight budget, but my children don't need to work to put food in our bellies.
I recently read about a young girl named Dhanishta in a similar situation. She was from a very poor family. Her parents worked in a textile factory in South Asia, earning barely enough to put food on the table once a day. The little income that was earned was often spent on alcohol by her father. I can imagine his shame and desperation to forget. To forget the long hours. To forget longing in his child's eyes for a better life. To forget the impossibility of dreaming.
Dhanishta went to public school but always struggled. She had to work on the weekends at a factory just to buy school supplies. She had no one to help her with her school lessons. Everyone's time was consumed with the struggle to survive. She was often distracted by the hunger in her belly.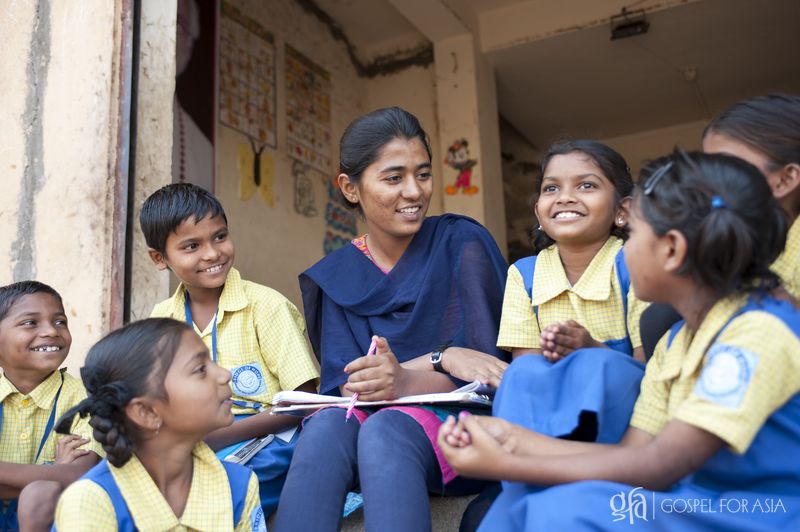 When Dhanishta was enrolled in a Gospel for Asia-supported Bridge of Hope center her life changed dramatically. Bridge of Hope provided her with the school supplies she needed so she could stop working on the weekends. There was loving, patient Bridge of Hope staff to help her after school with her studies. She was even provided a healthy meal each day to relieve the worry of whether she would eat.
Most importantly, Dhanishta was given the gift of dreaming. Dreaming of the future. Dreaming of a better life. She has excelled in school, scoring 100's in math and science and placing fourth in her state for those subjects. The door to a new life is open before her. She dreams of going into the medical field, something that is no longer impossible.
What's more, as Dhanishta has excelled, her father has been inspired to give up drinking to help her attain her dreams. Even the community has been inspired by her; the owner of the building Bridge of Hope operates out of has committed to pay her admission expenses into medical college. Bridge of Hope has truly been a bridge to new hopes and dreams for Dhanishta.
God works stories of redemption and hope in lives all around us. Just as the Lord has given Dhanishta a new hope and future, He has done the same for my daughter. They have both been redeemed by His love and are writing a new story for their lives.
" 'For I know the plans I have for you,' declares the LORD, 'plans to prosper you and not to harm you, plans to give you a hope and a future.' " —Jeremiah 29:11 (NIV)
I'm thankful the Lord invites us to be His partners in sharing hope and love. When we support Bridge of Hope, we offer hope in the name of Jesus to a child in South Asia trapped in the cycle of poverty. When we open our home as a sanctuary to an abandoned foster child, we extend the Lord's love. When we adopt a child into a forever home, we re-enact His powerful story of redemption. May we always reflect His image as we reach out in love to those around us.
To learn more about sponsoring a child in Asia through Bridge of Hope, go here:
=====
For more articles on Patheos from Gospel for Asia, go here.
Go here to know more about Gospel for Asia: GFA.net | GFA Wiki | GFA Flickr