Gospel for Asia (GFA) News, Wills Point, Texas
I hear the stories all the time. I work at a missions organization, so, of course, I'm aware of suffering children in Asia. Sometimes I pause and let it break my heart, but other times my mind glides over the words and tucks the story into a pile of "sad things" and moves on with my day.
But today I want to hear these stories with Jesus' heart, to pause and take time to be there with these children, imagining they are my own. Listen to this little girl talk about her sister Lakshmi:
"My sister is 10 years old. Every morning at 7 she goes to the bonded labor man, and every night at 9 she comes home. He treats her badly. He hits her if he thinks she is working slowly, or if she talks to the other children, he yells at her.

I don't care about school or playing. All I want is to bring my sister home from the bonded labor man. For 600 rupees I can bring her home—that is our only chance to get her back.

We don't have 600 rupees…we will never have 600 rupees [the equivalent of U.S. $14]."
In another place in Asia, Neha and Prema shared a six-by-eight-feet hut with their parents and five other siblings. For a bathroom, they had to go to the railroad tracks—they had no alternatives to escape prying eyes. Their parents worked as garbage collectors, digging through people's trash every day to look for anything they could sell or recycle. Prema and Neha often ended up helping their parents, hoping they could provide that little bit extra their family always needed.
Then there's Sashmita and her family, who lost everything they had in a flood. Already poor, Sashmita's parents struggled to get back on their feet and provide for their three children. After the flood, the family had to move, and they couldn't afford to send Sashmita and her brothers to school for several years.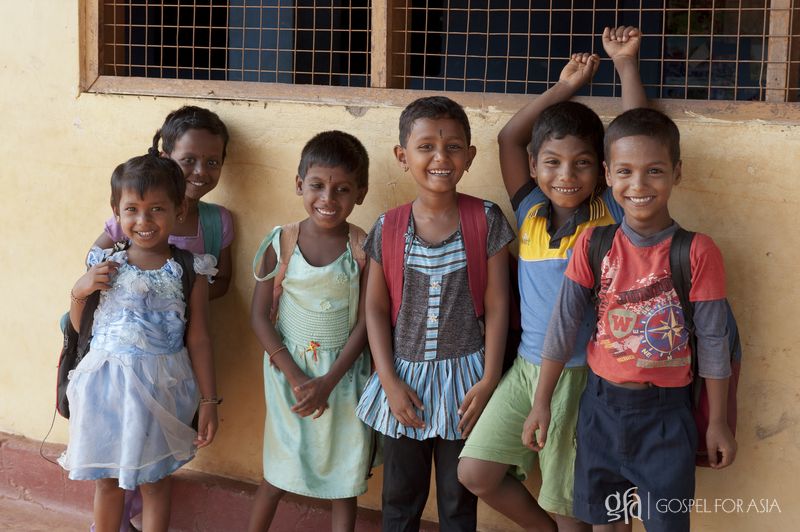 Like many other families in Asia, all these children were stuck in a nearly unbreakable cycle. As poverty kept them from attending school, their chances for a good education—and to rise out of poverty—faded. Most likely, their children and grandchildren will inherit the same struggles.
Fortunately, for tens of thousands of children throughout Asia, this is no longer their story. The cycle of poverty is being halted at the first step: educating the children. For the more than 82,000 boys and girls enrolled in Bridge of Hope, a child sponsorship program supported by Gospel for Asia, poverty is no longer an obstacle to education.
Thousands of families have been transformed by the support they receive from the GFA community across the world to provide children in Asia with quality education and care. People from the U.S. to the U.K., from Canada to Finland, from South Korea to New Zealand and many other places around the globe are all fighting for the children of Asia to succeed. And they're helping provide Bridge of Hope with the resources needed to ensure every child in the center—whether sponsored or not—is taken care. Because of this, we're seeing boys and girls breaking free from the cycle that threatened to keep them stuck.
When Neha and Prema joined Bridge of Hope, their lives changed dramatically. After four years of support and education, they were able to build a three-bedroom home with an indoor bathroom for their family. Their next goal is to both become teachers to help other children in need, a goal that would have been impossible before Bridge of Hope.
For Sashmita, after enrolling in Bridge of Hope, she could return to school and receive the extra help she needed after missing so many years of education. This helped her family's financial burden and enabled her brothers to return to school as well.
Children enrolled in Bridge of Hope are provided with school supplies they may not be able to afford and tutoring so they can excel in school. They are given a daily meal, relieving a burden for many families. They receive medical care and lessons about hygiene. Entire families and communities are impacted by the Bridge of Hope centers, freeing their children from the cycle of poverty.
It is a privilege for us to impact the lives of so many children across Asia. As Jesus said, "Let the little children come to Me and do not forbid them; for of such is the kingdom of heaven" (Matthew 19:14).
Hope and a flourishing future is the new inheritance for these children.
=====
For more blogs on Patheos from Gospel for Asia, go here.
Go here to know more about Gospel for Asia: GFA.net | GFA Wiki | GFA Flickr