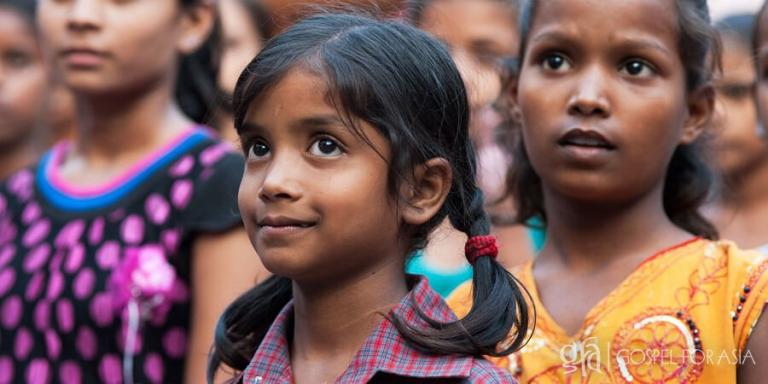 More than 67.4 million children worldwide are forced out of school due to poverty, depriving them of the education needed to succeed. Unable to read and write, most eventually find themselves unable to get good jobs and succumb to the cycle of poverty, which continues for another generation.
Rather than going to school and playing like more privileged children their age, an estimated 150 million children are engaged in child labor. These kids wander around begging, doing odd jobs and selling garbage so they can have a small amount of food to live another day or work.
In some parts of Asia, children from the poorest families are three times more likely to die by the age of 5 than those from higher income groups. This gap is due to starvation and disease take a striking toll on the marginalized, who lack access to basic medical care and proper nutrition.
In the early days of the developing ministry of Gospel for Asia, Dr. KP Yohannan had a dream—a clear vision in which the Lord showed him that something had to be done to provide hope for these poor children. Here, in his own words, is what happened.
It was while sleeping in the early hours of the morning that I had a dream. I was standing in front of a vast field, looking out upon multitudes of desperate and suffering people just ready to slip into eternity. They had clearly been waiting for hope, but received none. I stood there overwhelmed at the sheer number of people. They seemed to fill endless acres continuing as far as the eye could see.

Watching the pain and despair in their faces, I got this sudden understanding that I was looking out upon the helpless multitudes that Jesus spoke about in the Gospels, the times when He spoke of the weary and abused, like the Dalits of today. It was as though the Lord was telling me that we had the opportunity before us to touch these people's lives and reach them with the love of Christ, brining them hope for this life and the life to come.

Overcome with excitement at such an opportunity and imagining these precious suffering people being able to find hope for the present time and for eternity, I ran toward the field. But as I drew nearer, I was stopped. I couldn't go any farther. There was a wide, gaping river in between the desperate multitudes and myself, a river so deep and raging that I dared not step closer to try to cross. I had not seen it from where I stood before, but now I did.

My heart broke. I was only able to look at these needy and suffering people, unable to help them. I stood there weeping, feeling so helpless and full of despair.

All of a sudden there appeared before me a bridge reaching from one side of the vast river to the other. It was not a narrow bridge but was very broad and so huge.

As I watched, the bridge became completely filled with little children from all over Asia—poor, destitute Dalit children, like those I'd seen on the streets of Bombay, Calcutta, Dakar, Katmandu and other Asian cities.

I woke from my dream and realized that the Lord was speaking to me about something so significant: that if we follow His instruction, our care for these children in need will be a bridge for so many people to find hope and relief they have been looking for.

– from Revolution in World Missions
And so, Gospel for Asia's Bridge of Hope Program was created. Each child in Bridge of Hope is funded by the compassionate and generous gifts from faithful followers of Jesus Christ's love.
All Bridge of Hope children have daily access to qualified tutors in math, science, language and other subjects to help them excel in their studies. They are provided with all the school supplies they need to attend school and succeed, including school bags, notebooks, pens, pencils, erasers and uniforms. Rather than being condemned to a life of illiteracy, many Bridge of Hope children go on to attend colleges and universities. They are provided with nutritious food, clean drinking water and sanitation facilities.
In addition, once a year, a qualified medical professional performs a full checkup on each child to prevent and diagnose any malady. When possible, they are also provide necessary treatment, ranging from major heart surgeries to being given eyeglasses for those with poor vision. Each child also receives de-worming tablets, as parasites are a major problem in rural areas, and also vitamin A tablets to prevent blindness. They are also given instructions on proper dental hygiene, so they can happily show their beautiful smiles.
Yet, it's Christ's love that motivates this program. That love compels us to help these children, knowing that each once is precious in God's sight.
Please pray for the ministry of GFA-supported Bridge of Hope.
Pray for the children, their families and the staff in each Bridge of Hope center.
Pray and ask the Lord how you might contribute to sponsor a Bridge of Hope child.
Pray with thanksgiving for what the Lord has done and is continuing to do through Bridge of Hope.
For more on Patheos about Bridge of Hope, click here.
=====
Click here, to read more blogs on Patheos from Gospel for Asia.
Go here to know more about Gospel for Asia: GFA.net | Wiki | Flickr | GFA | GFA.org
For more information about this, click here.