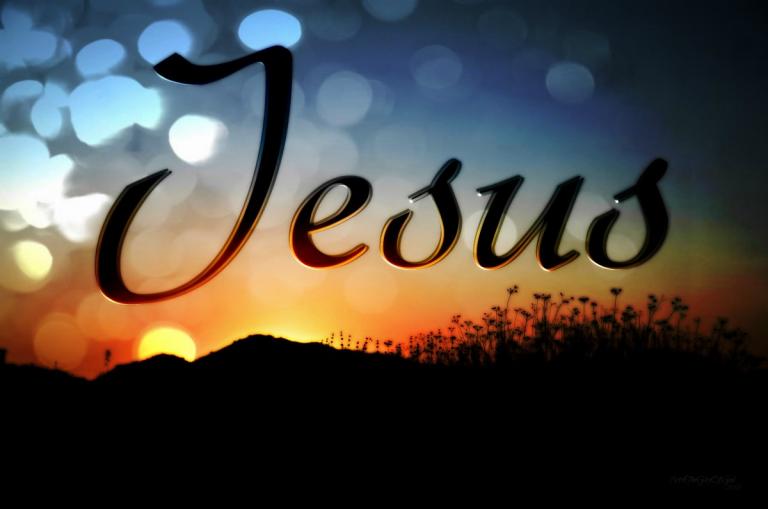 Gospel for Asia (GFA World), Wills Point, TX – Discussing miracles from the past and the present.
Each of the Gospels shares examples of the many miracles that Jesus did during His earthly ministry 2,000 years ago. Many of them involved healing people when there was no other hope of healing.
Though there are many accounts of Jesus offering healing to the blind, the lame and the deaf, John ends his Gospel account telling us that "Jesus did many other signs in the presence of His disciples, which are not written in this book" (John 20:30).
What is more, he tells us that there were "also many other things that Jesus did, which if they were written one by one, I suppose that even the world itself could not contain the books that would be written" (John 21:25).
Though Christ has returned to His Father in Heaven, His work on earth is not yet done. His mercy and grace are still extended to all who believe. His message is delivered by believers all around the globe. While many who read this have heard the Good News for most of our lives, that is not the case for some 2 billion people in developing nations. That doesn't make sharing the Gospel impossible, but it can often make it difficult.
Nearly 40 years ago, Dr. K.P. Yohannan had spoken on behalf of indigenous ministry workers who are serving their communities in the name of Jesus and His love.
This article shares the story of three people, each one in the grips of debilitating illness, but were healed by miracles and came to know Jesus through national workers supported by GFA.
Aarav Begin to Believe Jesus Could Heal His Hand
Aarav "was the closest thing to a doctor that his village had." He was a kind-hearted person who sought and brought medications to sick people in his village. Although he was not really a doctor, he knew many of them as he was their medical supply courier, so to speak.
Aarav became the patient in need one day when he developed a severe pain in his right hand. No matter what doctor he saw, no matter what medication he was given, nothing cured the chronic, worsening pain. During his six months of suffering, Aarav reached out to Rangan, a GFA-supported worker who lived in his village. As their relationship developed into friendship, Aarav began to attend services to learn more about Jesus and the eternal life He offers. Still, the pain was relentless.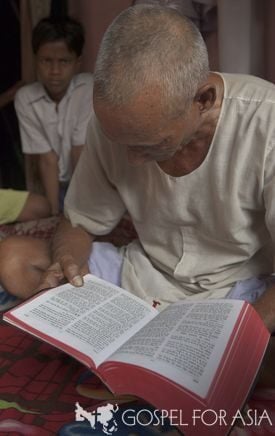 One day during a worship service, Pastor Rangan shared a message from Mark 3:1–5 and Matthew 12:9–13. Aarav read the account of Jesus healing the man with the withered hand, and the miraculous and awesome description of Jesus's power sunk deep into his heart. Aarav began to believe Jesus could heal his hand, too.
It was only about an hour later that the pain in his hand completely disappeared. Arriving at home to learn that his wife had become ill with stomach pain, Aarav prayed and trusted the Lord to heal his wife's affliction, which He did.
Using Pastor Rangan's faithful witness, the Lord was able to demonstrate His mercy, His grace and His healing power, as only He is able to do.
The Sorcerer Did Not Come for Harda, But a Missionary Prayed for a Miracle
Harda is a good name for a hard man. He was a man who trusted very few people other than a local sorcerer. Among those people he did not like was Mayil, a GFA-supported woman missionary.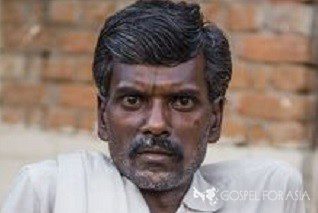 Mayil, however, was kind to Harda and all of the other villagers as she taught both school and Bible lessons to the children in the community. Nonetheless, Harda continued to view Mayil with disdain—until he developed a painful boil on his leg.
Harda sent for the sorcerer to heal his wound. An entire month passed, but the sorcerer never came. Unable to endure the pain any longer, he turned to the national worker whom he respected for her kindness, even though he was skeptical of her.
Mayil prayed to the Lord to heal Harda. As she prayed, he began to cry. Mayil told him that the Lord was touching his heart and was beginning to heal his leg. Following three days of praying, Harda began to walk again!
Not only did Harda trust the Lord, but so did his entire family. They had witnessed the miracle firsthand.
When his friends began to ridicule him, Harda boldly said, "When I was in need of help, nobody came to me. Now I am healed in Jesus. So, this is my personal decision to [follow] Christ!" Now, because of Mayil's ministry and Harda's healing, many of those who had berated him have freely come to follow Christ as well.
Which Doctor Can Heal the Witch Doctor?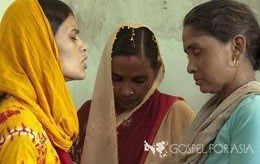 Smita had been raised in the home of a sorcerer, and she desired to follow in his footsteps. She was not only attracted to the black arts, she practiced them in her village for many years and eventually became a witch doctor. Then one day she discovered that even witch doctors can become sick beyond their own ability or the abilities of any other witch doctors to cure.
Smita had come to a point where she was no longer in control of her speech or her behavior. Her family took her to a hospital, but the doctors diagnosed no physical ailment for which they could treat her. In desperation, they called upon the most renowned witch doctors. Surely, they could fix her. But they could not.
Shameena, a GFA-supported worker, eventually met Smita and her family. What Shameena witnessed was someone who needed healing and eternal life offered by Christ. The national worker gathered several other believers together to pray for Smita. Shameena explained the Good News of Christ's love and how He could rescue her from her condition.
Shameena recognized her need for Jesus and said, "I want to welcome Him in my life."
Today, Shameena is a faithful follower of Jesus, attending church and telling others in her community about what Jesus did for her and how He can change their lives.
All Those Miracles Jesus Did, He Still Does
When John was concluding his Gospel, he explained why the miracles and healings were recorded as they were. "These are written that you may believe that Jesus is the Christ, the Son of God, and that believing you may have life in His name" (John 20:31). Though He did many other things—more than all the books in the world could tell—John knew that what the Lord had led him to write was enough for anyone who read his Gospel to believe that Jesus is the Son of the Living God, that He is who He says He is.
In much the same manner, we lovingly share these three true stories with you so that you, too, would believe and have life in His name—and so that you, too, will go and tell others about Jesus just as these national workers and the ones who came to Christ as a result of their witness and prayers are doing.
Pray for those to whom they minister. Pray that they will open their hearts to the Word. Pray that they will believe that Jesus is the Son of the Living God and that they will welcome Him into their lives.
---
Image Sources:
=====
Click here, to read more blogs on Patheos from Gospel for Asia.
Go here to know more about Gospel for Asia: Twitter | GFA Reports | GFA.net | Instagram