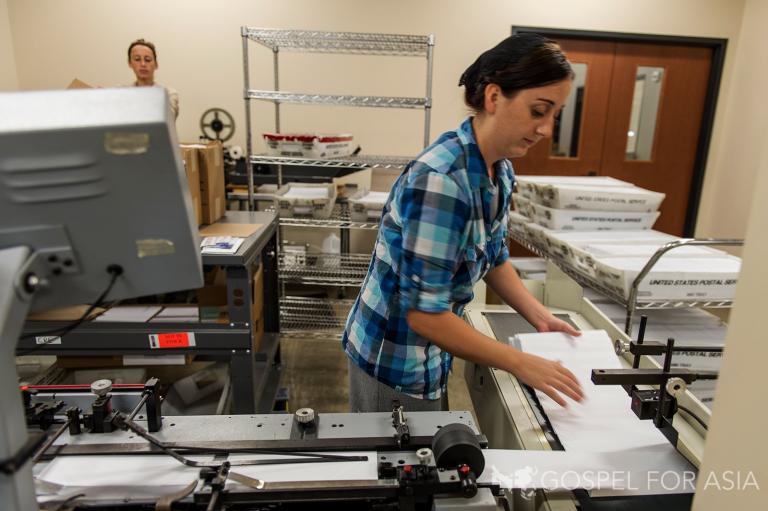 "For just as each of us has one body with many members, and these members do not all have the same function, so in Christ we, though many, form one body, and each member belongs to all the others." —Romans 12:4–5 (NIV)
Gospel for Asia (GFA World), Wills Point, Texas – Discussing the indispensable role of behind-the-scenes missionaries.
Let's do something most of us have probably not done for a while. Let's think about our thumbs. There's probably nothing special about your thumbs. There's nothing special about mine. They're just thumbs.
But what if we had no thumbs? It is almost incomprehensible how many ordinary, simple tasks would suddenly become much more difficult. Holding a book or a glass of water. Picking up a penny. Using a fork. Our entire body suffers if our thumbs are not there doing their job.
What about your parathyroid glands? We each have four of them, each about the size of a grain of rice. We never see them nestled inside our neck. They are just as important for us as our thumbs, but we probably haven't spent half an hour beyond high school biology class thinking about them. But we should be grateful that the Lord gave them to us. Those four tiny "seeds" regulate our body's calcium levels. If they do not function properly, our entire body—particularly our heart, nervous system, bones and kidneys—will be affected adversely even to the point of death. They are indispensable.
Our thumbs are visible to us all the time, yet we rarely give them much thought. The parathyroids we never see. It's not likely that most of us think of them at all. But that does not make them less important. A broken thumb is an inconvenience. A healthy parathyroid is essential for ensuring that the God-given roles of our vital system components are able to do their jobs.
I have come to think of our GFA Mission Support Team as somewhat similar to our parathyroids. The team operates silently (most of the time) in the background, invisible to GFA supporters, but it's indispensable. It ensures, if you will, that our vital systems operate optimally by:
Providing the communications link to our field partners in 18 different countries
Facilitating reporting and funding flows between sponsors and our field partners
Communicating specific prayer needs to our supporters
Administering essential functions like human resources, information technology, maintenance, printing, and shipping and receiving.
Our Mission Support Team members will likely never be as well recognized as Dr. K.P. Yohannan or the late Dr. Billy Graham. But the ministries established by both of these men have required those invisible and unheralded individuals who work as a team and who make the operations of the respective organization's function and flow.
You may never think about your parathyroid again, but we would ask that you think of and pray for our Mission Support Team daily.
The seek no notoriety. They just keep the system working. Many, if not all of them, have made great sacrifices to serve on the team and are able to do so only because of the financial and prayer support they depend upon as missionaries themselves.
You may never meet our Mission Support Team members this side of Heaven, but now you understand that they exist, placing service to the Lord above self.
Please PRAY for our Mission Support Team members, or support one monthly.
Perhaps you feel the Lord's call to be a part of the GFA Mission Support Team. Learn how to begin that process.
Be faithful to the Lord. Trust Him. Obey Him. Follow wherever He leads.
---
To read more posts on Patheos on the GFA Mission Support Team, go here.
Click here, to read more blogs on Patheos from Gospel for Asia.
Go here to know more about Gospel for Asia: GFA Reports | GFA.net | Instagram | GFA.com
Image Source: Gospel for Asia, Photo of the Day