WILLS POINT, TX – Gospel for Asia (GFA) Special Report #1 – Discussing the world's quest for access to pure water that is safe to drink.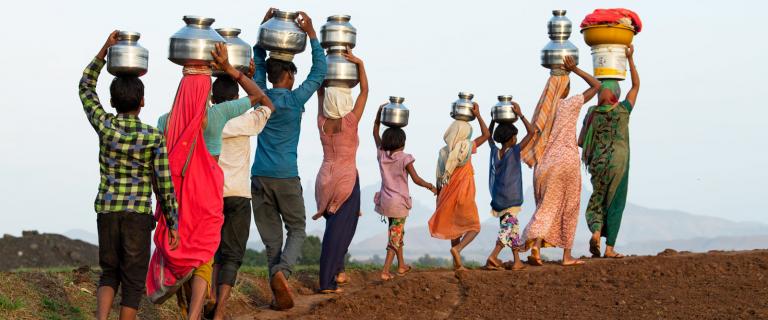 India: Success and Challenge
In recent decades, India has emerged as a global economic powerhouse. It is now the seventh-largest economy in the world by nominal gross domestic product (GDP)[27] and at least the fourth largest in purchasing power parity.[1] Much of this success stems from the technology field, India's fastest-growing sector. Information technology, process outsourcing and software services are among the country's booming industries.
But success is accompanied by great challenges. India is home to about 1.34 billion people and is still growing. Its population, now the world's second largest,[2] is projected to overtake China's as early as 2024.[3]This has placed unprecedented stress on the country's water resources, which are already stretched to meet the needs of a growing population.
In June 2018, the Indian think tank NITI Aayog released a comprehensive report on India's water status. Among its conclusions:
The booming cities have borne a large portion of India's water stress. Bangalore, known by some as India's Silicon Valley, is a good example. The city's needs were once met by wells that reached 300 feet deep. But now, 400 bore wells must go down as far as 1,500 feet to find water. How long will that suffice? No one knows.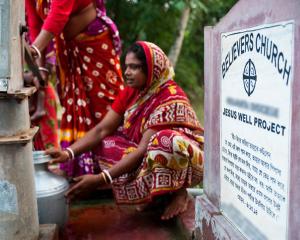 In the countryside, the challenges are different but just as dire. Agriculture uses some 80 percent of India's water.[9] When water is unavailable, the farmers feel it immediately. They can quickly lose their livelihoods.
Meanwhile, millions of Indians have no reliable access to water at all.
Much of India is arid or semi-arid. Vast areas receive rain only sporadically from storms brought by the summer monsoons. Many people collect their water from surface sources, which are often contaminated. The daily trek to a local pond is a regular feature of life for many rural Indians. They may walk for hours just to obtain their day's supply of water. That leaves little time to work productively or improve their lives.
For years, Gospel for Asia (GFA) has been helping to equip national workers to get wells installed in needy communities. They're called Jesus Wells and are fitted with a plaque sharing Christ's words to the Samaritan woman:
"Whoever drinks of this water will thirst again, but whoever drinks of the water that I shall give him will never thirst. But the water that I shall give him will become in him a fountain of water springing up into everlasting life" (John 4:13–14).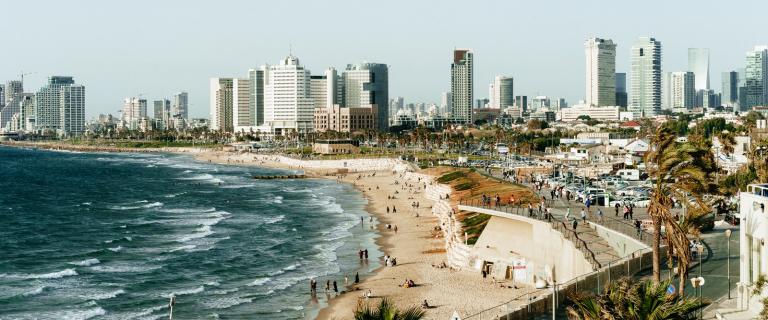 Israel: A Glimpse into the Future
While discussions of global water issues typically focus on the problems, it's also helpful to consider the success stories. One of those is the tiny state of Israel.
After World War I, the territory of Palestine came under the control of the United Kingdom. As the British government was considering what to do with this important strip of land, its economists concluded that the area's water resources could only support about 2 million people.[10] There were slightly more than 800,000 residents there at the time. But after the modern state of Israel was created in 1948, that number nearly doubled in just three years—and kept climbing.[11] Today, Israel is home to more than 8 million people,[12] with another 2.8 million in the West Bank[13] and 1.8 million in the Gaza Strip.[14]
Clearly, a drastic program was needed to meet the water demands of this booming population. Through the efforts of visionaries such as water engineer Simcha Blass, Israel not only met this challenge but became an exporter of water technology, water-intensive crops—and water itself. The story of that success can serve as a model and inspiration for other countries.
Israel points the way to a future free from water insecurity.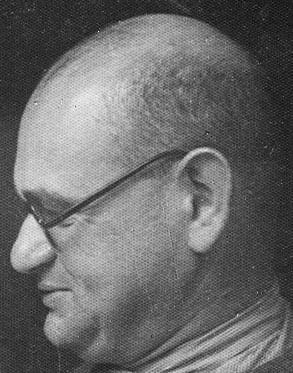 Israel's leaders realized that all those new immigrants would need to eat, so food production became an urgent priority. The Negev in the south of Israel was a vast dry desert where few people lived. But Simcha Blass was convinced there was water underground that could be accessed through deep drilling. He was right. That was the beginning of an agricultural boom in one of the world's most inhospitable environments. Some people saw it as a fulfillment of the prophecy in the book of Isaiah: "The desert and the parched land will be glad; the wilderness will rejoice and blossom" (Isaiah 35:1 niv).
Blass also envisioned pipelines that would stretch from the water-rich north of Israel to the south where water was most needed. Through years of effort, his visions became reality.
Israel's visionaries then turned their sights to the world's most abundant water source—the oceans. The idea of processing seawater for drinking and agriculture has long been an elusive dream for people around the world. Israeli scientists experimented with several desalination techniques, most of which proved too costly to be practical. But with perseverance, Israel developed a system which, though still expensive, provides an important supplement to its other water sources. Israel now has several functioning desalination plants on its Mediterranean coast, which provide an astonishing 27 percent of the country's water.[15] Most importantly, the desalination plants serve as a kind of insurance policy against severe droughts and other disruptions. The ocean, after all, is always there.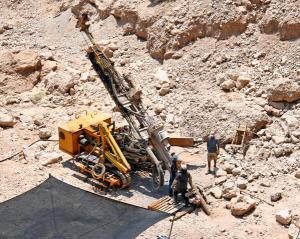 Reclaimed waste water is another promising source of water for agriculture that Israel has used effectively. The idea of reusing sewage is repulsive to most people, but when water is at a premium, as in Israel, it's an option that can't be ignored. The main concern with recycled waste water is that dangerous microbes or other contaminants might remain even after processing. That could endanger anyone exposed to it, as well as the crops treated with it and the groundwater under the crops. Israel addressed this risk with a process that resembles a giant version of the BioSand water filters described earlier.
Israel's sewage treatment plants were located near some sand dunes, under which there was a known water aquifer. The water engineers began speculating: What if the treated waste water were released into the sand and allowed to percolate down into the groundwater? Would the sand act as an effective filter? It was a risky experiment, but worth trying. After more than a year, the results were in. Yes, the sand made the water clean, safe enough for agricultural use. Today, Israel reuses more than 85 percent of its sewage, which provides 21 percent of its water.[16]
Israel also pioneered the use of drip irrigation, which made it possible to grow abundant crops by using limited water supplies efficiently.
These innovations may seem out of reach for many developing countries. Their implementation would require concerted, long-term effort, and they can be expensive. But they show what is possible. These are things we know can be done—because they have been done. They point the way to a future free from pure water insecurity. And that's something all people can aspire to.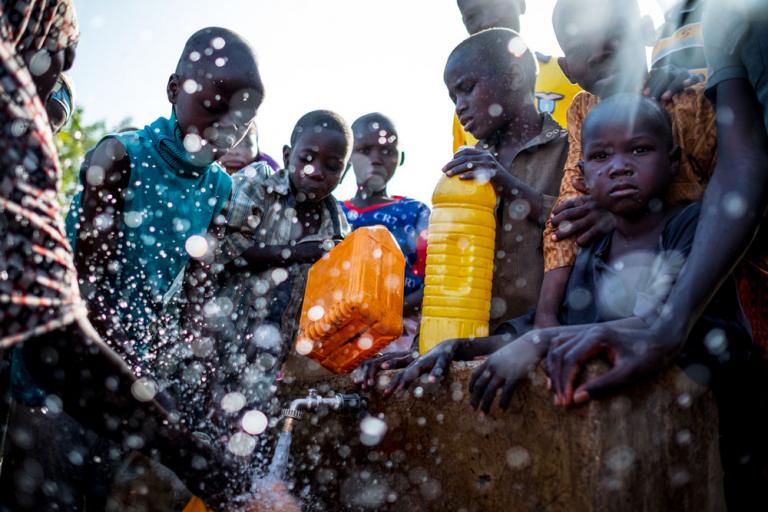 The Big Picture
The world's need for pure water has only accelerated with the inexorable growth in population, which could reach another 2 billion by 2050. And by then the demand for water could increase by 30 percent.[17]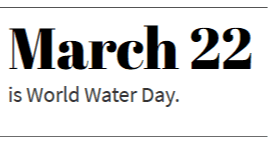 The United Nations has appropriately designated March 22 as World Water Day to focus on the global need for pure water. Along with international bodies like the U.N. and the World Health Organization, countless nonprofits and NGOs are addressing the issue. Many of them focus on Africa, which has some of the most severe water problems. But Asia is in urgent need of help too, and even affluent countries are not immune from water emergencies.
Those who deal with the global pure water crisis recognize the critical need for funds to attack the problem. Usually, the people most in need don't address their own problems because they simply can't. They don't have the resources. And they often don't have the leisure time to think beyond their immediate survival. So outside funds are essential to solving the problem. But that's not all that's needed.
Relief organizations that drill wells in poor communities must also think about their long-term maintenance. When the local people haven't been taught how to care for the wells, over time those wells become useless. In a 2009 report, the International Institute for Environment and Development (IIED) noted that 50,000 such wells in rural Africa had become nonfunctional. The reason was distressingly clear: "The root cause is the water community's failure to plan for maintenance of the infrastructure in a systematic way …"[18]
Outside organizations came in, installed wells with the best of intentions, and then left. But their work did not endure.
Keeping It Local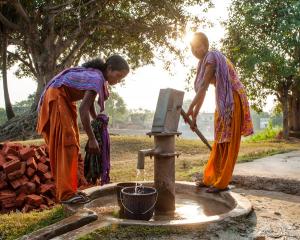 Gospel for Asia (GFA) knows of the pitfalls that beset many relief efforts. To ensure their work will be sustainable while keeping costs low, Gospel for Asia (GFA)-supported workers employ local people to drill Jesus Wells, and they train local people to maintain the wells. In addition, Jesus Wells are constructed with local components, making them much less expensive than those brought in from outside. Buying materials in bulk saves even more money. Gospel for Asia (GFA)-supported workers can install a complete well for 1,400 USD. By drilling deep, they can reach water that may have been inaccessible before. Villagers can be assured of pure water even through the dry seasons.
Jesus Wells are conveniently located for community access, and the water is always freely available to anyone, regardless of religion, class or background. Each Jesus Well serves an average of 300 people, and the wells are built to last for decades.
Along with providing pure water, Jesus Wells strengthen the local economy and inspire a healthy pride of ownership.
In 2017, Gospel for Asia (GFA) helped install more than 4,600 Jesus Wells in Asian communities. But that's just a start. With the generous support of donors throughout the world, Gospel for Asia (GFA)-supported workers will continue to help address the global water crisis—one community at a time.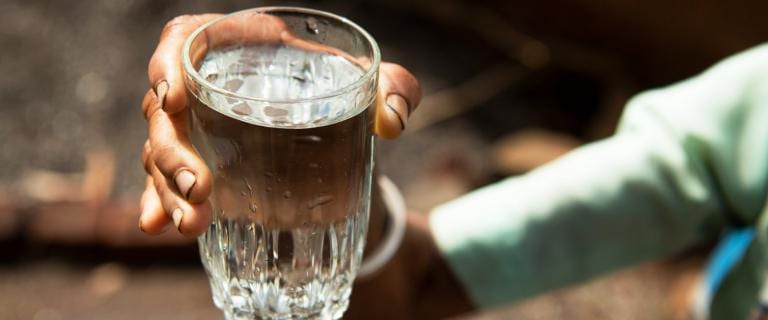 Six Steps to Pure Water Security
The world's water problems can seem overwhelming. Some of the solutions are complex, difficult and expensive. But others are simple, easy and cheap. Here's a short list of things that can make a difference—starting with the easiest and ending with the ones that still await as promises for the future.
Provide BioSand water filters.
Just one of these portable, inexpensive items can literally save an entire family from a life of sickness and hardship. To deprive vulnerable people of this simple solution would be tragic.
Drill deep wells.
Not every well will endure through droughts and overuse, but here's the key to long-term success: Don't stop when you hit water! Keep drilling. Deep wells will ensure the water keeps flowing through the dry times.
Train local people to maintain the wells.
What good is a well that's broken or contaminated? Remember 50,000 wells in Africa alone are sitting unused because of inadequate maintenance. It's not enough to provide the well. Instilling the knowledge to maintain it over the years is also essential.
Launch water-reclamation programs.
Sewage may be unpleasant, but it's also a valuable resource. Properly treated, reclaimed water can revolutionize agriculture almost anywhere in the world.
Develop national water policies.
Water is a community resource. It can't be managed effectively with scattered, isolated efforts. Most national governments are grappling with this reality. Some are responding with effective programs. That must happen on a wider scale.
Pursue desalination.
It's expensive now. But so are sickness, poverty and death. The ocean is the one water source that will never be depleted. This is a promising avenue for the future.
---
Dying of Thirst: The Global Water Crisis – The Crucial Quest for Access to Clean Water: Part 1 | Part 2
This Special Report article originally appeared on gfa.org.
Read the Global Clean Water Crisis Report: Finding Solutions to Humanity's Need for Pure, Safe Water.
Learn more about how to provide clean water to families and villages through Jesus Wells and BioSand Water Filters.
To read more on the global crisis for water on Patheos, go here.
Click here, to read more blogs on Patheos from Gospel for Asia.
Go here to know more about Gospel for Asia: Radio | About | Integrity | Facebook | Lawsuit
---