WILLS POINT, TX – Gospel for Asia (GFA) Special Report – Discussing the misunderstandings and social stigma that are kept alive toward leprosy patients, despite the disease being a curable worldwide problem.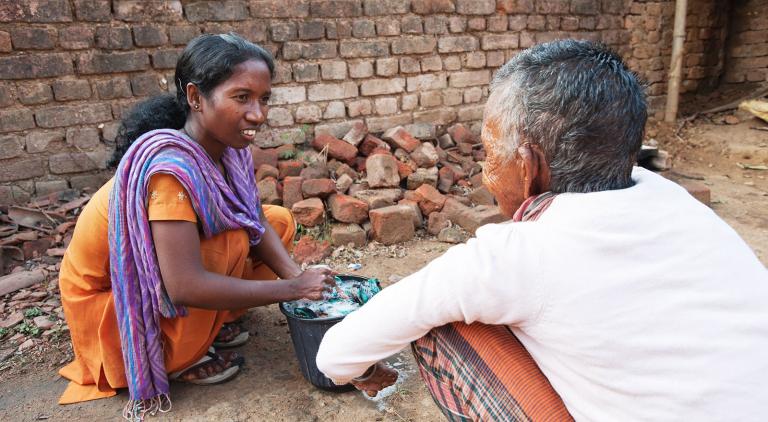 Misunderstanding Leprosy: 'I Deserve This Disease'
Sakshi was rejected by her family when, as a teenager, she found out she had leprosy. Read her story »

"Don't open my bandage!" the leprosy patient cried out. For years the patient believed it was because of their sin that the destructive disease controlled their body. Now, they thought they must suffer and settle with bearing it alone.

But after the leprosy patient's exclamation, Sakshi, a Gospel for Asia (GFA)-supported missionary, revealed her own hands and feet to the patient, deformity clearly marking what leprosy's nerve killing illness left behind.

"No, no, this is not some sin," Sakshi said. "I myself have gone through this."
This conversation, shared by Gospel for Asia (GFA) in 2017, gives a glimpse into the despair and belief of personal guilt many leprosy patients carry.
Sakshi understood only too well the shame and grief of those she served. Leprosy was detected in her body when she was only a teenager. Dreams of living life as a normal young woman shattered with that diagnosis. Her disease barred her from visiting her neighbors or from making friends, and it even estranged her younger siblings.
"[My brother and sister] used to love me so much, but when I got this sickness, they hated me, and they don't want to come to me for anything," Sakshi recalls of her early days as a leprosy patient.
Acceptance and kind words from her community were replaced with rejection and accusations. People said it was her fault she contracted leprosy, and over time, that lie took hold of her heart. Guilt and hopelessness consumed her, and she began wondering why she should endure life.
In her hopelessness, Sakshi tied a noose to hang herself.
Although Sakshi's story does not end here, many leprosy patients' stories end on a tragic note of despair. Whether they choose to end their lives or plod through the rest of their days alone and abandoned, the moment they discover leprosy in their body is the moment society defines them by their disease—not by their value as human beings.

Gospel for Asia calls Leprosy Patients 'Friends'
In 2007, Gospel for Asia-supported workers began ministering among leprosy patients with an aim to change that definition.
"We thought we would name the ministry differently," says Pastor Tarik, who helped start the leprosy ministry,
"Where they won't have to remember their sickness or feel the stigma of it. So, while praying and discussing, we thought, 'Let us call them "friends" because they have been created in the image of God, like us. It is only the sickness that keeps them different, but let us not make that a barrier. Let us accept them as friends.'"
And so, Reaching Friends Ministry began. What started in 2007 as a handful of men and women pursuing opportunities to care for outcasts of society has since expanded to minster to patients in 44 leprosy colonies. Each colony is home to as many as 5,000 patients. Through this ministry, thousands of hurting hearts have found a glimmer of love and hope to cling to.
Let us call them "friends" because they have been created in the image of God, like us.
Sakshi's testimony proves the impact of even one kind word in the midst of isolation. Although Sakshi planned to end her life, today her story continues. On that pivotal day, her father saved her from suicide and spoke words of life into her weary soul. He told Sakshi she was a precious child and urged her to strengthen her heart through the pain and hardship.
After the conversation with her father, Sakshi gave up trying to end her own life, but she still felt alone and worried.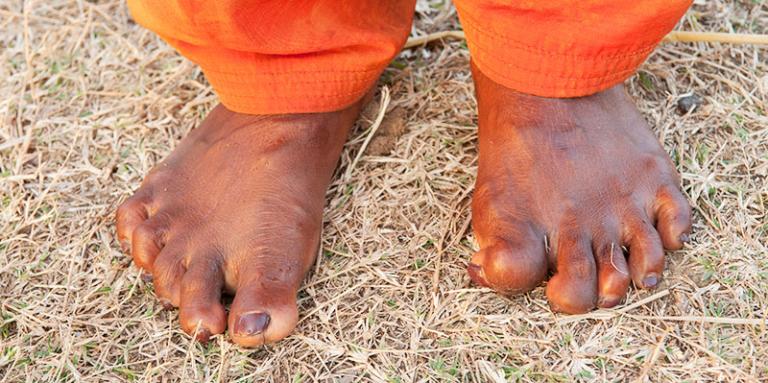 After the conversation with her father, Sakshi gave up trying to end her own life, but she still felt alone and worried. Leprosy still disfigured her limbs and even threatened to remove one of her legs to amputation.
But then she met some Gospel for Asia (GFA)-supported missionaries who prayed for her and shared with her about the Great Healer. She joined them in faith and asked Jesus to heal her body. God moved on her behalf; she was miraculously healed of leprosy!
Like Sakshi, many leprosy patients are discovering that physical healing—through both prayer and medical treatment—is possible. Now, it is time for communities around the globe to be healed of the negative mindset toward those with leprosy.
Changing the Mindset Toward Leprosy
Over the passing of time, leprosy has drawn increased attention around the globe. The last Sunday in January has been observed as World Leprosy Day for more than 60 years. But while most countries have been freed from the grip of leprosy as a result of leprosy elimination programs, other areas are still high in battle against the disease.
Brazil, India and Indonesia account for more than 80 percent of new cases detected globally, and areas of Africa also detect leprosy in high numbers. The transmission of leprosy is slowly decreasing, but more must be done, especially regarding the elimination of stigma.
These efforts have strong obstacles to overcome. The UN notes,
"Historically held fears and assumptions about leprosy continue to promote the pervasive exclusion of persons affected by leprosy from mainstream efforts to include them in society and development."
The transmission of leprosy is slowly decreasing, but more must be done, especially regarding the elimination of stigma.
In 2016, The World Health Organization launched their new Global Leprosy Strategy. Included among the increased effort to detect and care for new patients is a high emphasis on the removal of stigma and discrimination toward those with leprosy.
Gospel for Asia wholeheartedly desires to see the plight of leprosy patients improve, and its work in Asia is helping make strides in both the emotional and physical healing of those affected by leprosy.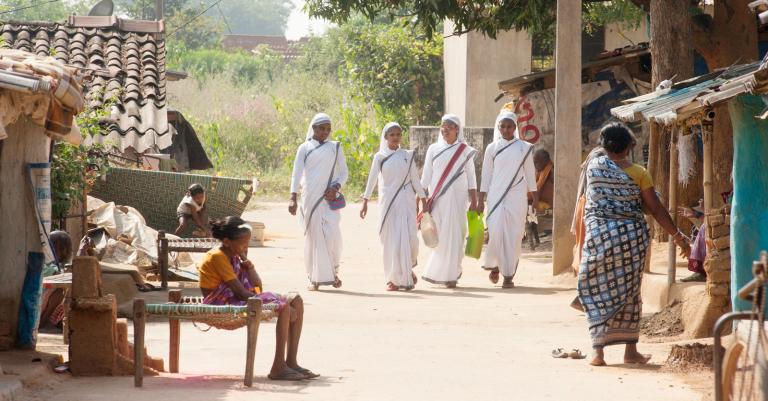 While you've been reading this article, national workers, including around 500 specially trained women called Sisters of Compassion, are helping care for leprosy patients throughout the Indian Subcontinent as part of Gospel for Asia (GFA)-supported leprosy ministry.
Sakshi herself became one of those faithful workers. After she experienced God's healing, she dedicated her life to serving Him and enrolled in a training course. Her passion for ministry among leprosy patients soon placed her alongside other Gospel for Asia (GFA)-supported workers serving in a leprosy colony. Through Gospel for Asia (GFA)-supported Reaching Friends Ministry, she became part of bringing hope to others still trapped in the desperation she felt when she held the rope in her hand.
"Nobody is there to comfort [the leprosy patients] and to give any kind of encouragement," Sakshi explained.
"Nobody wants to love them, hug them or to come near to them to dress them. … They have so many inner pains in their heart, because they also are human beings. They also need love, care and encouragement from other people."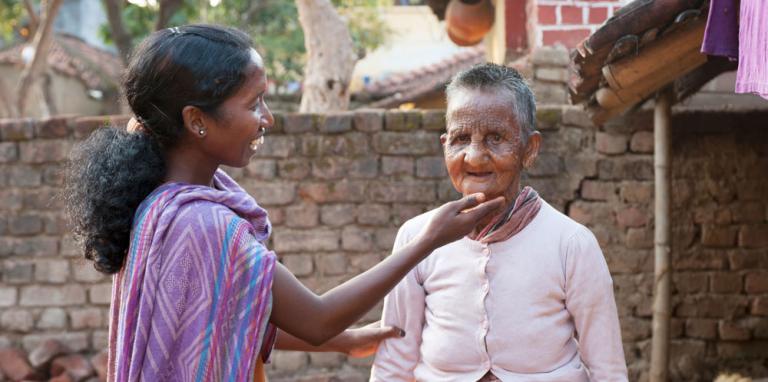 She and other servants of God serve these precious patients in practical ways, such as by cleaning wounds, doing housework, cooking meals and helping with personal hygiene. Through every sweep of a broom and touch of their loving, helpful hands, these workers convey how much God values His creation—even those abandoned by their own families.
"By seeing [the leprosy patients], I am thinking that I will fill the gap," Sakshi said.
"I will give that love, which they are not getting from their grandchildren and daughters… I will become their daughter, I will become their grandchildren, and I will help them and encourage them, and I will love them."
Through love like Sakshi's, many leprosy patients are finding new hope and lasting joy that helps carry them through their troubles.
KP Yohannan, founder and director of Gospel for Asia, wrote about his experience of witnessing leprosy ministry take place.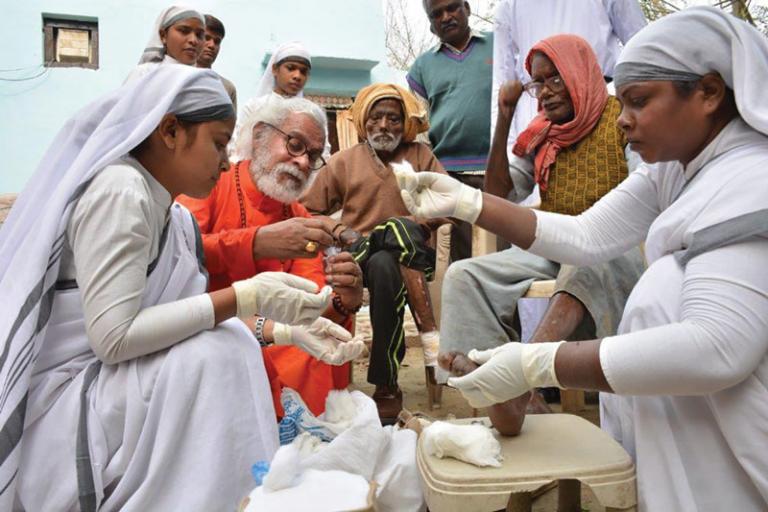 "I recently got to visit one of the many leprosy colonies where Sisters of Compassion are working," he writes.
"As I joined these Sisters of Compassion in giving out medicine and bandaging wounds, I was once again amazed by how these precious sisters embrace those afflicted by leprosy, serving them so faithfully in the name of Jesus. These leprosy patients, some without fingers or nose or ears, have faced so much rejection in their lives. But now they are finding hope, knowing that someone cares about them."
These workers, like Sakshi, are diligently bestowing love, medical care, assistance and dignity to those suffering with Hansen's Disease. Some specialize in making customized shoes for leprosy patients, carefully measuring each individual's feet to accommodate the sores or disfigurement the person has experienced. Other workers make warm meals for those who cannot cook—or even eat—by themselves; clean homes; wash and comb the tangled hair for those who can no longer perform even these most basic functions for themselves.

Workers serving at a GFA-supported leprosy hospital offer tender care for patients afflicted with Hansen's Disease. Beyond addressing the physical needs of medication, procedures and bandages, this hospital gives its patients emotional support, acceptance, respect and genuine concern for their holistic well-being.
Hospital staff members routinely visit neighboring leprosy colonies to examine patients and determine who should go to the hospital for medication or treatment. They also host events to increase awareness of basic health and hygiene practices, as well as speak words of truth and life to those who feel overcome by their sorrowful plight.
---
Leprosy: Misunderstandings and Stigma Keep it Alive: Part 1 | Part 3
This Special Report article originally appeared on gfa.org
To read more on the experience of leprosy patients on Patheos, go here.
Click here, to read more blogs on Patheos from Gospel for Asia.
Go here to know more about Gospel for Asia: Radio | About | Integrity | Facebook | Lawsuit