If someone were to ask what a Gospel for Asia Jesus Well is worth, the most popular response from faithful followers of our work might be "$1,400." That's because we consistently remind our family of believers that a gift of $1,400 can fund the building of a brand-new Jesus Well.
However, $1,400 is what it costs Gospel for Asia to install a well in drought-ridden villages across South Asia. The value of a Jesus Well is something entirely different.[1]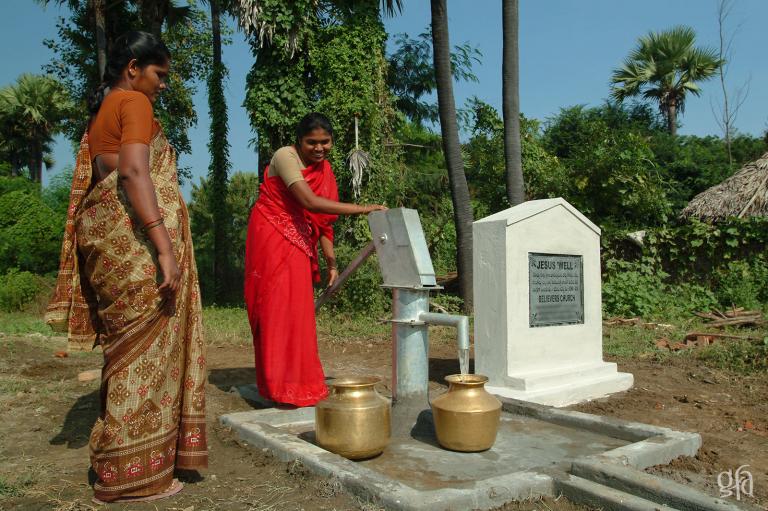 Defining the Value of a Jesus Well
Whether we realize it or not, we make nearly all of our purchases based on the value proposition of a business transaction. For example, if someone is buying a new tire for their car, their buying decision will take into account the expected length of time they intend to own the car. If they plan on trading the car in the near future, most people will choose to purchase a less expensive tire than they would if they were planning to keep the car for a long time. Price is an issue, but the amount the customer is willing to spend is primarily based on the value they expect to receive. Our point here is to try to establish the value of a Jesus Well.
Villages do not pay for installation or maintenance of Jesus Wells, so the value proposition is not based on cost at all. It is entirely about the benefit received. Christian businessman, Bill Westwood, explains biblical value proposition this way:
Christ's work of salvation includes the potential for us to fulfill that mission of adding true value by collaborating with him in the process of bringing order out of chaos.

[The value proposition is] the combination of resulting experiences . . . which an organization delivers to a group . . . in some time frame.

Delivering value . . . , meeting their needs and, wherever possible, exceeding their expectations, is to fulfill the golden rule to "love your neighbor as yourself" (Matt 22:39). In serving and loving others, we are serving God inasmuch as humanity bears the imago Dei.[2]
So, defining the worth or value of a Jesus Well has to be 'calculated' in the eyes of the recipients.
The Need for Jesus Wells
Disease
"More than 1.8 million children under the age of five die each year from illness associated with contaminated drinking water. Primary diseases contracted from unclean drinking water include cholera, diarrhea, typhoid, roundworm, hepatitis, and dysentery."[3]

"It is estimated that over 80% of India's population does not have access to clean drinking water. Indians regularly drink water from lakes, ponds, and rivers. This is the same water used for bathing, laundry and watering cattle."[4]
One child dies every 90 seconds due to waterborne disease.[5]
Poverty
Lack of readily available clean water is inextricably related to poverty.
"I don't think people in the West can even begin to understand that there are people, like the Untouchables in India or Nepal, who have to walk eight, nine, or ten miles with a water pot to draw water from some pond. And often it's a dirty pond because they are not allowed to draw water from the public well where the upper castes are also drawing water."[6]
How can a person be productive and provide for their families if one or more of the people in the household has to spend several hours per day carrying pots to fetch water?
Education
When children are sick because of waterborne disease, they cannot attend school.
When children are needed to help carry water long distances, they cannot attend school.
What is a Jesus Well Worth?
Because Jesus Wells are gifts, every benefit derived from the provision of clean drinking water contributes to the value of the well. It is not easy to calculate each well's precise value. However, we can make some reasonable assumptions based on an average village population of 300[7] where there are 260 adults and 40 children.
300 people will begin to become healthier because they are no longer drinking contaminated water. Jesus Wells are built to last 20 years or more. Imagine how improved health can change the lives of young children over a 20-year period.[8]
"Literature suggests that access to sanitation or drinking water may improve student participation or cognitive functions and therefore lead to better educational outcomes."[9]
According to Gold Standard,
"Households [using clean water wells] are 9 times less likely to contract waterborne illnesses."[10]
Clean water will improve the potential for school-aged children to escape poverty. A child's education is affected by an increase in absenteeism, decrease in cognitive potential, and increased attention deficits, according to A Layman's Guide to Clean Water.[11]
There could be a reduction in deaths of children age four and younger.
People over the age of 60 could live longer.
Immediate, local access to free, clean water could release women from the burden from an average of 20-30 hours a week spent fetching and carrying contaminated water.[12] These people are not lazy – which is readily evidenced by their willingness to do whatever it takes to provide water for their families. They are industrious. The time saved goes to finding new jobs and often a more stable lifestyle.
Wells are drilled during the dry season to ensure that they are deep enough to provide clean water year-round without villagers having to regress to daily treks to obtain water.
Jesus Wells are maintained by the local church at no cost to the community.
The love of Jesus is evidenced daily by the continued access to Jesus Wells for everyone in the village. "Whosoever will" may drink from the water of Jesus Wells.
Did You Know?
Did you know that the Jesus Well project is one of the largest clean water initiatives in the world?[13]
Did you know that Gospel for Asia has drilled over 11,000 Jesus Wells between 2016 and 2017?
Did you know that every Jesus Well features a plaque with the message John 4:13-14?[14]
Whosoever drinketh of this water shall thirst again: But whosoever drinketh of the water that I shall give him shall never thirst, but the water that I shall give him shall be in him a well of water springing up into everlasting life.
Did you know that when our Gospel for Asia (GFA)-supported pastors and churches gift a well that you have funded, the people in the village want to understand why someone would do that for them? Most of them have been considered outcasts and have never experienced the unconditional kindness of the love and grace of Jesus Christ.[15]
Did you know that the greatest value proposition of a Jesus Well is that it is a visible and tangible demonstration of His love and grace? A Jesus Well is often their introduction to the one, true God who gives them life on earth and offers the proposition of everlasting life where they will lack nothing. There is no other value proposition that can compare.
In Jesus' name, I come to you
To share His love as He told me to.
He said freely, freely,
You have received
Freely, freely, give.
Go in My name
And, because you believe,
Others will know that I live.[16]
---
Read more about the Global Clean Water Crisis: Finding Solutions to Humanity's Need for Pure, Safe Water.
To read more on Patheos on the global clean water crisis, go here.
Click here, to read more blogs on Patheos from Gospel for Asia.
Go here to know more about Gospel for Asia: GFA | GFA.org | Facebook | Youtube | Twitter | Lawsuit
For more information about this, click here.
---
[1]Give clean water to a needy village in South Asia and share Christ's love with them, GFA, Accessed December 2018.
[2] Westwood, Bill, The Marketing Value Proposition: The 'Golden Rule' in Action, Business as Mission, June 29, 2016
[3]Waters of Love, Oasis World Ministries, Accessed December 2018
[4] Ibid.
[5]Every 90 Seconds a Child Dies from a Water-Related Illness, Samaritan's Purse Australia and New Zealand, Accessed December 2018.
[6] Wooding, Dan, Jesus Wells bring living water to thousands in India and South Asia, Identity Network, Accessed December 2018.
[7]Provide Clean Water for an Entire Village, GFA, Accessed December 2018.
[8]Give clean water to a needy village in South Asia and share Christ's love with them, GFA, Accessed December 2018.
[9] Wadhwa, Divyanshi, Does access to sanitation and drinking water facilities relate to students' learning outcomes? Evidence from Andhra Pradesh, India, Georgetown University, April 2016
[10]Clean Water Access in India, Gold Standard, Accessed December 2018
[11]The Benefits of Clean Water Influence the Daily Lives of Children and Adults, and Impact the Quality of Life in a Community for Generations to Come, A Layman's Guide to Clean Water, Accessed December 2018.
[12]Water is Life: Bore-wells in India, HELP International, Accessed December 2018.
[13]On the Front Lines of Women's Empowerment and Providing Clean Water, Gospel for Asia Celebrates Its 39th Anniversary by Releasing 2017 Highlights, Missions Box Press Releases, July 22, 2018.
[14]Jesus Wells, A Little Perspective, January 3, 2006.
[15]Clean Water through Jesus Wells – Hearts Embrace Christ, GFA, Accessed December 2018.
[16] Owens, Jimmy and Carol, Freely, Freely, Maranatha Music, 1972.