WILLS POINT, TX – Gospel for Asia (GFA) Special Report #3: Discussing why leprosy remains, despite it being a curable worldwide issue.
Gospel for Asia Gives Leprosy Patients Food, Income-generating Gifts, Education and More
A GFA-supported Bridge of Hope center located within an area known for leprosy is providing free education, food, medical care and love for children from impoverished families, several of whom are touched by leprosy. While these children of leprosy patients may otherwise be rejected from schools or tolerated at a distance, they are welcomed and loved at Bridge of Hope.
National workers and believers in congregations in the nations Gospel for Asia (GFA) serves are helping break the stigma and social rejection experienced by leprosy patients. People affected by Hansen's Disease are invited into churches and homes. They are hugged. They are fed. They are shown the respect and dignity we, as Christ's followers, believe every human being deserves.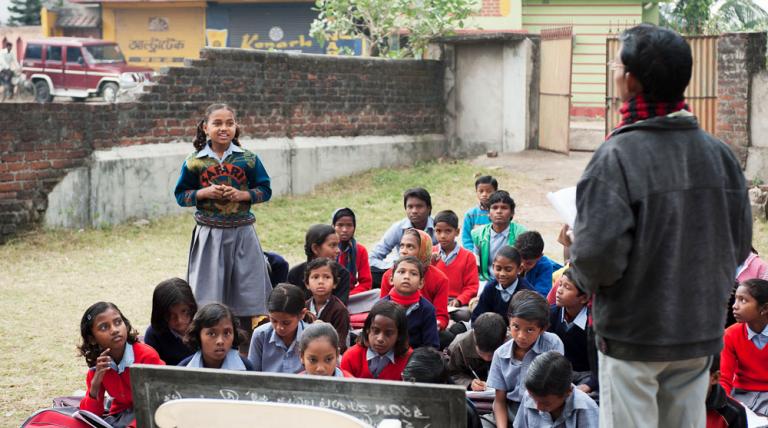 "Jesus Himself touched [those with leprosy] and healed them," Dr. KP Yohannan said in a 2017 press release.
"Jesus told us to go and do the works that He did. We, as His representatives, can show these precious people that compassion, health and healing are found in Jesus."
On World Leprosy Day and all throughout the year, Gospel for Asia (GFA)-supported workers honor leprosy patients with gifts, such as blankets, mosquito nets, goats and other income-generating gifts they or their families can use to provide for themselves.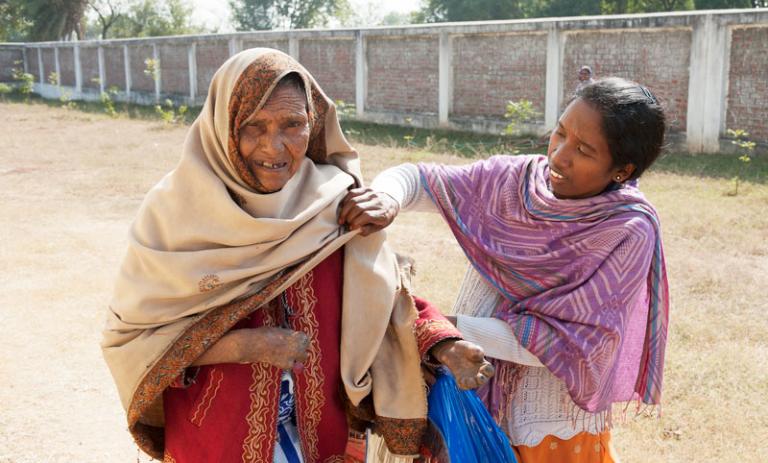 During a blanket distribution, one woman wept as she shared,
"I don't have a husband or children. I am all alone here. Nobody comes to see me. I have been staying here for more than 50 years, and now I cannot go back to my home. I am so thankful to God for those giving me this blanket and coming here and praying for me."
Charumati, a widow who suffers from leprosy, lost her fingers and toes due to the deteriorating effects of the disease. Her son, Devan, faithfully stayed by her side, but she felt hopeless. Then she met a group of believers from a church led by Gospel for Asia (GFA)-supported pastor Manaar—and hope entered her life.
The pastor and believers talked kindly with her and prayed earnestly for her healing. She experienced deeper peace than she had ever known, and the news of God's deep love and acceptance soon became an anchor for her soul.
"Jesus Himself touched [those with leprosy] and healed them… Jesus told us to go and do the works that He did."
Over the next few years, Charumati received great help and love from her newfound family in Christ. They helped her with chores like fetching water, washing clothes and making meals. They managed to raise money to provide her with new clothing and some medicine, and because of donations from Gospel for Asia (GFA) friends they never knew, the local church was able to provide Devan with a free sewing machine and give Charumati a warm blanket.
These are just a few of the thousands of lives impacted through Reaching Friends Ministry. Gospel for Asia (GFA) is grateful to be part of a global movement to bring understanding, hope and healing to leprosy patients. We believe God loves these men, women and children—whom society offhandedly label as "lepers" throughout history—and there is no longer any reason that anyone in the world should suffer the hardship and isolation of leprosy.
---
Leprosy: Misunderstandings and Stigma Keep it Alive: Part 1 | Part 2
This Special Report article originally appeared on gfa.org
To read more on the experience of leprosy patients on Patheos, go here.
Click here, to read more blogs on Patheos from Gospel for Asia.
Go here to know more about Gospel for Asia: Radio | Amazon | About | Integrity | Facebook