WILLS POINT, TX – Gospel for Asia (GFA) – Discussing the grave need for national missionaries, like the Good Samaritan in Jesus' parable, who fills in the gap of health care to the poor and needy with the love of God.
Marut's heart raced as his feet tore down the dark road in front of him. It had been a weary day of labor, and now his lean body strained as he flew from the wild dogs closing the gap between them. These were not domesticated animals. These were scavenger dogs, grown cruel by struggle for survival.
As the pack drew closer, Marut had to make a quick decision. He scanned the horizon before him looking for a way of escape. He saw an electric pole some distance ahead. He altered course, bolting directly toward the pole. As Marut reached it, he scampered up the metal pole just out of reach of the vicious pack of dogs.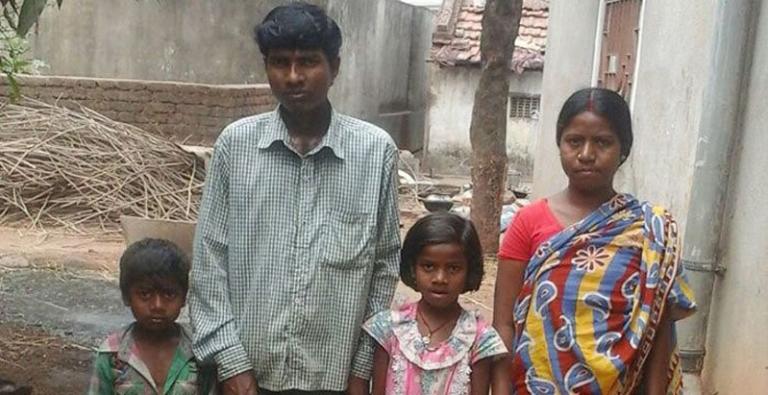 From One Threat to Another
Marut climbed further up the pole, creating a more comfortable distance between him and the growling hounds below. As he inched toward the inky night sky, an invisible danger dangled just above, more destructive than the danger below. While Marut heaved his exhausted body up, a broken power line flicked his chest. A bolt of electricity engulfed his body, flinging Marut off the pole and onto the ground.
Marut lay immobile with huge sections of his body burnt and one leg broken. The dogs barked wildly around him, alerting nearby residents. Some sympathetic bystanders rushed him to a hospital.
A Desperate Phone Call
As Pastor Daha stood at the bus stop, his phone buzzed in his pocket, calling his attention from the masses around him to the single unknown number scrolling across his phone's screen. When he answered, a pleading voice urged Pastor Daha to come to a nearby village to see a man who was critically wounded and close to death. Pastor Daha gathered his things and hurried to the nearby village where the injured man lived.
Following the instructions given by the person over the phone, Pastor Daha approached a small building. Peering through the doorway of the simple one-room home, the stench of injured flesh enveloped Pastor Daha like a cloud. He knew the smell of these wounds intimately—decaying skin common among those with leprosy.
A Good Samaritan Arrives
Marut lay in anguish on his bed as his wife and children looked on hopelessly. He had spent 10 days in the hospital and had been released two days prior. His family despaired for his life.
God brought Pastor Daha to Marut at the critical juncture between deterioration and recovery. Though Marut's wounds were not life threatening with proper treatment, his family did not know how to care for him, so he was quickly approaching death.
In the United States, for every 10,000 people, there are 117.8 skilled health care workers
In Southeast Asia there is a regional average of 25.7 skilled health care workers per 10,000 people.
In Bangladesh there are only six skilled health care workers for every 10,000 people in the country. That's one doctor or nurse for every 1,600 people.
How can one doctor see that many people? The answer? He can't.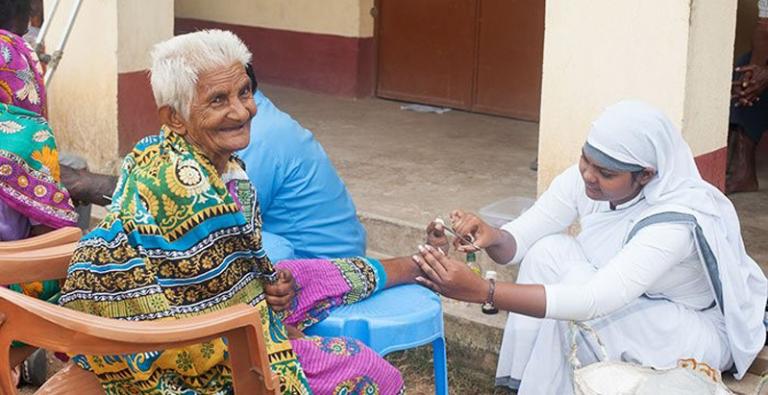 Meeting a Desperate Need for Medical Care
Gospel for Asia (GFA)-supported pastors and workers are uniquely present in these communities filled with great need. Just like the Good Samaritan in Jesus' parable, who could not pass by a man bruised and beaten in the streets, local pastors and field workers make it part of their ministries to care for the physical needs of those in their communities.
While not skilled health care workers, these pastors and field workers have two essential qualities to help meet health needs in poor and rural areas: They are present and willing.
What Good Does a Good Samaritan Do?
While countries work hard to address the health care needs of their rural communities on a national level, Gospel for Asia (GFA)-supported field workers address the issue at a grassroots level, working with leprosy patients, conducting medical camps and providing health care training to women.
Mostly, these Good Samaritans find plenty of opportunities to meet health needs in the local communities where they minister. Because Pastor Daha was serving in Marut's area, he was available to provide the medical attention Marut desperately needed after being discharged from the hospital—probably saving his life!
Pastor Daha continued to visit Marut regularly and Marut grew grateful for the sincerity and faithfulness of Pastor Daha. He remembered many times in the past hearing about the God that Pastor Daha worshiped but without any interest. Now, as the pastor lovingly attended his wounds, wounds that even his family members were repulsed by, Marut's heart became knit together with this man of God.
Filling the Gap Left by Inadequate Health Care
The World Health Organization reports,
"These [national health coverage] failings result in very large numbers of preventable deaths and disabilities in each country; in unnecessary suffering; in injustice, inequality and denial of basic rights of individuals. The impact is most severe on the poor. … The poor also emerge as receiving the worst levels of responsiveness—they are treated with less respect for their dignity, given less choice of service providers and offered lower-quality amenities."
Although health coverage is becoming available to more people who would otherwise not be able to afford treatment, GFA's national missionaries are present to offer the dignity, responsiveness and love that have not yet reached many poor rural families. The Great Physician calls us to action.
Be a Good Samaritan today. Sponsor a national missionary who often is the one to fill the gap of health care to the poor and needy, motivated by the love of the Great Physician Himself.
---