WILLS POINT, TX – Gospel for Asia (GFA) – Founded by Dr. K.P. Yohannan – Discussing the national missionary life of Rahi, the oppositions, discouragements, the breakthroughs by humbly becoming a tool in God's hands, and the power of His saving grace.
The sun had not yet illuminated the day, but Rahi was awake and on his knees. Every morning, he spent an hour talking with the Creator of the universe, His Savior, about all the things stored in his heart: family, ministry, personal needs and desires, the believers in his churches. Then he spent another hour in God's Word, meditating and seeking the Lord's will for his day and ministry.
In those sacred hours of the very early mornings, Rahi drew strength.
Sense of Urgency
Rahi has been serving the Lord as a Gospel for Asia (GFA)-supported worker for about 15 years. He started off as a film-team member, going from village to village in his home state to show movies about the life of Jesus.
"I had that sense of urgency in my heart that I should go and [share Christ's love] to many people," Rahi says.
He watched the Lord touch people's lives as they saw Christ's love for humanity displayed on the screen. People would weep and confess their sins; a few even decided they wanted to serve the Lord full time. Seeing how the Lord used him in a powerful way encouraged Rahi.
Throughout his time serving in film ministry, he and his team faced opposition for showing movies about Jesus, but Rahi believed doing the Lord's work far surpassed any momentary afflictions.
On the Brink of Giving Up
After four years of serving in the film ministry, he spent the next three years in seminary, learning how to become a leader in ministry.
But after graduating from seminary, Rahi struggled in his new ministry location. He knew no one, and he had difficulties understanding the language. He struggled to communicate; people made fun of him when he mixed up words and accidentally used his mother tongue.
Discouragement settled in Rahi's heart. He would call his leaders to ask if they would transfer him to a different place.
"I cannot survive here," Rahi would say. "I cannot do ministry here because of my language problem. There is no one I can talk to."
Every time he wanted to give up, his leaders would pray for and encourage him.
"You have gone with a purpose," they told him. "God has called you to serve there, and He will do wonders and miracles. Just be patient and persevere through these little inconveniences, and definitely the Lord will use you mightily."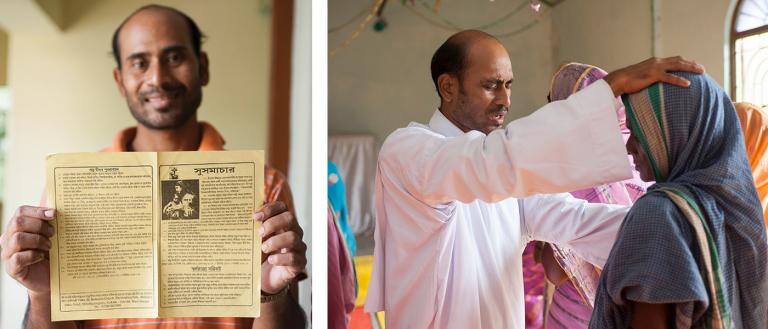 Breakthroughs in Ministry
Eventually, instead of being overwhelmed by his challenges, Rahi fixed his eyes on Christ. He knew God's work should not stop despite his own weaknesses, so he wrote a tract called "God's Kingdom Is at Hand," had it translated into the local language and distributed it to the villagers. People responded; they'd call him up wanting to know more about Jesus.
"I was very encouraged to see people interested to know about Jesus," Rahi says.
As Rahi stepped out in faith, he saw God going before him. The language he once thought was incomprehensible became easier to understand and speak.
"I started to listen to people keenly, and I started to force myself to learn the language," he says.
Karun, a villager, remembers the first day he met Rahi. His brother had invited the pastor to his house and had told all his relatives, "Come, let's listen to him. He's telling us about who Jesus is."
While Karun and his family listened to Rahi share about Christ and His compassion, hearts began to stir.
"Although [Pastor Rahi] was speaking in mixed language—his mother tongue, which is … very similar to [our language]—we all could understand most of it," Karun said. "We liked what he said. I really was impressed and interested in knowing more about Jesus."

Ministering to People by Becoming a Tool in God's Hands

As Rahi persevered through the little inconveniences, the Lord drew people to Himself.
Today, Rahi oversees 12 churches with around 600 believers. His wife and a group of Sisters of Compassion and Bible college students help him in ministry because it has grown so much in five years.
Every day, they visit people and share about God's love for them and about Jesus' life and sacrifice. When they see people in need, they find ways to help them. So far, Rahi has helped distribute income-producing and quality-of-life gifts to more than 1,500 people.
"We distribute things that are needed for these people," Rahi says. "We encourage them to trust in the Lord and pray that the Lord will meet their needs. " We distribute things among both believers and non-believers so everyone in society will benefit.
Drawing Strength from the Lord
Throughout the many seasons of Rahi's ministry and journey with God, he's seen God's faithfulness to use him despite his inabilities. And his heart still holds that sense of urgency for many people to know God's love and grace personally. Every day, he lays his needs bare before the Lord and trusts Him to work.
"I draw my strength … from the Lord when I come to Him in His presence and thank Him and seek His guidance and blessings," Rahi says. "God, in His mercy, has worked in the hearts of [the people I minister to]. I am just a tool. I go and share about Jesus, … but it is Christ and the Holy Spirit who actually bring these people to His saving knowledge."
Sponsor a National Missionary.
---