WILLS POINT, TX – Gospel for Asia (GFA World and affiliates like Gospel for Asia Canada) founded by Dr. K.P. Yohannan – Discussing Adya and her siblings who, like many students, were rescued from difficult situations when they are enrolled in Gospel for Asia (GFA) Bridge of Hope.
Adya lost her father when she was a small child. Her mother, a Christian in name only, remarried and had two more children, only to be abandoned by her new husband shortly thereafter. Though Adya's mother labored from early morning to late night every day, she never earned quite enough to provide for the family. Adya and her siblings often went hungry.
Adya's mother managed to send her to school from time to time, but Adya's younger sister, Lalana, and brother, Gayan, spent most of their lives roaming the slums, collecting trash to recycle. That is, until they began attending a Bridge of Hope center near their home.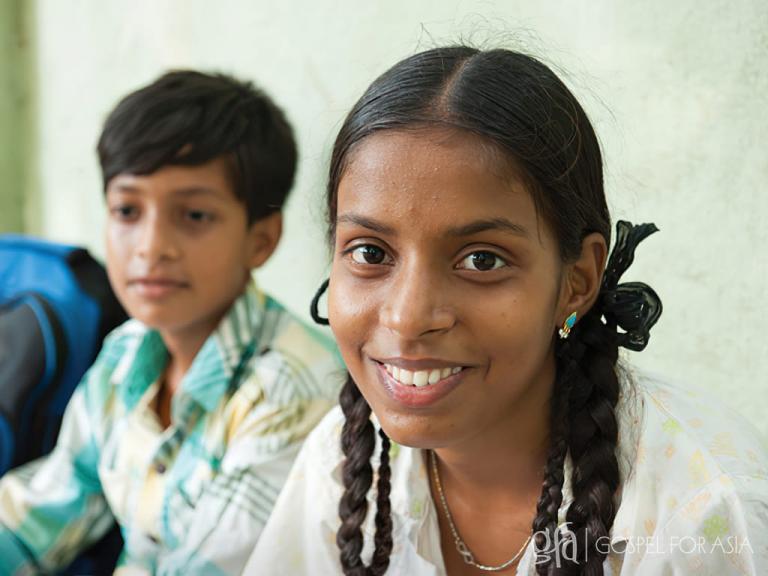 Guiding Their Now-Clean Hands
Tarli, a social worker at Adya's Bridge of Hope center, remembers when young Adya first joined seven years before. The girl, then 8 years old, was scrawny and unclean. She and her siblings didn't know how to bathe or comb their hair; they didn't have enough clothing to cover their bodies; they hardly knew how to carry on a conversation.
The tutors and social workers patiently worked with Adya, Lalana and Gayan. The children didn't know how to read or write, so the Bridge of Hope tutors helped each one individually, guiding their hands to help the children form the letters. The center provided a daily meal, hygiene lessons, clothing and abundant doses of love. Under this care, it didn't take long for the children to blossom.
"The life of Adya entirely transformed after she joined the Bridge of Hope center," Tarli reflects. "She looks beautiful now and has become an energetic student in our center."
No Longer Searching
Rather than scavenging for trash, Lalana and Gayan enjoy studying, and 15-year-old Adya has become one of the best students in her school. Her teachers and tutors are proud of her accomplishments, and her mother, after witnessing the transformation in her children's lives, has come to understand that the Christ she once knew in name only is a Living Savior who still changes lives today.
Thank you so much for standing with us to make stories like this possible. May the Lord bless you.
---
Learn more about the Gospel for Asia Bridge of Hope program and how you can make an incredible difference in the lives of children, bringing hope to their lives and their families, transforming communities.
*Names of people and places may have been changed for privacy and security reasons. Images are Gospel for Asia stock photos used for representation purposes and are not the actual person/location, unless otherwise noted.
---
Source: Gospel for Asia Featured Article, Children Become More Than Scavengers
Learn more about the Discarded, Abandoned and Abused Children, and how, through your partnership, the ministry through Gospel for Asia can give them a home, protection and strive to reunite them with their families and help change their lives forever.
Learn more by reading the Gospel for Asia Special Report on Child Labor: Not Gone, but Forgotten – Millions of Children Trapped between Extreme Poverty and the Profits of Others
Learn more by reading the Gospel for Asia Special Report: Poverty: Public Enemy #1 – Eliminating Extreme Poverty Worldwide is Possible, But Not Inevitable
Click here, to read more blogs on Patheos from Gospel for Asia.
Learn more about Gospel for Asia: Facebook | YouTube | Instagram | LinkedIn | SourceWatch | Integrity | Lawsuit Update | 5 Distinctives | 6 Remarkable Facts | 10 Milestones | Media Room | Scandal of Starvation | Endorsements | 40th Anniversary | Lawsuit Response |
Notable News about Gospel for Asia: FoxNews, ChristianPost, NYPost, MissionsBox