WILLS POINT, TX – Gospel for Asia (GFA World and affiliates like Gospel for Asia Canada) founded by Dr. K.P. Yohannan – Discussing the difficulties to reach villages with the Gospel, whether because of location, tradition, illiteracy, and the transformative impact Gospel for Asia (GFA) film team ministry bring to the mission field.
Paritosh excitedly sat down with his wife and other members of his community. They were about to enjoy a special treat that evening: a movie.
As the film progressed, however, Paritosh's mood changed from that of seeking entertainment to one of deep contemplation. This movie was not what he expected, but he was far from disappointed.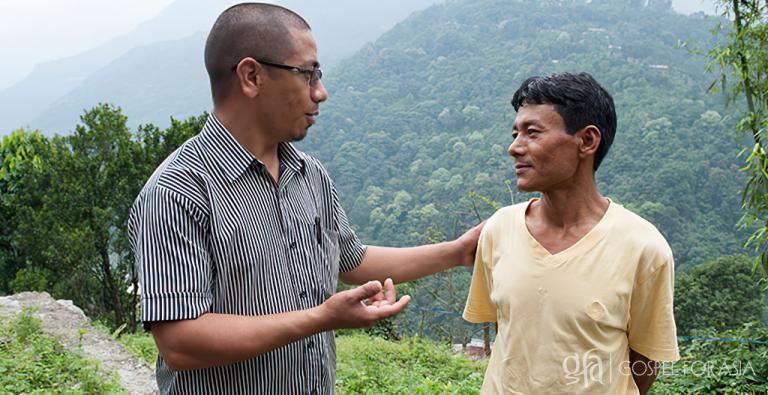 Unwanted Hope
Paritosh had heard of Jesus before. Our pastor in his area, Biswas, had first come to Paritosh's village more than 12 years earlier and brought news of Jesus to Paritosh's community. Even so, Paritosh had no interest in Jesus and didn't understand the significance of His life.
Paritosh's reaction to Pastor Biswas's ministry was typical in his region. The majority of people in his mountainous area either ignored what workers like Pastor Biswas shared or responded with firm—sometimes forceful—rebukes. Pieces of literature about Christ frequently ended up as torn fragments on the ground, and bruises marked the bodies of many who tried to help villagers learn about Jesus. Traditions ran deep, and these communities wanted nothing that their ancestors didn't have, especially regarding whom they worshiped. Some villages were so determined to keep themselves at status quo that any outsiders were required to obtain permission to even enter their area.
"The ministry here … is not easy," Pastor Biswas says. "An ordinary person without a deep commitment to serve the Lord cannot come here and stay and do ministry."
In addition to villagers' resistance to Christ, he names other challenges to ministry: extreme winter cold, lack of electricity, high living costs, very few roads, forests filled with bears and tigers, low literacy rates and homes scattered across far distances.
In the midst of these obstacles, Pastor Biswas and other Gospel for Asia (GFA) workers cry out to God to enable them to serve and love the communities and people who, at the moment, do not especially want them around.
Understanding Grows Through Films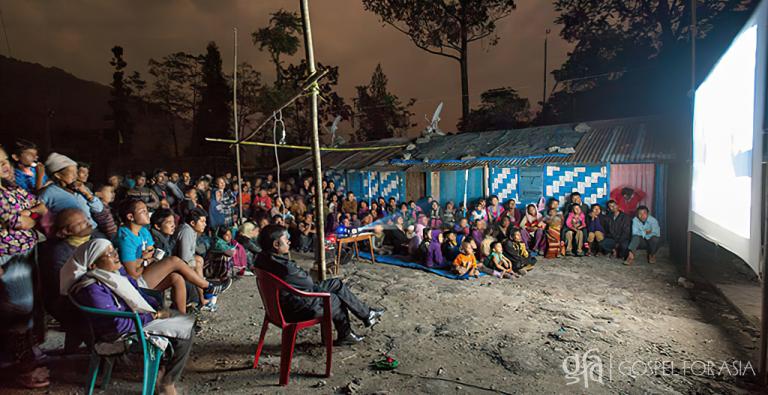 As an answer to those prayers, God sent small groups of men and women to this region—our film team that were ready to help communities understand, through movies, the truth of who Jesus is.
When one such team came to Pastor Biswas's area, they worked together to organize a special movie night for Paritosh's village.
"In most of the remote villages, there are no other means of entertainment like television and other things," Pastor Biswas explains. "When there is a film show, people are interested, and they come."
After obtaining permission from local authorities, Pastor Biswas and the film team members announced the details of the event to the community. They set up their projector screen and prepared for the sunset event.
Paritosh and the others watching the film saw Jesus in a new way that night. After years of disinterest in Christ, Paritosh finally understood what Jesus did for him.
"It really touched my heart," Paritosh says. "Through this film show, I could understand that Jesus Christ came to this world to save me; He came and gave His life. … Our body will die one day, but our soul will be saved if I believe in Jesus Christ. Through His death I am saved. And it was for my sins that He died and rose again."
People of all ages in villages like Paritosh's have discovered those same things about Christ after watching a film about His life, ministry, death and resurrection. For some, the evening event is their first time to ever hear of Jesus. Others who grew up as cultural Christians realize through the film that they never started their own personal relationship with Christ. Still others journey from a place of spiritual criticism to faith during those few hours—or they start the journey.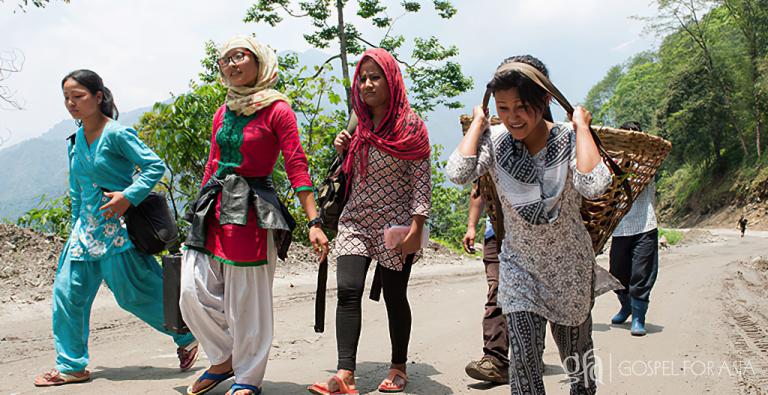 Giving Their All for Communities, for Christ
Film ministry has proven one of the most effective ways of conveying God's love to communities, especially those with high illiteracy rates. But serving in film ministry is not easy, as Malini knows firsthand.
Malini served on a team with three other women in Pastor Biswas' region. At the start of her ministry, Malini knew she wanted to serve on a film team. Since then, she helped many people understand the truth about Christ. Her passion for using film to convey hope and God's promise of new life undergirded her during times of intense difficulty.
"I know Christ selected me for this ministry, and Christ will help me," Malini declares confidently.
As an all-women team, Malini's group had special opportunities to minister to the women in the villages they visited. The culturally imposed behavioral boundaries in their area meant they did not receive the same level of opposition a team of men would experience—male missionaries commonly receive beatings, for example—and communities were often more willing to welcome unknown women than male strangers.
But the young women also had their own set of unique challenges. Some villagers misunderstood the traveling women's intentions and passed shameful remarks. The mountainous region they ministered in had very little access to transportation, so they had to carry their equipment long miles up and down steep slopes. Local believers often assisted the women, but even so, the journeys between villages were grueling for all the film teams, especially for the women teams.
"Sometimes we are so tired physically," Malini confides. "When we are discouraged … we pray our God will inspire us and give us more strength to do the ministry."
But amid the challenges, Malini and all the other film team members, male or female, know their labor is not in vain. They meet people like Paritosh, whose lives are forever changed because others gave of themselves to bring hope to remote places.
"It is through the film ministry team that came to my village [that] I was able to watch the film and understand the love of God in my life," Paritosh testifies.
He and his wife now both participate in their local fellowship and are growing in their walks with Christ.
Change Lives Through Film Ministry
Malini desired to spend her days helping others learn of God's redemptive love, and through Gospel for Asia (GFA)-supported film ministry, she and many others are doing just that. In addition, these teams empower communities to grow stronger by hosting double-feature shows. They play one film telling Christ's story and a second film promoting awareness of societal issues, such as hygiene, smoking, alcohol and drugs. Scattered across diverse areas of Asia, film teams visit hundreds—even thousands—of communities each year, but more teams are needed to help all the people of Asia understand God's gift of mercy.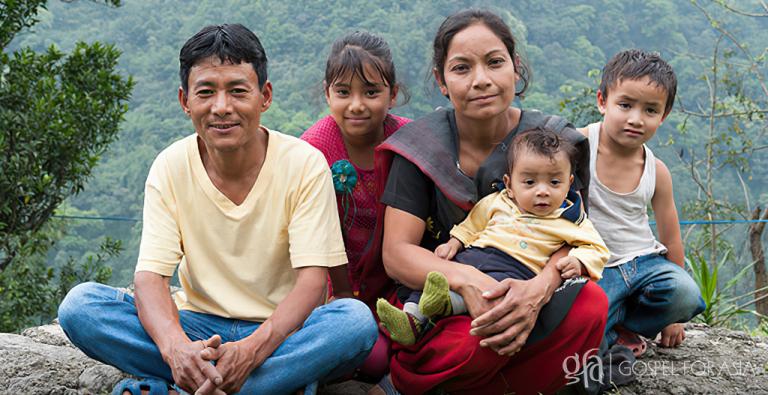 Today, you have the opportunity to be part of a film team ministry through your prayers and gift. God has chosen individuals to serve in this effective but challenging ministry, and He can work through you to equip those teams with all the tools they need. Send news of His love to more people like Paritosh by donating toward film ministry!
---
Learn more about Film Team Ministry in Asia, as films on the life of Jesus have proven to be one of the best ways to let people in Asia know about the sacrificial love and deliverance of God.
*Names of people and places may have been changed for privacy and security reasons. Images are Gospel for Asia stock photos used for representation purposes and are not the actual person/location, unless otherwise noted.
---