WILLS POINT, TX – Gospel for Asia (GFA World and affiliates like Gospel for Asia Canada) founded by Dr. K.P. Yohannan – Discussing the starving families due to the COVID 19 pandemic, and the food distribution relief through GFA pastor Alik, his church and local volunteers.
The mask-wearing woman grasped the package of food, smiled and thanked the workers. As she moved on, another took her place in line. Dozens of men and women, keeping six feet apart, patiently waited their turn to receive a package of food.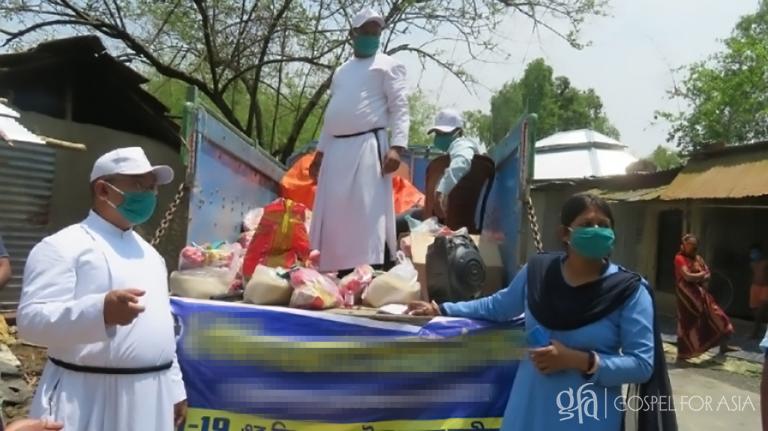 Before this, GFA pastor Alik had seen families going to bed hungry. People were starving, and Pastor Alik knew how to help. After visiting the local authorities and obtaining their permission, the pastor immediately set about organizing and planning a food distribution.
Volunteers from the local church along with some civic workers carefully bundled together hundreds of pounds of rice, beans, biscuits, oil, soap and masks. Once ready, the team spent nearly five hours handing out the packages to those who had come from families in five nearby villages.
Pranjeeta, a 32-year-old widow with two sons under the age of 6, normally works as a maid. She thanked the team for the ration kit, saying,
"I am deeply happy and thankful to [the church] for providing us with the ration kits during this time of crisis."
---
Learn more about how to Help those in need amidst the COVID-19 pandemic, giving food and aid to Coronavirus victims.
Learn more about the need for Disaster Relief Work and how you can help GFA-supported Compassion Services teams provide things like food, blankets, medicine and other emergency supplies to disaster-affected people and villages across Asia.
*Names of people and places may have been changed for privacy and security reasons. Images are Gospel for Asia stock photos used for representation purposes and are not the actual person/location, unless otherwise noted.
---