WILLS POINT, TX – Gospel for Asia (GFA World and affiliates like Gospel for Asia Canada) founded by Dr. K.P. Yohannan – Discussing GFA Bridge of Hope centers and GFA Sisters of Compassion teams that minister to the suffering especially to those worst affected by COVID 19 related hunger.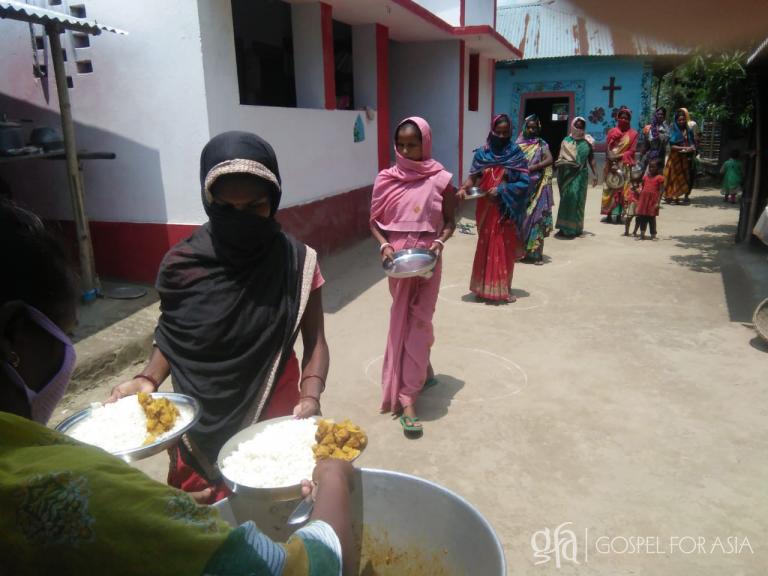 GFA Bridge of Hope centers are serving as community kitchens while workers minister to families worst affected by COVID-19-related hunger.
In Jharkhand, Bridge of Hope staff set up a community kitchen and daily have fed 300 of those hardest hit by the crisis, including street dwellers and daily wage laborers.
Workers at two centers in Bihar identified the most needy in their area. After obtaining proper government permission, they provided food for 200 families, which was a great blessing to the communities. Recipients expressed joy and gratitude to leaders for showing love and remembering them in this difficult situation.
"I am very happy to have the yummy food," said Abeer. "I and my family have been going through financial crisis for the last two months, but today we feel very happy."
Another recipient, Ushta, said, "[The church] is the one who always helped us in our difficult situation, and I am so glad to receive the meal from them today."
Praiksha in Madhya Pradesh had heard of people distributing food to the poor, but no one had reached him. After a Bridge of Hope event, he said, "I am now so happy that [the Bridge of Hope center] has given us essential items that we really needed. Thank you so much."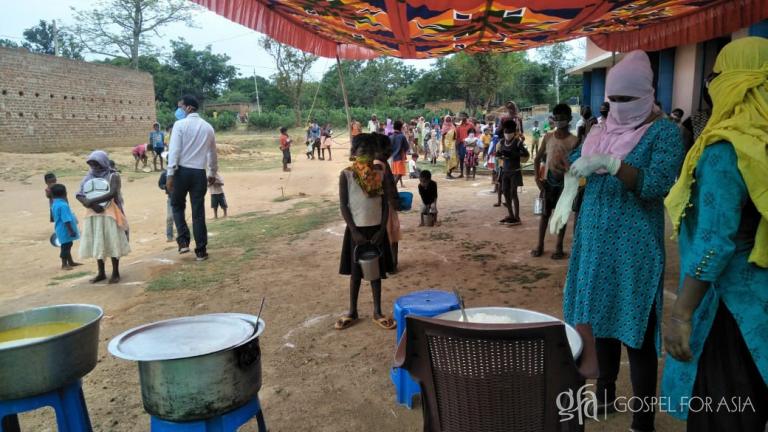 Compassion for Migrant Workers Amid COVID 19
Gospel for Asia (GFA) Sisters of Compassion in Jammu ministered to migrant workers living in tents or one-room homes in the slums. Many workers have been separated from their families because of travel restrictions and have struggled financially because of not being able to work. The sisters gave them packets of groceries and assured them they would pray for each of the families' needs.
Local police officers accompanied the Gospel for Asia (GFA) workers to ensure people followed the safety guidelines. The head constable also directed workers to a man and his son living beside the station who were in particular need and had sought help at the station just a few days prior. In response to the head constable's request, this man also received groceries, for which he was very grateful.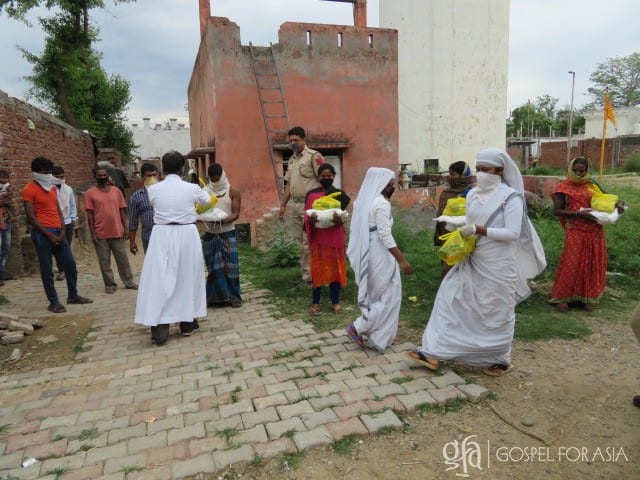 After seeing the ministry and care for those in need provided by the pastors and Sisters of Compassion, one police officer offered to help them whenever they needed it.
"Good job," he told them. "You have done a great effort. Thank you for the compassionate heart of yours."
Palash, a father of three originally from Bihar, and his wife normally work in a box-manufacturing factory. But since the factory closed, they have been unable to earn an income.
"We had little rice and wheat flour," Palash says. "Since we are from other states, I do not have a Ration Card to get groceries from the ration shop. I was anxious about the days ahead. But at the right time, you have given the necessary items for our food. … Thank you so much for having concerns about us."
Jaiman is a widow from Chhattisgarh who works at the nearby pencil factory to provide for herself and her 4-year-old son, but she has been unable to do so with the factory's closure.
"Thank you for the food items," Jaiman said. "Almost all my groceries finished, and I was worried about the food, especially for my son. Now we will be able to survive with the grocery items for the next few weeks."
GFA's efforts such as those through Bridge of Hope and Sisters of Compassion are present throughout the year and serve as a natural conduit for showing the love of Christ in tangible ways during times of crisis. Click the above links to learn more about these ongoing programs.
---
Learn more about how to Help those in need amidst the COVID-19 pandemic, giving food and aid to Coronavirus victims.
Learn more about the need for Disaster Relief Work and how you can help GFA-supported Compassion Services teams provide things like food, blankets, medicine and other emergency supplies to disaster-affected people and villages across Asia.
*Names of people and places may have been changed for privacy and security reasons. Images are Gospel for Asia stock photos used for representation purposes and are not the actual person/location, unless otherwise noted.
---