WILLS POINT, TX – Gospel for Asia (GFA World and affiliates like Gospel for Asia Canada) founded by Dr. K.P. Yohannan – Discussing the hunger & needs amid the COVID-19 lockdown, the Gospel for Asia (GFA) pastor and congregation used by God to bring relief through grocery distribution.
GFA pastor Bhaskar hung up the phone after talking to yet another one of the 270 people who regularly attended his church. Coordinating a distribution program during the COVID-19 pandemic took an even greater amount of planning and care than usual, due to the precautions needed. There were definitely people in the area where he served who needed help.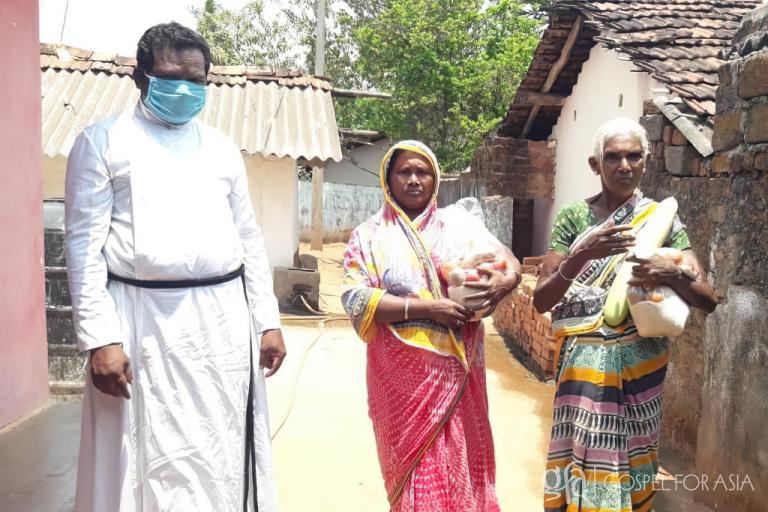 When the COVID-19 lockdown first went into place, Pastor Bhaskar urged his congregation to look for any ways to help needy families around them. The majority of villagers farm for a living; whether or not they went to bed hungry depended on if they could sell their crops at the market—but the lockdown kept them home. Food was in major demand; rice, tomatoes, potatoes and bottle gourds would be perfect items to distribute.
Pastor Bhaskar and his congregation helped 25 families by providing groceries.
Mohisha, a 48-year-old mother, received a bag of the much-needed groceries.
"I was thinking to whom I shall share my agony that I and my family members are going through," she said.
"We do not have money to purchase anything that we need. … But today, in the right time, the church provided us vegetables and some other food items. As a family we are deeply grateful to the church pastor and believers for their love and care that they have shown us."
---
Learn more about how to help those in need amidst the COVID-19 pandemic, giving food and aid to Coronavirus victims.
Learn more about the need for Disaster Relief Work and how you can help our Compassion Services teams provide things like food, blankets, medicine and other emergency supplies to disaster-affected people and villages across Asia.
*Names of people and places may have been changed for privacy and security reasons. Images are Gospel for Asia stock photos used for representation purposes and are not the actual person/location, unless otherwise noted.
---