WILLS POINT, TX – Gospel for Asia (GFA World and affiliates like Gospel for Asia Canada) founded by Dr. K.P. Yohannan – Discussing Baharupa, his alcohol addiction, the struggle with poverty in providing for his family, the sicknesses they are exposed to, and the Gospel for Asia supplied mosquito net used as an instrument of God's love.
What began as a small indulgence slowly enveloped Baharupa's life. The 55-year-old farmer and father of three felt pressured to drink the alcohol given to him at the many village-wide celebrations. But again and again, he ended up drunk. Even with his acquired addiction, Baharupa made sure to take care of his wife and sons, but there were some things he couldn't provide them with.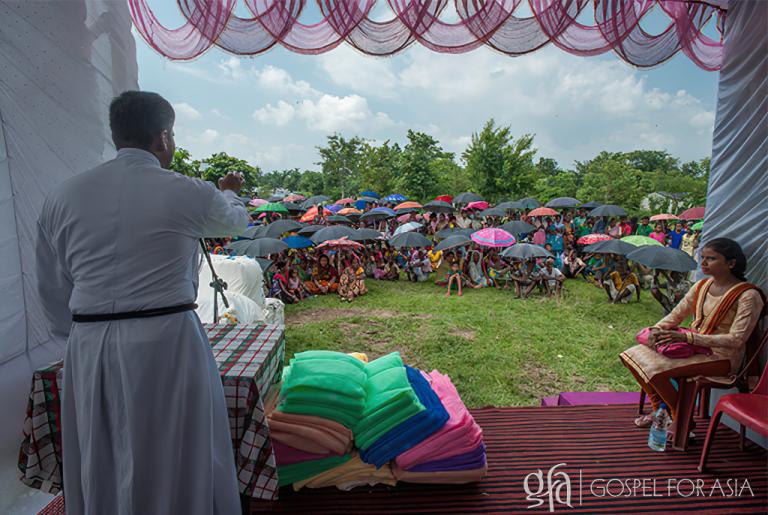 A Village's Struggle
In Baharupa's village, Gospel for Asia pastor Satyam oversees a congregation of 72 believers. The pastor and believers had been seeking ways to bless their community. They saw the poverty that clung to Baharupa and many of their fellow villagers despite countless hours of hard work and labor. The believers also saw how vulnerable villagers were to diseases because they possessed no way to protect themselves. And they wanted to help.
God's Love Exemplified
Of the many burdens weighing on impoverished families in Asia, health concerns rank high on the list. Our initiatives include health awareness programs that help individuals learn how to shield themselves against sicknesses. Gospel for Asia missionaries also distribute practical gifts, such as mosquito nets, to help people put what they learn at awareness programs into practice.
Mosquito nets provide ample protection against the disease-carrying pest—a boon for poor, rural villages like Baharupa's. Pastor Satyam organized a gift distribution event to give out 4,000 mosquito nets.
As Baharupa sat with the other recipients, the farmer could not comprehend why Pastor Satyam and the believers had put together a gift distribution event. But when his name was called and a mosquito net was placed in his hands, Baharupa began to understand. This was love and compassion at work.
"Who can give us mosquito nets without money?" Baharupa wondered. "This shows [the believers'] love towards us. I have never seen such kind of love among our society people."
Intrigued, Baharupa attended worship service the next Sunday, and he started coming every week. Pastor Satyam counseled the farmer, sharing more of God's vast love and forgiveness. Baharupa realized he didn't need the bottle; he now possessed something infinitely greater: the eternal love of God.
Baharupa and his entire family began to walk with Jesus. They became members of the congregation, rejoicing in the newfound love of Christ and in Baharupa's freedom from addiction.
Read how another family was blessed thanks to a Gospel for Asia-supplied mosquito net.
---
One simple way to fight mosquito-borne diseases like malaria, is to consider giving a needy family a simple Mosquito Net. Most households need several nets to protect everyone in the family. Help save them from sickening agony or death from malaria.
*Names of people and places may have been changed for privacy and security reasons. Images are Gospel for Asia stock photos used for representation purposes and are not the actual person/location, unless otherwise noted.
---