WILLS POINT, TX – Gospel for Asia (GFA World and affiliates like Gospel for Asia Canada) founded by Dr. K.P. Yohannan – Discussing Khadim, the discouragements and grinding poverty, and the income-generating gifts from Gospel for Asia's Christmas Gift Catalog that brought hope, encouragement and joy.
Khadim plodded toward home, weary from his diligent efforts to provide for his wife and two children. He had spent the entire day looking for labor jobs—anything that would put food on the table and care for his family—but he came home disappointed with the wages of his hard work. It just wasn't enough.
Meager Meals and an Unstable Income
The families in Khadim's community depended on agriculture for their livelihoods and diligently cultivated their crops. But Khadim didn't own farmland and couldn't get a stable job, no matter how hard he tried. The 35-year-old father went from place to place seeking daily labor jobs, but some days he couldn't find any work, and he struggled to provide for his family.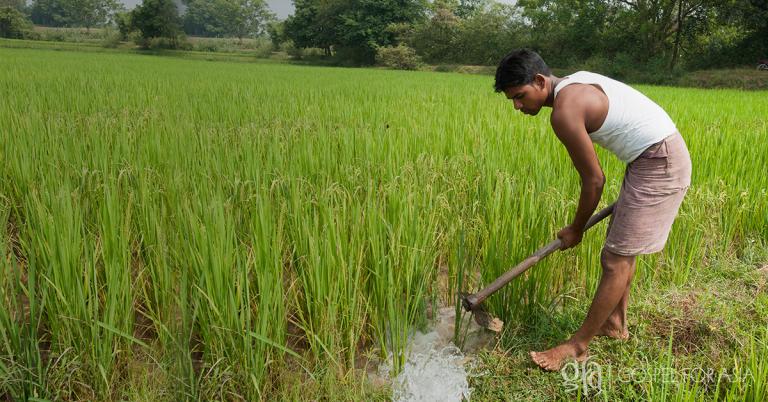 Khadim's life held little joy, and he often fought disappointment and discouragement. He somehow managed to provide some food for his wife and kids, but nothing enabled him to meet all of their needs.
Experiencing the Compassion of the Body of Christ
Khadim began his relationship with Jesus many years ago, and his love for Christ was strong, despite his troubles. He worshiped the Lord at a fellowship led by Gospel for Asia (GFA) pastor Udyan. He tried to participate in the church activities, but searching for work every day meant Khadim often missed the fellowship gatherings.
His troubles did not go unnoticed by his church family. Pastor Udyan saw the diligent efforts of the young father to care for his family, and he thought of a way to help relieve Khadim's burden.
Through the generosity of believers living many miles away, Pastor Udyan had the opportunity to bless people in his community with income-generating gifts from Gospel for Asia's Christmas Gift Catalog. When the time came to distribute the gifts, Pastor Udyan knew exactly which families needed help the most—and Khadim's was one of those families.
Hardworking Father Equipped to Thrive
As a practical demonstration of God's love and care, the careworn father received a gift that changed his family: a brand new bicycle rickshaw! With this new, consistent source of income, Khadim's hard work began to pay off.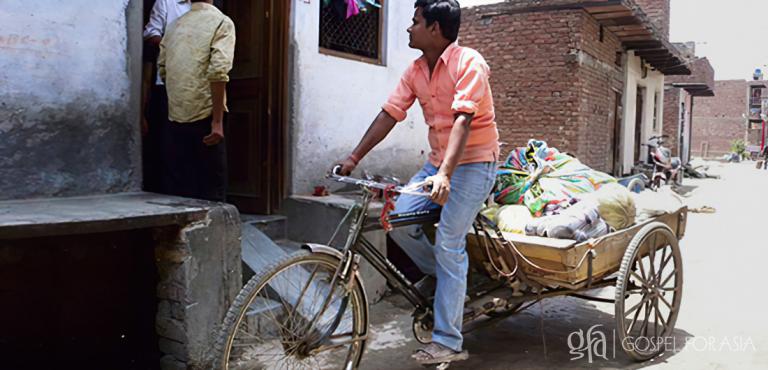 Bicycle rickshaws are versatile modes of transportation in Khadim's area; some carry passengers, while others transport cargo. Pedaling bicycle rickshaws can be physically demanding, but Khadim wholeheartedly thrust his energy and strength into his new occupation.
Farmers in Khadim's community began hiring Khadim to bring their produce to the market, while other families wanted him to bring their groceries home for them. Khadim's rickshaw even enabled him to start working at construction sites, where he was able to haul bricks and bags of cement.
Heart and Home Impacted by Gospel for Asia's Christmas Gift Catalog
Now, Khadim uses his rickshaw for labor work between 10 a.m. and 5 p.m., and then he goes out again during the evening to transport parcels for villagers. Thanks to his new source of income, Khadim's children don't have to worry about whether they will have food or not, and Khadim's wife has the resources she needs to run the household.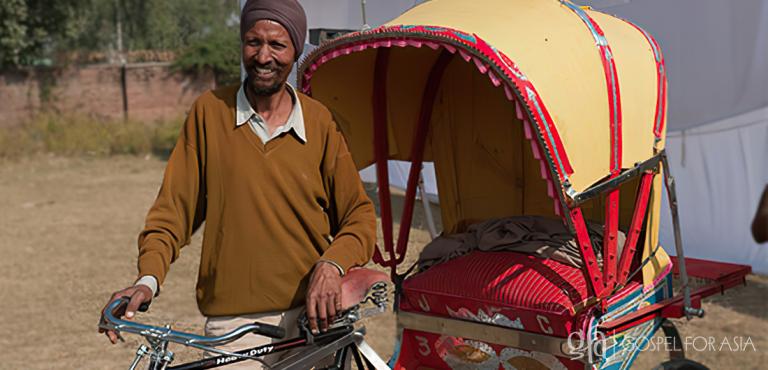 Khadim still works hard to care for his family, but the generous gift from the Body of Christ brought a greater stability to his financial situation and removed the burden of discouragement that weighed on his heart.
"I am really thankful to Almighty God and to the Church for having concern [for my family] and providing me with a cycle rickshaw," Khadim shared. "It was timely help when I was struggling in my life, and the Church took care of me."
Khadim's family no longer lives hand-to-mouth. Khadim even faithfully tithes his earnings—just one of many ways he expresses his gratitude to the Lord for His provision and grace.
Although Khadim's rickshaw is a simple tool of metal and wood made to carry things like vegetables and bricks, it also carries hope, encouragement and joy for him and his family. It is a continual reminder of their Savior's loving care, and it inspires praise and thanksgiving.
To the Lord and to those who helped lift him out of discouragement and grinding poverty, Khadim gratefully says, "Thank you, very much."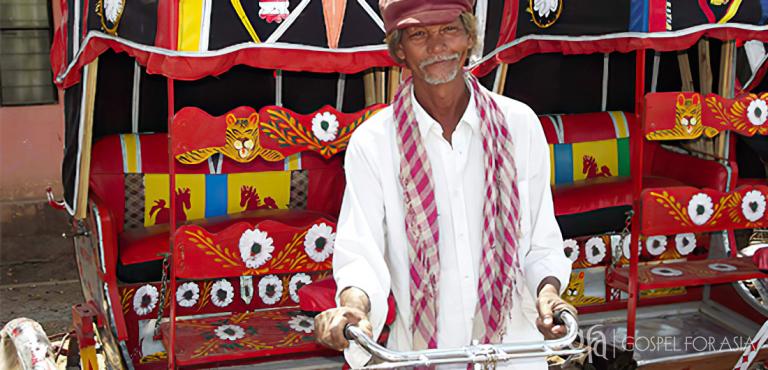 You can give other struggling parents, like Khadim and his wife, the ability to provide for their children, and remind them of God's great love. Give an income-generating gift today through Gospel for Asia's Christmas Gift Catalog.
---
*Names of people and places may have been changed for privacy and security reasons. Images are Gospel for Asia stock photos used for representation purposes and are not the actual person/location, unless otherwise noted.
---