WILLS POINT, TX – Gospel for Asia (GFA World and affiliates like Gospel for Asia Canada) founded by Dr. K.P. Yohannan – Discussing the Gospel for Asia Women Missionaries who care deeply for the sick and suffering around them, ministering to them through prayer and encouragement.
One evening as Gospel for Asia women missionaries Pakhi, Heerkani and Sabeena stood on the terrace of their house overlooking their city neighborhood, they saw an old man lying down on a cot outside his home. The man looked very sick as his family members hovered around him, taking care of his needs.
The three women missionaries went to their room and began to pray for the man. There they asked the Lord for His help to minister to their neighbors.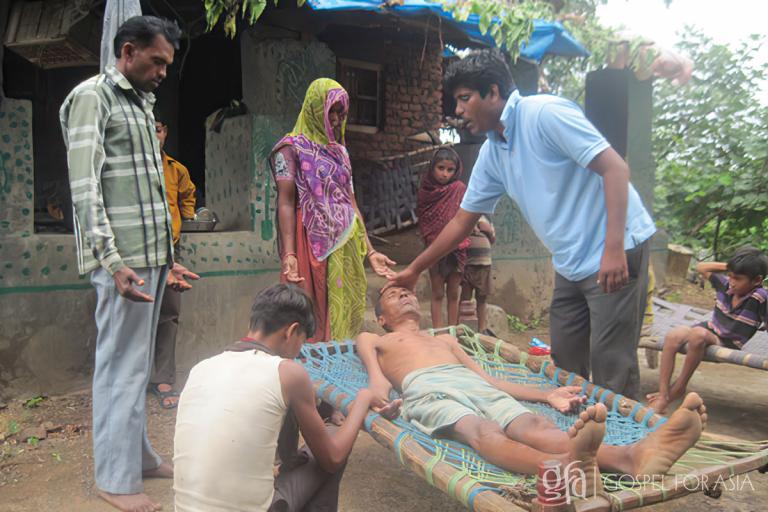 A Doctor's Plight
The man's name was Bilva—and he couldn't move. A doctor by trade, he was usually the one to look into the faces of the ill as they rested on their sickbeds. But now he rested on his. Paralysis had taken him by surprise months before, leaving him completely helpless.
The medicines he took did nothing to improve his condition, and Bilva lived the same routine over and over again, until a visit from three unfamiliar women changed things.
A Change of Mind through Gospel for Asia Women Missionaries
When Pakhi, Heerkani and Sabeena introduced themselves to Bilva and his family, they learned about his paralysis. Pakhi shared hope from God's Word and told them about the One who heals. At first, Bilva's family didn't respond very positively—they didn't know anyone named Jesus. But as the women patiently explained the healing power of the Son of God and offered to pray for Bilva, the family changed their minds.
The sisters prayed for and visited the family regularly. As time passed, Bilva's body began to improve, and he started to move his hands and legs. The family rejoiced at his improved health, and Bilva's daughter chose to love Jesus. Now she prays with the missionaries and spends time reading God's Word.
Thanks for being a part of stories like this through your prayers.
---
Learn more about the Women Missionaries and their heroic efforts, dedicating their lives to bringing hope and God's love to the women of Asia.
*Names of people and places may have been changed for privacy and security reasons. Images are Gospel for Asia stock photos used for representation purposes and are not the actual person/location, unless otherwise noted.
---