WILLS POINT, TX – Gospel for Asia (GFA World and affiliates like Gospel for Asia Canada) founded by Dr. K.P. Yohannan – Discussing Ruhae, the grief and hardships of an aging widow, the last living relative for her grandchildren, and the Gospel for Asia Pastor that brought God's peace and comfort.
Her son was murdered. Her daughter-in-law and husband both succumbed to illnesses. Ruhae was the last living relative for her grandchildren but at 77-years-old, she knew she wouldn't live much longer. Who would take care of her young grandchildren, only 12 and 8 years old, when she passed?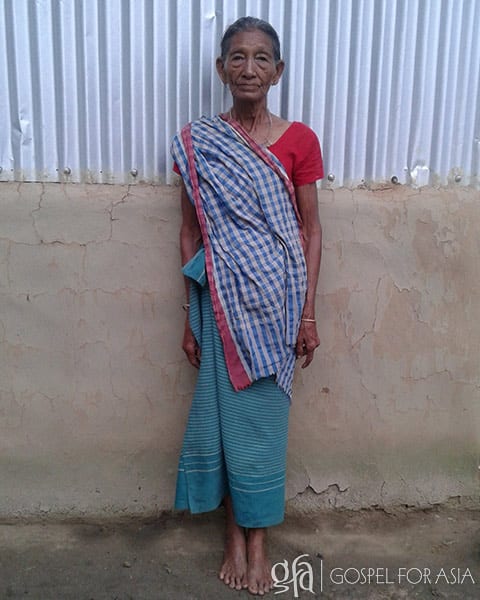 Hardened by the World
That question kept Ruhae up at night as she agonized over the fate of her precious grandchildren. Even at 77 years old, she worked in the fields to scrape together enough money to feed her grandchildren. It was hard, menial labor, but Ruhae did it. How else would she provide for them?
The grief and hardships the aging widow had faced over the years hardened Ruhae's heart. There is no place and no one who can give me peace, she thought.
Reigniting a Spark of Hope
Gospel for Asia pastor Shirom led a small fellowship of believers in Ruhae's village. The temporary building his congregation met in was close to Ruhae's home. Occasionally, the pastor and a few believers visited Ruhae, offering prayer and encouragement.
On one particular visit, Gospel for Asia (GFA) Pastor Shirom encouraged the widow to give all her cares and burdens to the Lord because He could give her the peace she was searching for. He could remove the anxiety she felt when she thought of her grandchildren's future. He could lighten her burdens. The thought intrigued the widow, who had almost given up hope of finding relief for her and her grandchildren. Desiring to know more, Ruhae began attending services at Gospel for Asia (GFA) Pastor Shirom's church.
Widow Learns The Peace That Passes Understanding through Gospel for Asia Pastor
Little by little, Ruhae's heart opened up. The widow realized that no matter what had happened in her life and no matter what the future held, God loved her and He provided.
"I get peace worshiping the Lord," Ruhae remarked. "When I worry, I tell everything to God. … Before knowing the Lord, I worried, but when I heard about the Lord, I began to call upon Him. In spite of all problems, I feel peace of mind and pray more and trust in the Lord alone."
Ruhae embraced God's love into her heart fully. The calm Ruhae now feels knowing her grandchildren will be looked after dwarfs the worries she felt before.
"I am not scared of what the future holds," Ruhae declares. "God is there to take care of my grandchildren."
Read a story of how one widow touched another with God's unfailing love through Gospel for Asia.
---
Learn more about the GFA national missionaries who carry a burning desire for people to know the love of God. Through their prayers, dedication and sacrificial love, thousands of men and women have found new life in Christ.
*Names of people and places may have been changed for privacy and security reasons. Images are GFA stock photos used for representation purposes and are not the actual person/location, unless otherwise noted.
---
Source: Gospel for Asia Feature Article, God's Peace Comforts a Widow's Heart
Learn more about how you can help alleviate the many struggles widows face through the Gospel for Asia supported Widows Ministry, providing them with basic essentials, sources of income and opportunities to find peace in Christ.
Learn more about the Widows Ministry, how you can help widows not only hear that Christ cares for them, but that they may also experience His love firsthand and see how He gives them dignity, peace and eternal life.
Learn more by reading these Special Reports from Gospel for Asia:
Click here, to read more blogs on Patheos from Gospel for Asia.
Learn more about Gospel for Asia: Facebook | YouTube | Instagram | LinkedIn | SourceWatch | Integrity | Lawsuit Update | 5 Distinctives | 6 Remarkable Facts | 10 Milestones | Media Room | Fighting Global Poverty | Endorsements | 40th Anniversary | Lawsuit Response |
Notable News about Gospel for Asia: FoxNews, ChristianPost, NYPost, MissionsBox