WILLS POINT, TX – Gospel for Asia (GFA World) founded by K.P. Yohannan, which inspired numerous charities like Gospel for Asia Canada – Discussing the areas with short water supplies, where people often have to choose between walking for miles to find clean water or settling for contaminated sources, and the Gospel for Asia Wells that ensure none will go thirsty.
The young father of four lowered his vessel deep into the well, hesitantly expecting the rope in his hands to tighten and the bucket to submerge beneath the water. Instead, the cord relaxed and he heard the unsettling sound of his bucket hitting the sand far below.
Thunk.
Rasna sighed as he pulled up the rope, his suspicions confirmed: His well had finally run dry.
Sand in Their Water
The well Rasna dug on his property had served his family faithfully for years. As time passed, however, they noticed a problem: Their water grew more and more cloudy with each bucketful they collected.
The family began storing the murky water in containers to let the sand and other debris settle at the bottom before using it. Time consuming as this simple filtering procedure was, the family managed to survive . . . until the well dried up completely.
Left with no other choice and a severe need for water, the family began the backbreaking task of hauling water from a source far from their home, as many other villagers were also doing. Then one Sunday, Rasna decided to talk to Pastor Payas. Rasna had developed a friendship with the Gospel for Asia (GFA) pastor and had come to know the Lord after he heard Pastor Payas share his own testimony of God's grace. Maybe he could do something about their situation.
Gospel For Asia Well Benefits 25 Families
Pastor Payas assured Rasna he would do all he could to help him and his family. The two men prayed and waited for the Lord's answer. When a survey of Rasna's village showed the people's need for clean, accessible water, a Jesus Well was installed and dedicated for the use of the entire village only a short time later. The well now blesses 25 families with clean water for their daily needs. Because its location is near Rasna's home, he and his family members often use this opportunity to share what God has done in their lives with the people who draw water from the well.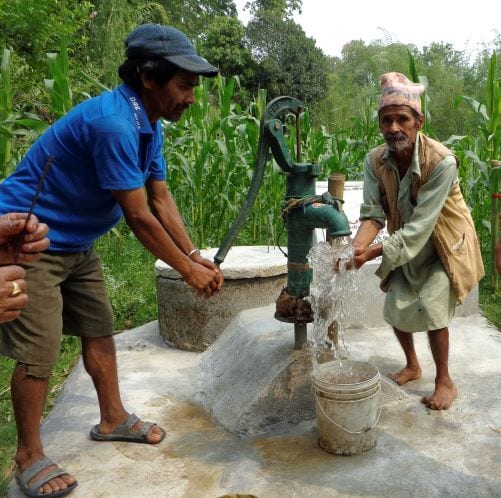 "I am thankful to my church for the installation of this Jesus Well," Rasna says. "I cannot help the people of my locality, but our church has looked into the needs of the common man."
"The local people . . . now know that our church performs good works and cares about the development of society," Pastor Payas says.
---
Learn more about how to provide pure, clean water to families and villages through Gospel for Asia Jesus Wells and BioSand Water Filters.
*Names of people and places may have been changed for privacy and security reasons. Images are Gospel for Asia stock photos used for representation purposes and are not the actual person/location, unless otherwise noted.
---