WILLS POINT, TX – Gospel for Asia (GFA World) founded by K.P. Yohannan, whose heart to love and help the poor has inspired numerous charities like Gospel for Asia Canada – Discussing Rajasi, the sorrow and loss that invaded her life, the hope of Jesus that sustained her through widowhood, and God's love and compassion shared as Gospel for Asia ministered to her family.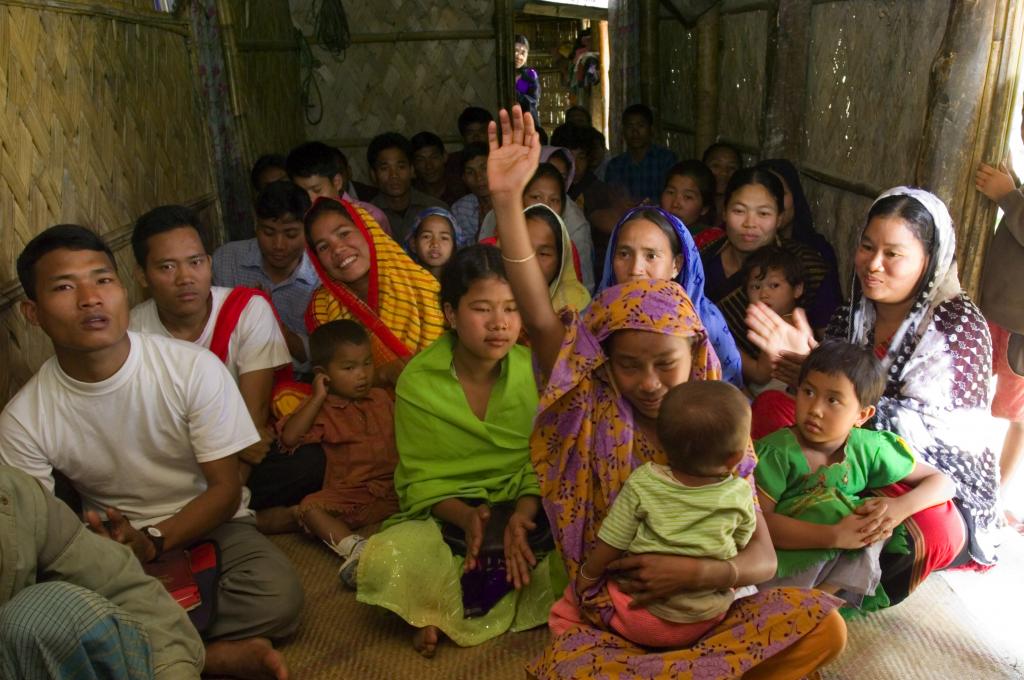 Rajasi's relatives blamed her for the death of her husband. "All these [problems] happened in your life only because of your faith in Jesus," they said. These wounding words stung Rajasi's lonely, grieving heart. How different they were from the soothing words spoken by her neighbor about her Savior months earlier. But now who could she turn to? With her husband dead and her own relatives and community speaking against her—who would help her?
No Stranger to Sorrow
Even though Rajasi was only a young woman of 25, sorrow and difficulties were no strangers to her. Before she met Jesus, she and her husband, Mahasvin, were in anguish. Mahasvin worked faithfully as a laborer to provide for his two children and wife, until both his kidneys failed to function properly. At this devastating news, peace left the household, making room for fear to enter the young couple's hearts.
Rajasi cried out in despair to all her gods, pleading with them to heal her husband. Mahasvin went to many hospitals and underwent treatments. But soon all their money was spent, and they had lost hope of him ever recovering. They heard no answers from their gods, and they were deeply discouraged. They had no one else to turn to.
They heard no answers from their gods, and they were deeply discouraged. They had no one else to turn too.
With Jesus, Everything Changes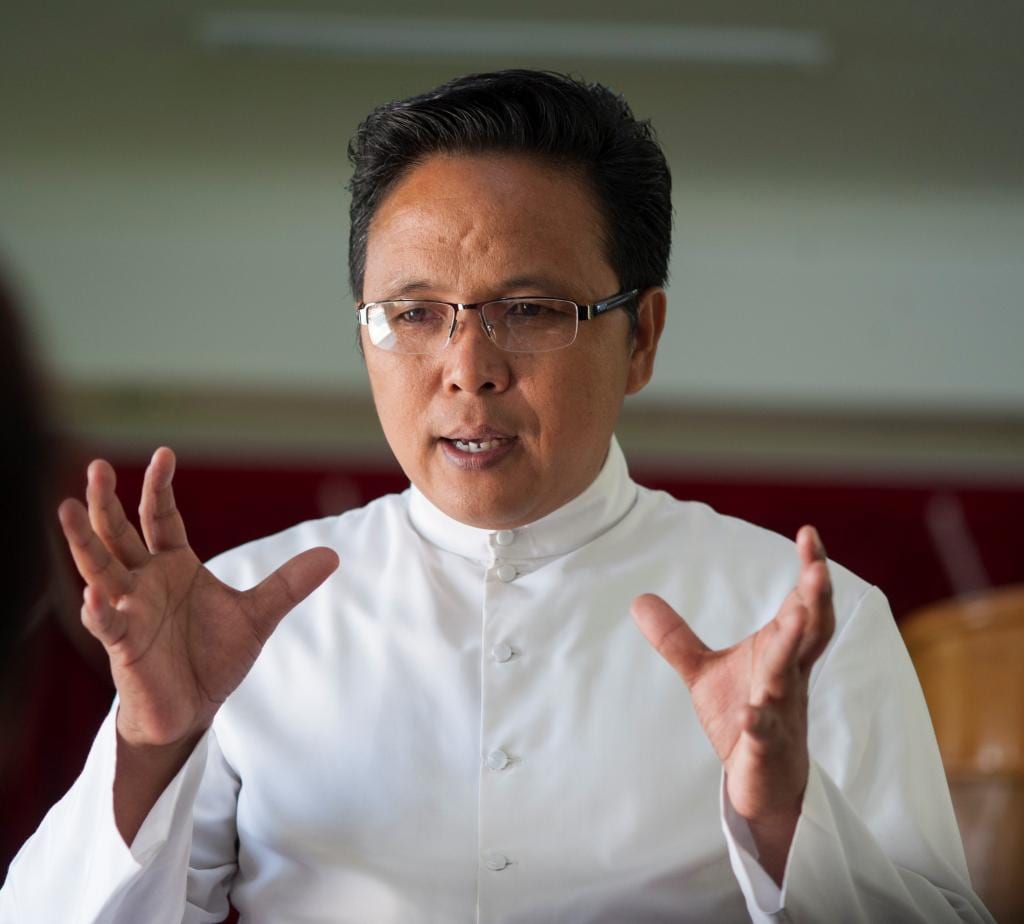 It was at this moment God sent a faithful believer to their home one day. She saw their grave condition and encouraged them with the Word of the Lord. Her gentle words of truth were like a healing balm to their wounded hearts, and they asked her to pray for them. After she prayed, she assured them of her continued prayers. Concerned for the couple, she brought their need to the attention of her Gospel for Asia (GFA) pastor, Victor.
With compassion, Pastor Victor visited Mahasvin and Rajasi often, bringing words of encouragement to the couple. As time went by, Rajasi and her husband realized Jesus was the answer to all their problems. Together, they decided they wanted the everlasting love of Jesus to fill their lives.
But life did not grow easier when they made their decision to follow Christ. In anger, Mahasvin's father turned against them and began to oppose them. But this never swayed their resolve to live in the hope and peace of Christ.
The Agony of Loss
After a few months, Mahasvin and Rajasi grew strong in their faith. But Mahasvin's health continued to deteriorate due to his failing kidneys. Rajasi listened closely as her dying husband shared his last requests with her: Never forsake Jesus, but go to the worship place at any cost.
After Mahasvin's death, Rajasi was heartbroken. She suffered through severe mental agony and pain, and to make matters worse, everyone placed the blame of her husband's death on her shoulders.
Even though so many had forsaken her, Rajasi was not alone. Her church family stood with her during her bleak hours. They visited their sister in Christ and encouraged her to follow Jesus. Rajasi was strengthened by their words and upheld the plea of her husband to continue steadfast in the faith, even in the midst of opposition.
Gospel for Asia Ministered in Midst of Worry for Children's Future
After Mahasvin's passing, Rajasi was completely dependent on the income of her father-in-law, Farhat, to meet her and her young children's needs—but so was the rest of the family. He worked in a small grocery shop, and many of her relatives became dependent on the income Farhat brought in.
Rajasi grew concerned about her children. She wanted them to have a good education, but her father-in-law would not give her extra money to send them to a good school. This troubled her deeply. Rajasi brought her worries before the Lord and the believers. Together, they all prayed for her need.
By God's grace, Rajasi's prayer was answered through a Gospel for Asia (GFA) gift distribution. On the happy distribution day Rajasi received a shiny, new sewing machine! The gift was such an incredible blessing in Rajasi's life. She quickly began work by setting up a personal tailoring shop.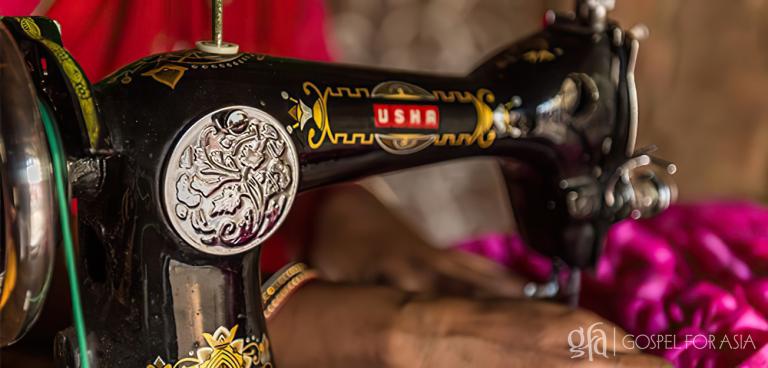 Within a few months, Rajasi was doing so well and received such a good income that she was able to buy a second machine to expand her business. Rajasi found a good school for her beloved children and is able to provide for their future.
Rajasi and her children weren't the only ones blessed by the machine; her mother-in-law was also touched by the kindness of the believers. Although she was bedridden and unable to go to services, she longed to hear more about the God of love and compassion who provided for her daughter-in-law. God also worked in Farhat's heart. While he still wants nothing to do with Jesus, he no longer opposes Rajasi for her faith.
Help 'Sew' into the Kingdom this Christmas!
God used a simple sewing machine and the love of His children to uplift Rajasi in her hour of need. Not only has it helped provide a way for her children to have a brighter future, but it also planted a seed of hope in her mother-in-law.
You can be part of answering a brother's or sister's prayer for God's provision by choosing an income-generating gift in Gospel for Asia's Christmas Gift Catalog! This year, make Christmas about 'sewing' into God's kingdom, and spread the joy and hope of Christ!
---
Learn more about how Gospel for Asia has ministered through the national workers who carry a burning desire for people to know the love of God. Through their prayers, dedication and sacrificial love, thousands of men and women have found new life in Christ.
*Names of people and places may have been changed for privacy and security reasons. Images are Gospel for Asia stock photos used for representation purposes and are not the actual person/location, unless otherwise noted.
---
Source: Gospel for Asia Featured Article, Failing Kidneys, Opposition and Answered Prayer
Learn more about how generosity can change lives. Through Gospel for Asia (GFA World) and its Christmas Gift Catalog, gifts like pigs, bicycles and sewing machines break the cycle of poverty and show Christ's love to impoverished families in Asia. One gift can have a far-reaching impact, touching families and rippling out to transform entire communities.
Learn more by reading the Gospel for Asia Special Report: Widows Worldwide Face Tragedy, Discrimination – Some Find Hope to Overcome the Challenges of Widowhood
Click here, to read more blogs on Patheos from Gospel for Asia.
Learn more about Gospel for Asia: Facebook | YouTube | Instagram | LinkedIn | SourceWatch | Integrity | Lawsuit Update | 5 Distinctives | 6 Remarkable Facts | 10 Milestones | Media Room | World Water Crisis | Endorsements | 40th Anniversary | Lawsuit Response |
Notable News about Gospel for Asia: FoxNews, ChristianPost, NYPost, MissionsBox