WILLS POINT, TX – Gospel for Asia (GFA World) founded by K.P. Yohannan, whose heart to love and help the poor has inspired numerous charities like Gospel for Asia Canada, to serve the deprived and downcast worldwide – Discussing the growing community of people who have been touched by God's love and healing power through the prayers of a Gospel for Asia worker who ministers and cares for them.
Gospel for Asia pastor Kontar recognized he was spending an increasing number of minutes each day with a phone attached to his ear. But he wasn't catching up with old friends, chatting about the latest news. God was using these phone calls to bring healing to people who had never heard about Jesus.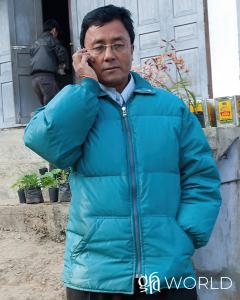 It all began with a woman named Kessie, who grew up in a community where Pastor Kontar taught a group of believers each week. Though Kessie's family practiced a traditional religion, she'd heard stories of how Pastor Kontar's prayers brought healing to the sick in her village.
After she married, Kessie moved to her husband's neighboring town. One day, Kessie learned that her neighbor, Efia, was afflicted with an unknown illness. For two months, Efia suffered, her body growing weaker and weaker with each passing day. She and her husband wondered where they could turn for treatment as worry heightened into fear and their hope began to dim.
An Important Phone Call
In Kessie's new community, there was no pastor or fellowship of believers, but she remembered Pastor Kontar from her childhood home.
She gave Efia Pastor Kontar's phone number, encouraging the ailing woman to call and ask for his help. Based on stories from back home, Kessie knew Pastor Kontar had a compassionate heart and a special way of bringing healing to those for whom he prayed.
Efia's husband, Ashon, called Pastor Kontar immediately, desperate to try anything that might restore his wife's health. Pastor Kontar listened carefully as Ashon described his wife's condition, responding with the Good News about Jesus and His power to heal. Pastor Kontar ended the call with a prayer for Efia's healing.
Efia's health began to improve until she was completely free from her illness, the strength of her body fully restored.
Gospel for Asia Pastor Ministers to Those in Need
Efia wasn't the only neighbor to whom Kessie gave Pastor Kontar's phone number.
Renny called Pastor Kontar seeking prayer for his body that was racked with severe pains. Pastor Kontar patiently listened to Renny's story and prayed for his complete healing. Soon the aches in Renny's body eased and harmony was restored in his joints.
Still another young man, Panyin, suffered from the influence of evil spirits, leading him to abuse his father. The man's mother decided to call Pastor Kontar, who prayed for Panyin's freedom. Once again, God answered Pastor Kontar's prayer, and Panyin was freed from his torment.
Soon, Pastor Kontar was praying with many people in a village where he'd never set foot. Over time, they invited Pastor Kontar to visit.
At long last, Pastor Kontar put faces with the many names over which he'd prayed. There were Renny, Panyin, Efia and Ashon. He greeted them with warmth. Even though he hadn't known their faces, God certainly did, answering the many prayers Pastor Kontar had offered on their behalf.
The village, once without a fellowship of believers, now has a growing community of people who have been touched by God's love and healing power and will never be the same.
---
Read how God healed Misha's body and soul.
*Names of people and places may have been changed for privacy and security reasons. Images are Gospel for Asia stock photos used for representation purposes and are not the actual person/location, unless otherwise noted.
---
Source: Gospel for Asia Field Reports & Updates, Pastor Ministers in Village Where He's Never Set Foot
Learn more about the GFA World workers who carry a burning desire for people to know the love of God. Through their prayers, dedication and sacrificial love, thousands of men and women have found new life in Christ.
Learn more about the need for Disaster Relief Work, Gospel for Asia's "Compassion Services" with relief teams who love the Lord who are focused to help victims of natural disasters find a firm foundation.
Click here to read more blogs and on National Missions on Patheos from Gospel for Asia.