WILLS POINT, TX – Gospel for Asia (GFA World) founded by K.P. Yohannan, whose heart to love and help the poor has inspired numerous charities like Gospel for Asia Canada, to serve the deprived and downcast worldwide, issued this Special Report update on the worsening hardships of leprosy patients amid the COVID 19 pandemic.
COVID-19 Causes Setbacks for Existing Leprosy Patients
As authorities struggled to know how best to respond to the COVID-19 crisis in the first part of 2020, it was all too common to find those who contracted the virus likened to "lepers"—a fear-mongering and dehumanizing reference to those with leprosy (Hansen's Disease).
For example, when Italy began looking to reopen after a significant lockdown prompted by a high coronavirus death toll, the country's foreign minister, Luigi Di Maio, commented, "If anyone thinks they can treat us like a leper colony, then they should know that we will not stand for it."
Photo by Presidenza della Repubblica
In Australia, former television presenter Sam Newman commented that people in Melbourne, which introduced some of the toughest COVID-19 restrictions in the country, were "living in a leper colony."
Meanwhile, in England, when television doctor Hilary Jones was asked whether it was safe to visit Birmingham, a city where cases had spiked, he answered "'it's not like a leper colony or anything."
While such comments reveal some of the deep-seated alarm still aroused by the disfiguring condition, it's also been suggested that lessons learned from the coronavirus could lead to leprosy rates being drastically reduced in South Asia—one of the areas where it remains most prevalent. During the pandemic, wealthy people in cities wouldn't allow domestic help to come to their homes from where they lived in the slums for fear of COVID-19 infection. It is hoped that this dynamic will further expose the health disparity between rich and poor, maybe prompting a renewed effort to end the inadequate living conditions that incubate the disease.
People with leprosy have to deal with two crippling challenges— the lack of pain caused by deadened nerves that results in deforming injuries and the unseen internal pain they experience because of prejudice.
First, however, there will be a need to overcome the setback for existing leprosy patients caused by the pandemic. The lockdown across Asia meant many patients were not able to access the regular treatment required to treat them successfully, according to one group of researchers. Another study found people with leprosy were at higher risk of contracting COVID-19, in part because of the difficulty they had in maintaining personal hygiene due to deformities and lack of money for soap and sanitizers.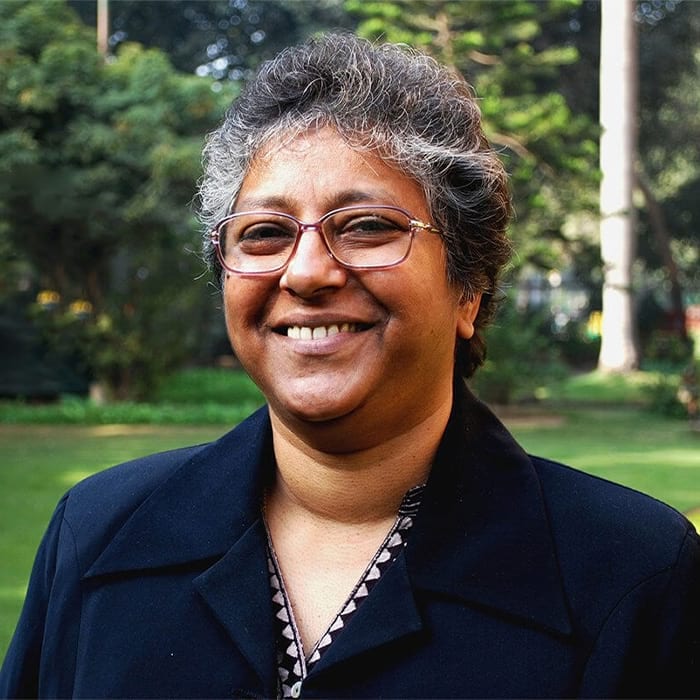 The pandemic impacted leprosy patients more than any other vulnerable group, said Dr. Mary Verghese, executive director of The Leprosy Mission Trust India (TLMT). According to Dr. Verghese, "People affected by leprosy are one of the most marginalised sections of society."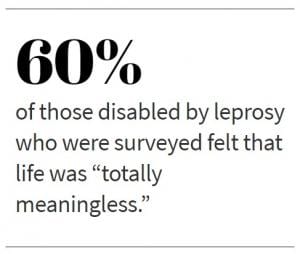 Elsewhere, with the pandemic bringing leprosy renewed media exposure, it could also awaken greater appreciation for the plight of those ostracized because of their condition. After all, being confined to one's own home for an extended period because of coronavirus concerns may be uncomfortable, but it doesn't compare to being forcibly isolated for the rest of one's life in a leprosy colony.
It's easy to recognize that people with leprosy have to deal with two crippling challenges—the lack of pain caused by deadened nerves that results in deforming injuries and the unseen internal pain they experience because of prejudice. There has not been a lot of research into the disease's emotional damage. However, a recent study in Bangladesh set out to quantify how it impacts sufferers personally and found 60 percent of those disabled by leprosy who were surveyed felt that life was "totally meaningless."
Because the pandemic has only worsened many leprosy patients' isolation and economic hardship, one report in Nepal warned that it "may lead to increased loneliness among them, which may further affect their anxiety and depression level."
GFA World Doing What it Can to Alleviate the Difficulties of People with Leprosy
Aware that people with leprosy were being pushed even further to the fringes by the pandemic, Gospel for Asia and other organizations already working among these outcasts did what they could to alleviate their difficulties.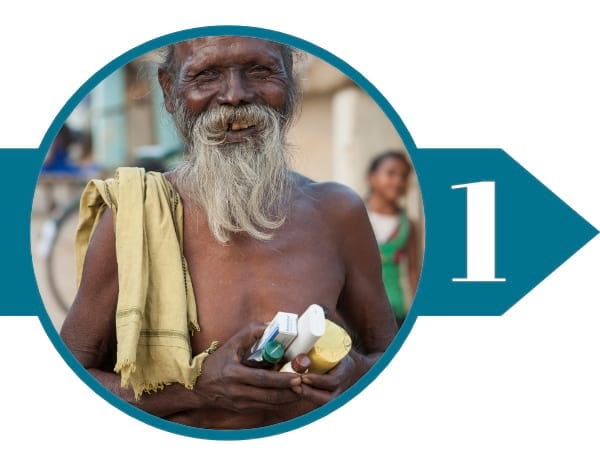 Providing Basic Necessities
GFA workers distributed laundry detergent, soap and food aid to widows and leprosy patients. These provisions were especially helpful because many leprosy patients sustain their daily existence through begging, which became impossible when the lockdown meant they couldn't leave their homes.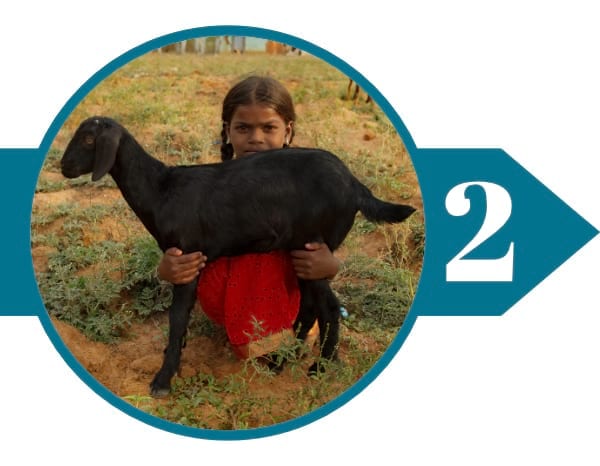 Giving Goats as Income-Generating Tools
Physical limitations preclude leprosy patients from some income-generating tools, but Gospel for Asia (GFA) has found a creative way to help them—giving them goats to raise. Goats offer a good solution for several reasons: They are fairly low-maintenance and easy to manage, they multiply quickly, and their kids and milk yield can provide a regular monthly income, eliminating the need to beg.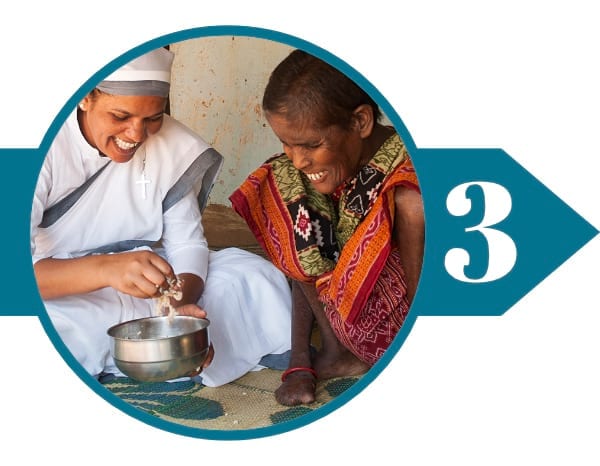 Helpful Care from Sisters of Compassion
GFA's work in scores of leprosy colonies across Asia extends beyond meeting just practical needs, as important as that is. GFA's Sisters of Compassion and members of local churches who visit the colonies on a regular basis also aim to touch bruised hearts.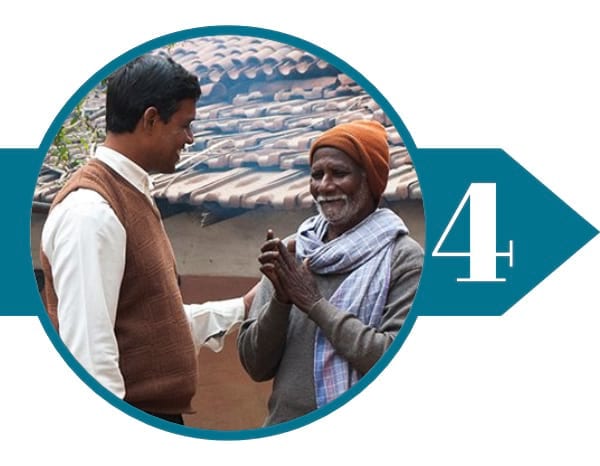 Physical Compassion and Genuine Concern
In addition to providing income-generating help, food and clothing, Gospel for Asia (GFA) teams offer physical care that embodies the love of Jesus. It comes in the manner in which Jesus responded when a man suffering from a skin disease came asking to be healed. Jesus didn't do so just with a word of command, as He could have. Mark 1:41 notes, "Jesus, moved with compassion, stretched out his hand and touched him."
In the same way, Gospel for Asia (GFA) teams close the emotional gap that has separated so many people with leprosy from the rest of the world by literal hands-on care, such as tending for wounds. Patients at one colony were deeply touched when a visiting group shared a meal with them. It was "the first time people came and ate with us," one said.
Among the residents of one of the leprosy colonies visited by Sisters of Compassion is Macia, who has lived there for more than 50 years, since contracting leprosy as a child. "Before the sisters came there was no one to help trim our hair or cut our nails, or help us clean our houses and encourage us," she says. "The sisters help us by cleaning our wounds and they make us happy and encouraged all the time."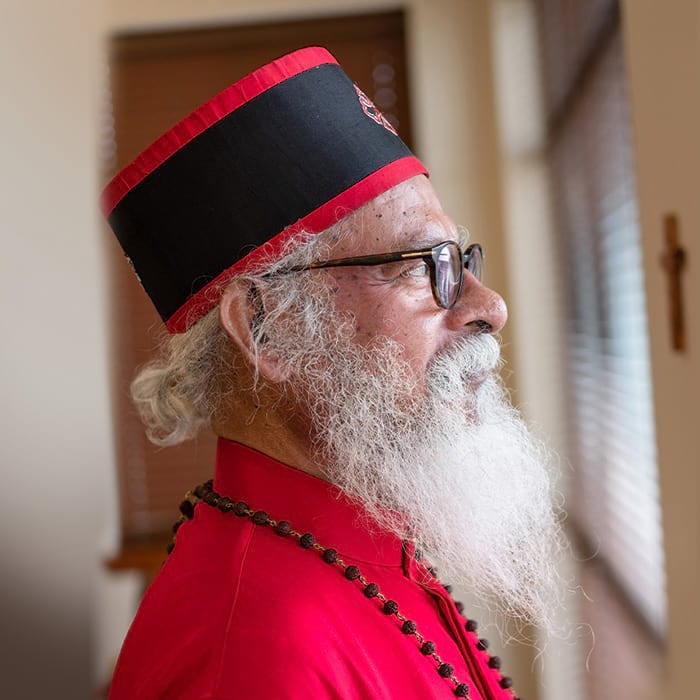 For GFA founder K.P. Yohannan, this incarnational ministry is "an example of how God works. He wants us, in our physical bodies, with hands, legs, eyes and ears, to live as Christ lived."
---
Give to Help Those with Leprosy »
If this special report has touched your heart and you would like to do something to help people with leprosy, please share this article with your friends and consider making a generous gift to GFA World to help leprosy patients in South Asia and other locations.
---
About Gospel for Asia
Gospel for Asia – Transforming Communities (GFA World) is a leading faith-based mission agency, helping national workers bring vital assistance and spiritual hope to millions across Asia, especially to those who have yet to hear about the love of God. In GFA's latest yearly report, this included more than 70,000 sponsored children, free medical camps conducted in more than 1,200 villages and remote communities, over 4,800 clean water wells drilled, over 12,000 water filters installed, income-generating Christmas gifts for more than 260,000 needy families, and spiritual teaching available in 110 languages in 14 nations through radio ministry. For all the latest news, visit our Press Room at https://press.gfa.org/news.
---
Read the rest of this Gospel for Asia (GFA World) Special Report: Pandemic Worsens the Hardships of Leprosy Patients – COVID-19 intensifies two crippling challenges — Part 1
Read more blogs on Gospel for Asia, Leprosy, and the COVID 19 Pandemic on Patheos from Gospel for Asia.
KP Yohannan has issued two statements about the COVID-19 situation found here and here.
GFA's Statement About Coronavirus
---
Learn more about the GFA leprosy ministry, or the Reaching Friends Ministry, helping remind people affected by leprosy that, despite the stigma of leprosy, they have dignity and are valued by God.
Learn more about the GFA World workers who carry a burning desire for people to know the love of God. Through their prayers, dedication and sacrificial love, thousands of men and women have found new life in Christ.
Learn more by reading these Special Reports from Gospel for Asia:
---
Learn more about Gospel for Asia: Facebook | YouTube | Instagram | LinkedIn | SourceWatch | Integrity | Lawsuit Update | 5 Distinctives | 6 Remarkable Facts | 10 Milestones | Media Room | Leprosy & COVID 19 | Endorsements | 40th Anniversary | Lawsuit Response | International Offices | Missionary and Child Sponsorship | Transforming Communities through God's Love
Read what 24 Christian Leaders are affirming about Gospel for Asia.
This Special Report originally appeared on gfa.org.
Click here, to read more blogs on Patheos from Gospel for Asia.