WILLS POINT, TX – GFA World (Gospel for Asia) founded by K.P. Yohannan, which inspired numerous charities like GFA World Canada, to assist the poor and deprived worldwide, issued this 2nd part of a Special Report update on the extraordinary pressures and hardships of widows intensified by the COVID 19 Pandemic.
Continuing Problems in Developing Nations
The World Bank's Victoria Stanley said among the new obstacles widows now face the following:
If their male relatives succumb to the pandemic, the standing of already highly dependent women can weaken because of limited legal protections, lack of documentation, and restrictive social norms. They are also at risk of their husband's relatives trying to grab their land.
Pandemics can reduce economic assets like wages and savings, making housing, land and other property even more important. Yet, when conflicts arise over them, women may lack the resources or support to enforce their rights.
Stanley believes, in the short term, it is critical to implement broad protective measures that ensure no one will lose their home during the pandemic; for inheritances, it's important during the crisis that countries not allow female heirs to sign over their property. Over the long term, she said, reforming inheritance laws and marital property regimes will be key to improving the implementation and enforcement of women's rights to housing, land and property.
Such legal steps are advocated by two members of the law school faculty at the University of Ilorin in Nigeria. Fatimah AbdulRasq and Ayinla Lukman say it is hard to gauge COVID-19's legal impact on widows, and there is no assurance of established parameters to guarantee relief packages aimed at widows and other needy citizens are implemented.12
"Despite the relief packages and palliatives provided by government, private individuals and organizations to the populace, much ought to be done to specifically target the welfare of widows and ensure that their plight is positively addressed," the professors said in an article for the Institute for African Women in Law.13

Providing Direct Aid
In addition to the United Nations' observance of International Widows Day, a variety of charities, non-profits, and non-governmental organizations work year-round to shine a spotlight on the plight of widows and relieve their suffering. The Global Fund for Widows calls it an "epidemic," with widows subject to such problems as food insecurity, poor health, poor education, human trafficking, extremist groups, a lack of shelter, and no access to justice.14
Then there is the practical assistance offered in the field by NGOs like Gospel for Asia (GFA World). While long active in widows' assistance, the organization instituted specific relief measures soon after lockdowns began in the first quarter of 2020.
In March and April, Gospel for Asia (GFA) workers in one region of Asia visited three different villages to distribute more than 400 food kits consisting of three kilograms of mixed vegetables, four kilograms of rice and one liter of oil to widows.
"I am a poor widow," said one recipient named Sabella, 37. "Due to the lockdown, my survival became so hard. Like me, there are many in our village who are starving. Pastor Lesharo with the compassionate heart distributed raw food kits to many people in our village. From the bottom of our hearts, we thank the church for providing the food supplies."
In mid-April, Gospel for Asia (GFA) workers in another area gave essential items to 50 widows and other individuals. After receiving permission from local authorities, the pastors organized a program to provide for those struggling amidst the lockdown with a package that included 11 pounds of rice, two pounds of lentils, six pounds of potatoes and a bar of soap.
"During this untimely crisis, [the church] in my village stood beside us to help the poor families by providing them with food items," said a member of the village council. "I feel proud of them. I want to thank [them] for their great help."15
Such gifts reflect the aid given throughout the years via GFA World's widows ministry, which provides women in desperate situations with tangible necessities. K.P. Yohannan, founder of Gospel for Asia (GFA World), said this kind of aid has long been needed because in some Asian cultures a widow can be stripped of her dignity, worth and human rights. When coronavirus struck, the need grew, he said.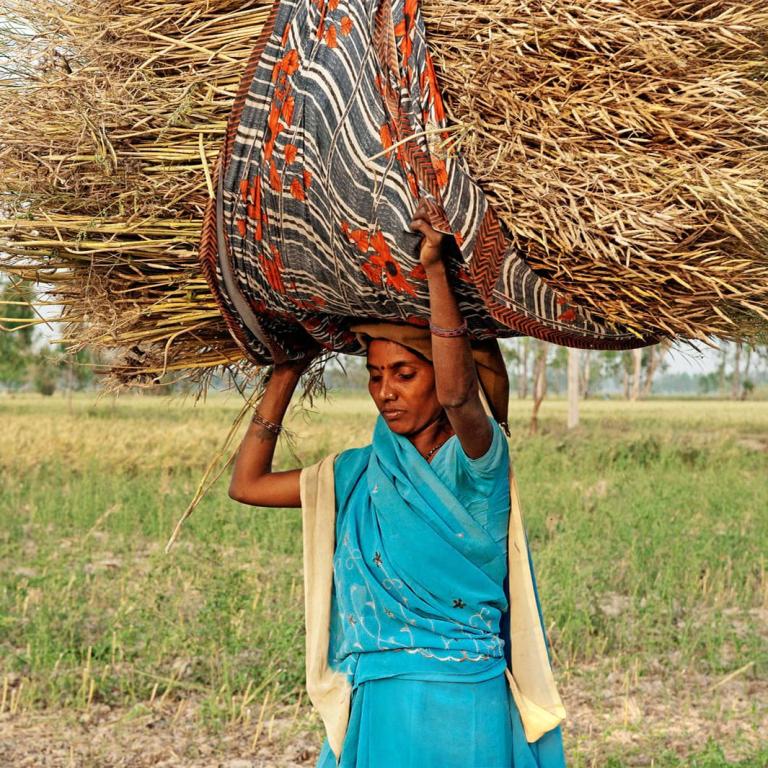 "These women are typically daily wage laborers, the very group hit hardest by the government shutdowns instituted to mitigate the spread of the coronavirus," reported GFA World. "Already struggling to feed their families, they were suddenly unable to work. Widows often are victims of poverty, ostracism and humiliation, and they can be vulnerable to abuse. Many receive little help from relatives as they care for their children."16
However, by helping lift their burdens by providing income-generating gifts (like sewing machines) and vocational training, clothing, basic essentials, and the comfort, encouragement and assurance of God's love, generous donors can help these widows hear promises like that found in Isaiah 41:9–10: "I have chosen you and have not cast you away: Fear not, for I am with you; be not dismayed, for I am your God. I will strengthen you, yes, I will help you, I will uphold you with My righteous right hand."
Many widows are waiting for those who will join their hands with God's. Their suffering, grief and pain can be alleviated, in part, through practical expressions of God's loving kindness.
Through GFA, your donation can help widows in practical, tangible ways.
---
If this special report has touched your heart and you would like to do something today about the plight of widows around the world, please share this article with your friends and consider making a generous gift to GFA World to help widows in South Asia and other locations.
---