WILLS POINT, TX – GFA World (Gospel for Asia) founded by K.P. Yohannan, whose heart to love and help the poor has inspired numerous charities like GFA World Canada, to serve the deprived and downcast worldwide, issued this first part of a Special Report update on girls facing decreased opportunity and increased violence, the young victims who remain hidden in the shadow of the COVID-19 pandemic.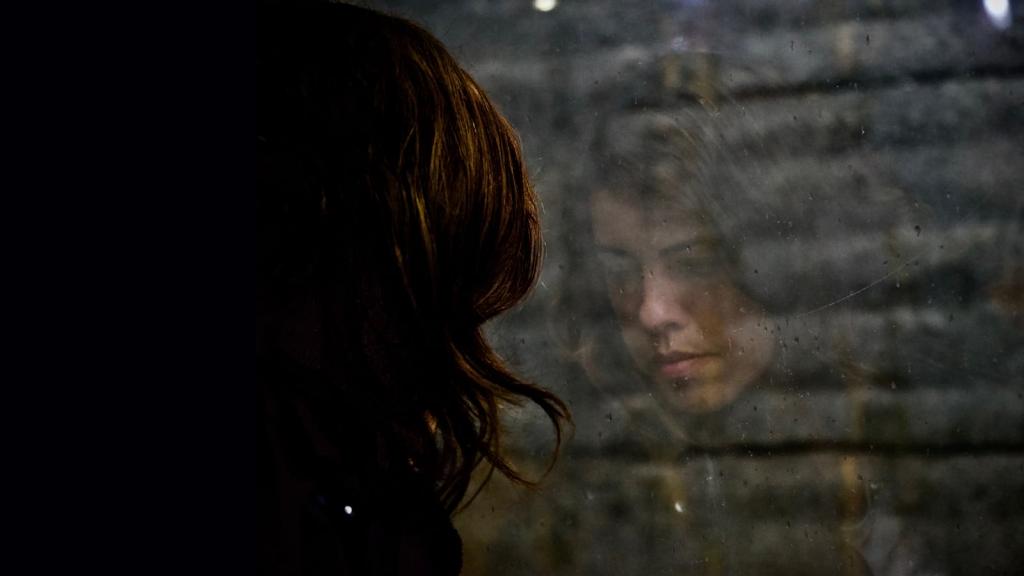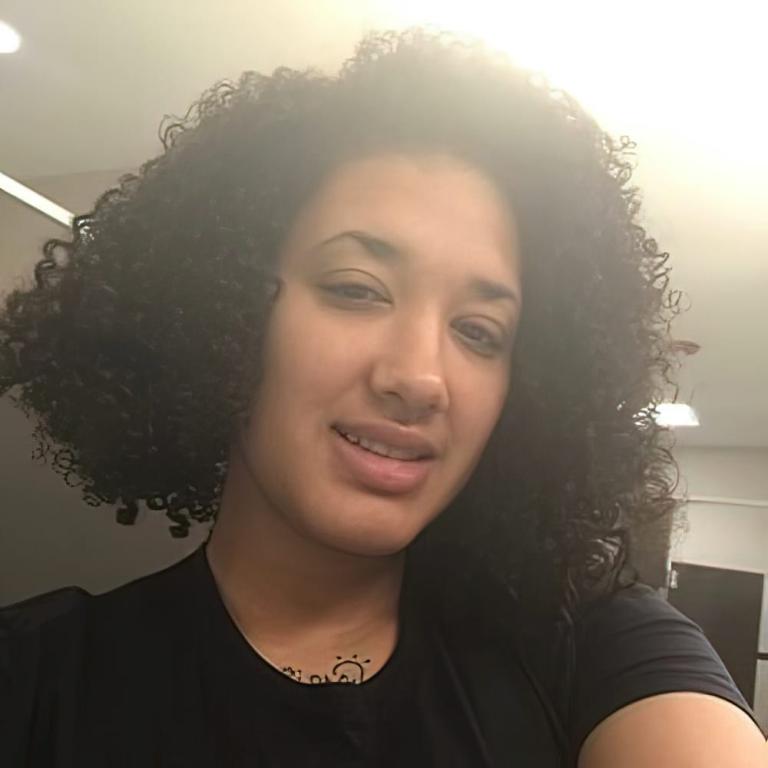 In April 2020, most people around the globe were adjusting to life at home as governments instituted lockdown orders intended to curb the spread of COVID-19. To many, the limitations on normal activities, travel and socializing felt confining.
But for 22-year-old Alexis Martin, April 2020 meant a taste of freedom after more than six years in prison—and before that, sex trafficking.[1]
In an article for The Washington Post, Jessica Contrera shares how Alexis ended up in prison. By age 15, Alexis had experienced so many of the most horrific things that can happen to a girl—sexual abuse, rape, a miscarriage and sex trafficking. Her trafficker, Angelo Kerney, didn't allow her to attend school and beat her when she threatened to run away. In Alexis' desperation to escape, she became involved in a robbery plot that ended in the murder of Kerney. The teenage girl was then tried as an adult and sentenced to decades in prison.[2]
Then, in April 2020, the Ohio governor commuted Alexis' sentence, allowing her to go free with parole. Even with this taste of freedom, she continues to face challenges, such as finding a job, due to the trauma she faced as a teenager and the black mark of a prison sentence.[3]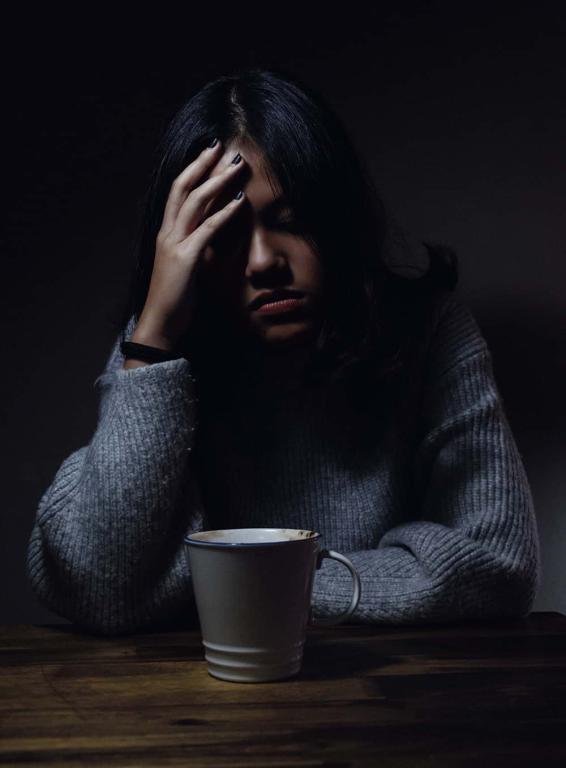 Alexis' story is one of many showing how the abuse and exploitation of girls can have devastating consequences. Her story happened in America, a country where girls typically have many freedoms and opportunities that girls in developing nations do not. And Alexis' story happened before a pandemic that caused far-reaching social and economic impacts for the entire world.
In some places, such as the United States, the availability of COVID-19 vaccines and the easing of many restrictions have made the virus seem more distant. Yet lurking in its shadow is a crisis threatening the safety and health of girls. As social isolation and poverty have increased, girls have potentially become the most under-recognized victim group of the pandemic.
Globally, the pandemic has threatened girls' education, increased their risk for the kind of abuse and trafficking that devastated Alexis' teenage years, and made them more vulnerable to child marriage and teen pregnancy. While statistics from 2021 regarding girls' well-being remain to be counted, in spring 2020 non-profit organizations were already predicting that the pandemic's economic strain on families and the shutting down of schools would negatively impact the health, education, safety and general well-being of girls if communities didn't prioritize giving girls needed attention, care and education.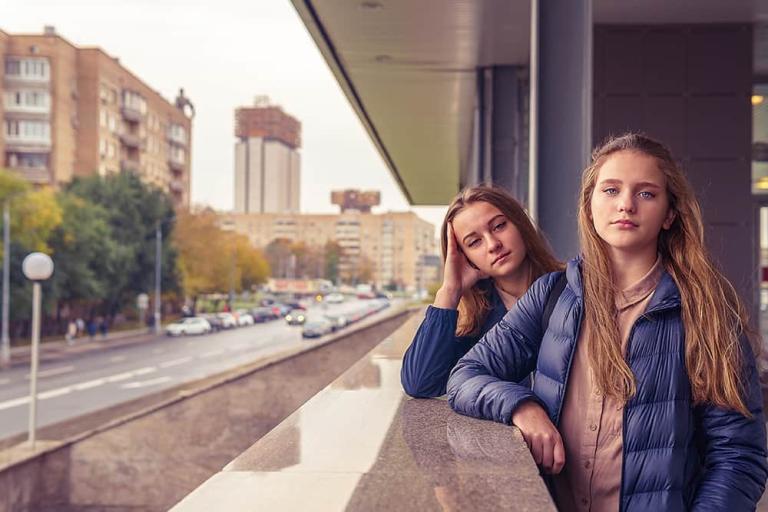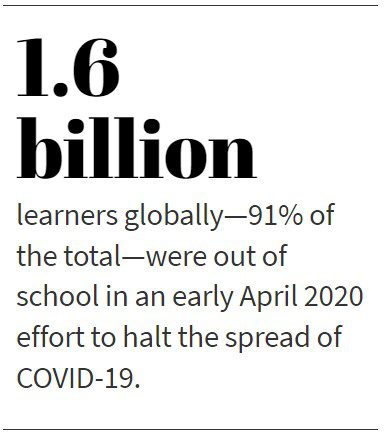 As COVID-19 rapidly spread across the globe in the spring of 2020, governments around the world decided to keep people at home in hopes of slowing the pandemic. Large numbers of people could not work at all, while others lost income as business slowed or stopped due to the drop in customers. This especially hurt low-income workers who could not simply work from home, such as migrant laborers, daily wage laborers and others who lost their livelihood during the lockdowns. Gita Gopinath, an economist and director at the International Monetary Fund, suggests that the pandemic caused the greatest recession since the Great Depression.[4]
Now, with the pandemic further stretching struggling families' resources, girls likely have faced, and will continue to face, lower chances of receiving needed nutrition and attending school.
As the pandemic curtails girls' education by forcing them out of the classroom – a problem from which many may never recover – it is also puts them at risk for abuse and exploitation.
Being in a classroom protects girls from sexual predators, unhealthy relationships and abusive parents or relatives. But due to lockdowns, many girls no longer have the classroom as a safe space.
According to the global non-profit Save the Children, "In early April 2020, in an effort to halt the spread of COVID-19, an estimated 1.6 billion learners globally—91% of the total—were out of school. For the first time in human history, an entire generation of children globally have had their education disrupted."[5]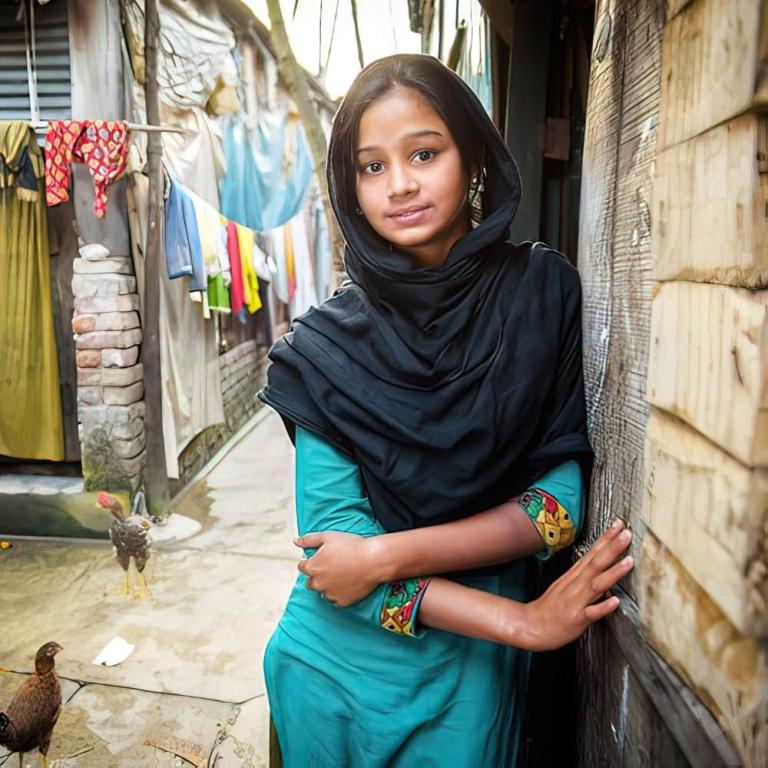 Now, more than a year later, many children have spent more than a year out of the classroom—and may never return.[6]
As girls stay out of school, they risk devastating consequences to their health, well-being and future opportunities. Studies from the Ebola crisis have suggested that once girls were taken out of school due to Ebola, many didn't return, even long after schools reopened.[7]
School closures pose the greatest challenge for girls in developing nations, where families may be struggling financially and communities may not have access to the technology needed for distance learning. Sometimes girls bear a greater burden in supporting the family during challenging times. They may be given extra household responsibilities, including caring for younger siblings or sick family members; this can decrease their opportunities to do schoolwork at home—and their chances of returning to school when the pandemic subsides.[8]
As schools in some places reopen, the pandemic's effects are starting to be seen. In Kenya, for example, only 84 percent of teen girls returned to school, while 92 percent of teen boys came back.[9] This could be just the tip of the iceberg. Malala Fund, an NGO supporting girls' education, estimates 20 million girls in developing countries will not return to the classroom.[10]
As the pandemic is curtailing girls' education, it is also putting them at risk for abuse, exploitation and violence. Being in the classroom can help protect girls from sexual predators, unhealthy relationships and even abusive parents or relatives. But due to lockdowns, many girls no longer have the classroom as a safe space.[11]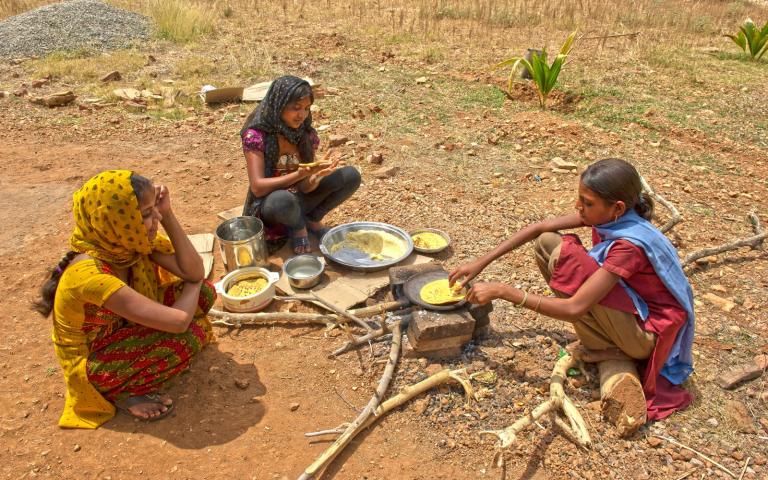 Girls Pushed into Adult Responsibilities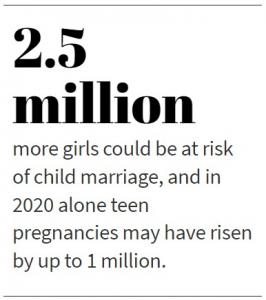 Mayawati, a teenager in Nepal, wanted to continue school and study agriculture. "But her family's struggles during the pandemic made her feel guilty about being a burden to her parents," wrote Bhadra Sharma and Jeffrey Gettleman for The New York Times.[12] "She dropped out of school, then married a man who worked as a menial laborer. Her dreams … have quietly slipped away."
Mayawati's story reflects that of others in Nepal and around the world.[13] Because of the pandemic, parents struggling to feed their children may feel the need to marry off their daughters to reduce the number of mouths they must feed.[14] In addition, as girls spend time out of the classroom, they may spend more time with men and more unsupervised time with boys, which increases their chances for teen pregnancy and child marriage.[15][16]
Save the Children predicts a "dramatic surge in child marriage and adolescent pregnancy": Within a five-year span, 2.5 million more girls could be at risk of child marriage, and in 2020 alone teen pregnancies may have risen by up to 1 million.[17]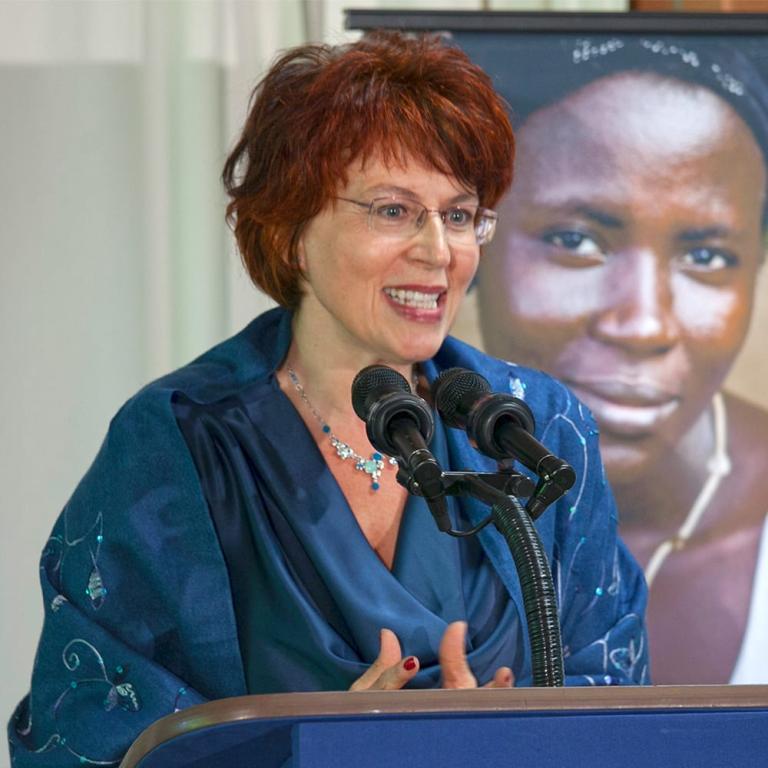 This means that those girls may lose the chance to ever complete their education, which will limit their chances for jobs in the future. In addition, girls who marry young are more vulnerable to sexual abuse and violence.[18] Child marriage and teen pregnancy also threaten girls' physical health. Girls who give birth at very young ages can face a host of complications, including miscarriage, obstetric fistula—and death.[19][20]
"Complications of pregnancy and childbirth are the leading cause of death in young women aged 15–19," says Dr. Flavia Bustreo, a leader in the World Health Organization's Partnership for Maternal, Newborn and Child Health. "Young girls who marry later and delay pregnancy beyond their adolescence have more chances to stay healthier, to better their education and build a better life for themselves and their families."[21]
---
If you want to support girls in South Asia and Africa, consider a one-time donation to help young victims who have been delivered from desperate situations in their lives, but are still struggling everyday. Your gift will provide for their pressing needs, while we locate permanent sponsors to cover their monthly needs to remain in school.
---
Read the rest of this Gospel for Asia – Transforming Communities (GFA World) Special Report: Young Victims Remain Hidden in Pandemic's Shadow — Part 2, Part 3
---
About GFA World
GFA World (www.gfa.org) is a leading faith-based global mission agency, helping national workers bring vital assistance and spiritual hope to millions across the world, especially in Asia and Africa, and sharing the love of God. In GFA World's latest yearly report, this included thousands of community development projects that benefit downtrodden families and their children, free medical camps conducted in more than 1,200 villages and remote communities, over 4,800 clean water wells drilled, over 12,000 water filters installed, income-generating Christmas gifts for more than 260,000 needy families, and teaching providing hope and encouragement available in 110 languages in 14 nations through radio ministry. GFA World has launched programs in Africa, starting with compassion projects in Rwanda. For all the latest news, visit our Press Room at https://gfanews.org/news/.
---
Read more blogs on GFA World, National Missionary Workers, World Missions and the COVID 19 Pandemic on Patheos from Gospel for Asia.
GFA's Statement About Coronavirus
Learn more by reading this Special Report from Gospel for Asia on the Lord's work in 2020 through GFA and the partnerships worldwide while following Him in His work in 16 nations, including Sri Lanka, Bangladesh and Nepal.
---
Learn more about Gospel for Asia: Facebook | YouTube | Instagram | LinkedIn | SourceWatch | Integrity | Lawsuit Update | 5 Distinctives | 6 Remarkable Facts | 10 Milestones | Media Room | Widows & Coronavirus | Endorsements | 40th Anniversary | Lawsuit Response | International Offices | Missionary and Child Sponsorship | Transforming Communities through God's Love
Notable News about Gospel for Asia: FoxNews, ChristianPost, NYPost, MissionsBox
Read what 25 Christian Leaders are affirming about GFA World.
This Special Report originally appeared on gfa.org.